This week at Google I/O, Amit Singhal and Johanna Wright took the stage to present their vision for the future of search. They envisioned a not-too-distant future where the venerable search box fades away and search becomes more "conversational" and "anticipatory." This was a surreal moment for our company. Just two years ago, when we first started formulating the technology foundations for Expect Labs, we began using the term Anticipatory Computing to describe our platform and approach. Below is a slide from our April 2011 company presentation where we introduced the term and described our vision: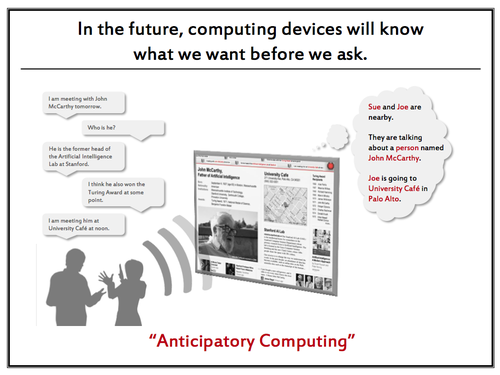 Most of the technology executives we met with back then dismissed our notion as science fiction. One prominent venture capitalist pejoratively described Anticipatory Computing as "magic." If you told us that in just two years, the word "anticipate" would be one of the 3 pillars of Google Search, most people, (us included) would have said you were delusional. The future has arrived, and a quick survey of the industry press indicates that the age of Anticipatory Computing is upon us.

We first began noticing this concept gaining mainstream visibility in the fall of 2012. Om Malik was one of the first tech journalists to pick up on the trend. In October 2012, he wrote a
great piece
about how our company was "herald[ing] the era of Anticipatory Computing."  Since then, it seems that the term has taken the tech world by storm. Here are a few recent instances of where Anticipatory Computing has appeared in the press:
IPG Media Lab's annual trend report called 2013 "the year of anticipation and refinement." The report went on to say that Anticipatory Computing will be "the trend to watch for years to come."
Owen Thomas' ReadWrite article where he stated "…there's one big concept that seems really exciting, and that's anticipatory systems."
Semil Shah's TechCrunch article  about "Apple's 'Anticipatory Computing' Problem," where he describes the new crop of iOS apps being rolled out that are a direct result of Apple's lack of anticipatory services.
Harry McCracken's Time interview with Amit Singhal, the SVP in charge of Google Search. Singhal equates the future of search to his memories of the computer in Star Trek: "You can talk to it naturally, you can ask it whatever you need to. It fades into the background. It's just there for you."
Owen Thomas' Google I/O article in ReadWrite, about how "

Google Is Turning Search Into The Planet's Biggest Anticipatory

System." Thomas goes on to say that Google's new search features will allows millions of users to obtain a "glimpse of the anticipatory future today."
It is hard to imagine that just two years ago these concepts seemed so futuristic. We have witnessed first-hand the transformation of public perception toward Anticipatory Computing; in only two short years, what once seemed fanciful is now a foregone conclusion. Through our interactions with hundreds of journalists, investors, and technologists, we like to think that we played a small role in popularizing Anticipatory Computing. It is both rewarding and inspiring to see this exciting vision of the future unfold before our eyes.