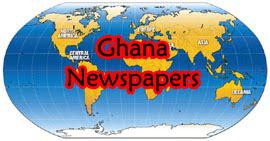 Corpses

have been removed from Tema morgue today, following an invasion of mice that were eating the bodies. It is not clear whether the hospital or family members are transferring the bodies to various other facilities.///

Ghana's

President Atta Mills spoke to the nation on Sunday, giving the assurance that government would institute measures to check the menace of homosexuality and lesbianism that were gaining grounds within the country. He said those acts were contrary to the word of God and the norms and values of the Ghanaian society. He spoke in response to the words of Reverend Bosoma, who warned that if preventive measures were not taken, the situation could result in misfortunes and disasters in the country, just as it happened to Sodom and Gomorrah. The Reverend also condemned improper dressing, especially wearing of short skirts and open-chest blouses by females to expose their breasts, saying the practices were due to wrong adaptation of foreign culture.///

Two Pastors

of the Conquerors Redemption International Church, and a trader were charged with possessing fake currencies after suitcases of fake GHC50 notes were recovered from the church.///

The Environmental Protection Agency (EPA)

, announced the organisation of a durbar for the Transport Union to highlight health hazards associated with noise making. This has become necessary due to the intensity of noise making by some drivers at lorry stations and within the metropolis.///

The Chief

Nankpanduri and Naa Nimoh Naabare, the Chief of Kpemale in the Bunkpurugu-Yunyoo District Assembly in the Northern region, have held a joint press conference denying reports that they are at war because of a parcel of land./// Yaw Kesse, a 30-year-old farmer, was on Thursday sentenced to 16 months imprisonment by a Koforidua Magistrate's Court for stealing cocoyam. When confronted he admitted to having stole the yams and sold them to a woman.///

The Presbyterian Church

of Ghana has presented a brand new Renault Duster 4x4 vehicle to the Headmaster of the Suhum Presbyterian Senior High School (SHS) to facilitate his work. At the same presentation, Rev. Dr Mante expressed concern about reports of homosexuals and lesbianism invading educational institutions in the country and urged heads of institutions and teachers to be vigilant and monitor the students and bring all those involved in those practices out. The school remains in need of a school bus.///

A 45 year old farmer

who doubled as a fetish priest, shot himself dead in the Nanumba-North District after butchering to death his third wife who was pregnant. His first and second wives were injured, but escaped death by fleeing. It was revealed during the investigation that the Police have in their possession a single obsolete Tata pick-up meant for patrolling two widespread districts.