You may have heard of Jimmy 

Codean

 in passing if you are a Timbaland fan. His collaborations with Timbaland, Wizz Dumb, and other upcoming

producers

should get you prepared for what is about to come. A song like " Hot Mess"featuring Timbaland &

JRoyal

appeared on my favorite day of the week Timbaland Thursday and all over the music blogosphere

. 

In May he made an appearance on Rico BMore's song "Continental"alongside Cherish

Mie

, listen here.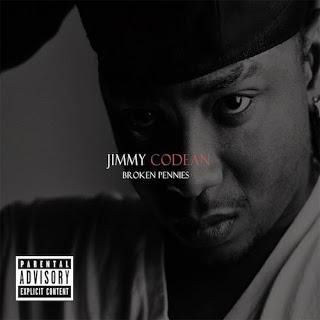 Photo Credit : DatPiff.com
             He dropped his "Broken Pennies"  

mixtape

, available on HDMixtapes and DatPiff, it might not cost $100

but

it worth the listen. Most of the production was by his close friend WizzDumb, it takes you to the time when music was fun, beats are rather playful and

his

voice compliments every song

.
My

favorites

tracks
are
"Konnichiha," "Back Back" and "Last Record"  a mixture of storytelling, something for the club and Saturday 
house cleaning. 
                Click here to download and preview "Broken Pennies." Guaranteed to be different from all the other
mixtapes
you may have downloaded. 
       The follow - up "Exact Change" has been sent out to a few people, not sure yet of its official release but so far these tracks are what you expect from Jimmy, something for the 808 in the trunks, feel good type Hip hop, even music for the "pole", you can tell that Miami and Norfolk influenced his sound.Unlike other entertainers I follow on social media, Jimmy is one of the few that do respond to the fans over Twitter, he was very much easy going and willing to connect. Read the conversation below, and find out what else he has in the works.
JS: Which

city

are you representing right now?
JC: I'm still r
epresenting

 Norfolk, 

VA
JS: Tell me about yourself.
JC: Born in Plainfield, New Jersey moved to Norfolk,

VA

 

,

Park Place when I was 3 grew up loving music , very artistic and like

helping

people.
JS: What is a typical day for Jimmy

Codean

?
JC: Typical day for jimmy is checking on my family

and

coming up with new business plans for the future.
JS

:

Tell me a surreal moment inyourcareer? Explain why it was surreal
JC: A surreal moment for me was when I went to Miami 2010 to work with Timbaland and seen

another

lifestyle I never witnessed, like making music with many

artists

such

as Timbaland, Attitude

,

Jim Beanz, Petey Pablo and more.
JS: If I should hang around Jimmy

Codean

for a day, what would I discover ?
JC: For a day hanging with Jimmy you would discover I'm a giving, funny and down to earth person to be around.
JS: How did you get your start intomusic?
JC: I got my start in music, recording myself , letting people hear what I had  and knowing what I know now . I don't

listen

 to people with nothing going for

themselves

and pay attention to

the

ones that do and come up with your strategy to dominate.
JS: What do you want people to understand about your

music

?
JC:  However they take it

call

 it what you want hip hop, pop, trap, it doesn't matter as long as they like what I'm Don and I'm enjoying myself while doing it , it's for everybody.
JS: Which artists you are currentlylistening to?
JC: I'm
 l
istening to all kinds of artists 

like

 rap or whatever people call it. I'm listening to a handful of them. My

favorite

right now is

Train

- "50 ways to say Goodbye". I love that record and everything

coming

from the Dumb Drumbs camp.
Sidenote

: Dumb Drumbs camp

include

Jo'zzy, CJTate,

JRoyal

,

etc

…

Look them up.
JS: Whatwasthe vision for the "Broken Pennies"

mixtape

?
JC: I
didn't have a vision for that

mixtape

it was

thrown

together half done
in VA

and

half in Miami, 
I

freestyled

85% of it.
JS

:

What are you working on rightnow?
JC: My new

mixtape

called EXACT CHANGE COMING SOON

with

producer and features from W

izz Dumb

, Black and Kool from VABP,

Kwami

and more.
JS

:

What should we expect from Jimmy

Codean

in the next 2 years?
JC: Should expect me to have my associates degree

from

Le Cordon Bleu and

a lot

of music business LOL real talk though.
JS: Lastly, my blog has 

PR

(public Relations) theme, has a publicist helped you withyourcareer?
JC: A PR never helped me I did everything myself Sidenote: I hope we can fix that; a PR specialist can be beneficial to an indie artist career. See the reasons #WhyYouNeedPR


Facebook: https://www.facebook.com/Jimmycodean


Twitter:  

https://twitter.com/jimmycodean