Creditable actress Helen Mirren, (born Helen Mirinov), published her autobiography in 2007. It was  entitled, 
In the Frame: My Life in Words and Pictures.
 The phrase was referencing the Hollywood jargon used to discuss who was on the shortlist for a starring role. For the press, it is the 'go to' phrase whenever she is considered for another film. She is a huge star and of course, she is one of our own, so we British take a keen interest in her prolific career.
I think back to my first viewing of her on the small screen as Detective Chief Inspector Jane Tennison, in Prime Suspect, a crime drama series. Her character is one of the first female, high ranking police officers in The Metropolitan Police. The first series featured sexism in the workplace as a significant subplot and a barrier to the on-going investigation. It was ground breaking television, tackling many difficult subjects: Paedophilia, child abuse and prostitution. It also considered issues of institutional racism, the determination of male peers to see Tennison fail and charted her personal struggle with work-life balance, while rising through the ranks in a male orientated career. It was a strong role for a strong actress and sent Mirren on the path to stardom. But it did far more for the viewing public.
Prime Suspect started us talking about previously untouched subject areas. It gave the public a little insight into the investigation of serious crime. For the first time, ordinary people became aware that dreadful people were capable of dreadful crimes against women and children. Of course most of us knew about the child murders committed by Ian Brady and Myra Hindley on Saddleworth Moor in the mid-1960's, labelled by the judge as 'truly sadistic crimes'. We were spared the details of the sexual nature of those murders until many years later when police files were opened and books written. As a child, growing up in the 1960's, my parents could never consider that there was a danger from paedophile gangs or child murderers. We were taught not to talk to strangers and slept safely in our beds.
Prime Suspect opened our eyes. In one series, an ordinary man led a double life as a sex fiend, keeping kidnapped women shackled to the wall of a lock-up and after depraved torture, dumping their bodies. It made us realize that not everyone we met was a decent human being and 'unlocked' us so that we could begin to openly discuss many of the hidden problems in our 'safe' society. When we did  - we realised that all had not been well for a long time. My father never liked Jimmy Saville, although he couldn't say why, always turning off the TV set if he was on.  Dad died before any public allegations were made but it made me think. People have instincts about others.  I trusted my father's instincts and I trust my own, implicitly.  In 2002, when 10-year-old girls, Holly Wells and Jessica Chapman went missing in Soham, a TV news team interviewed some of the local volunteers who were searching for them. One of those interviewed was school caretaker Ian Huntley. As soon as I saw and heard him on the news, I knew that the girls were dead and that he had murdered them.  I don't know how.  I just knew.
With operation Yew Tree, the hidden depravity of paedophile activity in our 'safe' society has been considered, questioned and probed.  Like an onion, each layer has been peeled back to reveal more and more horrific abuse, filled our eyes with stinging tears for the victims and made our law-makers resolve to restore our country to the idyllic garden that we once believed it to be. Now it seems that the vilest behaviour may have run deep in the roots of our governing institutions. We need to uncover the truth in our quest but we must be careful not to damage innocent lives along the way.
Currently, there is a campaign by the families of victims to keep their murderers locked away until they have revealed the whereabouts of the body.  The mother of twenty-two year old Helen McCourt, who went missing from Billinge near Wigan in 1988, is leading the challenge to change the law. Helen's convicted murderer Ian Simms refusal to reveal the whereabouts of her body still tortures her family. Keith Bennett was murdered by Brady and Hindley when he was twelve. His family also support this change in law. My poem aims to support the families' cause.  We must all be allowed the grace to mourn.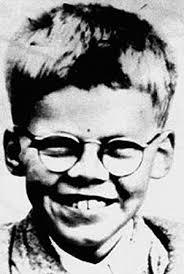 Untitled
She spent her life
searching for the image in the frame.
Keith Bennett
closed the door one day in 1964.
Winnie Johnson's boy,
buried on Saddleworth Moor,
in an unmarked grave.
She died, never knowing where
to plant her tears.
Other parents know her life,
their children cut like flowers,
tender stems trampled,
dreams and aspirations strewn
like windblown petals
to the biting Winter winds.
No bed to tend.
No angel in the garden who
whispers, "Sleep now."  
The picture in the frame
always stays the same.
Thanks for reading.  Adele  
Email This
BlogThis!
Share to Twitter
Share to Facebook
Reactions: