TAKEAWAY: We are used to constant change and innovation at the Goteborgs-Posten of western Sweden.  In 2012, a new front page look, and redesigned internal sections. Take a look.
More color, more surprises, more flexibility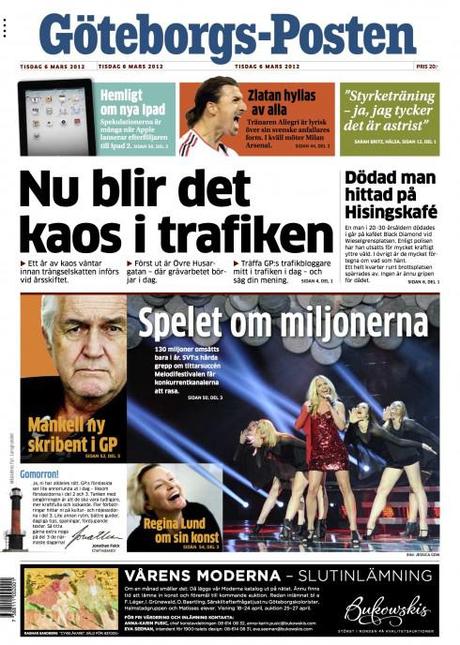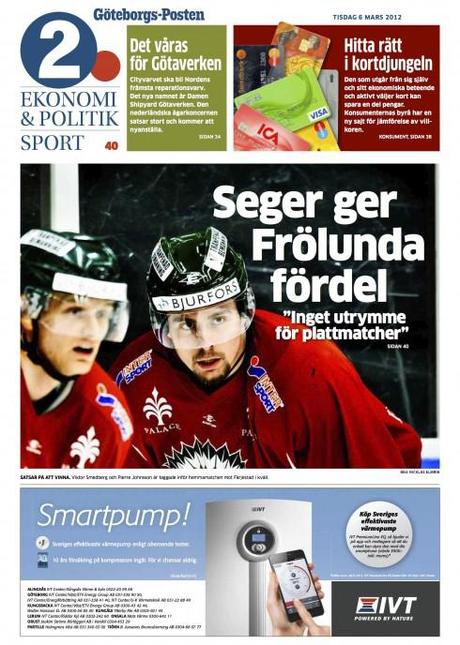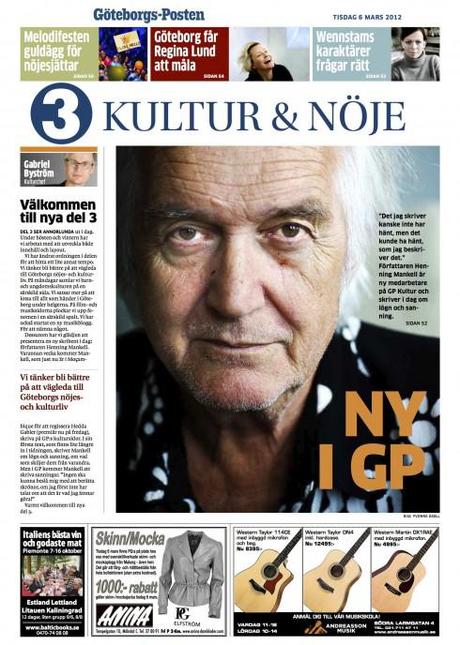 it is a new , refreshing look for the Goteborgs Posten, the regional daily of west Sweden.
This very local and very people-oriented newspaper, always progressive, visionary and ahead of the rest, has launched a rethink of its front page and section fronts, as part of its constant evolution.
We at Garcia Media worked closely with the GP team, as we have done since 1994.  Design director Mats Widebrand and I conducted workshops with the top editorial team, headed by Ninni Jonzon, with Anders Goliger.  These were truly organic workshops where the discussions turned to content more than design, as it should be for newspapers that adapt to the challenges of a multi platform world.
On Tuesday, March 6, the GP, as it is referred to by the more than 600,000 readers who read it each day, sported a front page that is more visual, with better and more intelligent navigation and that capitalizes on the GP's inimitable coverage of local and regional news with a greater display do photography on page one.
Here is how Anders Goliger, news editor, describes the changes launched this week, and of which he was an important part:
"Our front page now has more color, it's less predictable and more playful without losing the newsy feeling. "
From the start of our workshops to improve the front page, the idea was to create opportunities to offer more visual surprises, more flexibility and a variety of opportunities to respond to the news availability of each day.
"These are a few of the things we hope to achieve with the new front page of GP," Goliger said. "The redesign contains a variety of front pages, going from the massive news attack with more or less one single piece on the cover, to the more chaotic front page of today's premiere news, with many headlines and pictures."
"Earlier we had a tendency to take whatever we were cooking and serve it on the same plate. Now the chef will have more plates to choose from," Goliger explains.
Part of the changes introduced by the GP Tuesday include the section fronts for Book 2 and Book 3, which also redesigned using more color and fewer navigational elements.
Fewer stories on the section fronts, but more light on the ones we pick, according to Goliger.
Of special interest today

Sources: Apple TV update, iPad 3 for Verizon and AT&T LTE launching tomorrow, no quad-core SoC

http://mobile.theverge.com/2012/3/6/2849384/sources-apple-tv-update-ipad-3-ipad-hd-lte-verizon-att
Highlight:
When Tim Cook takes the stage (Wednesday) in San Francisco, a new iPad apparently won't be the only product announced. As we reported last week, a new Apple TV model is expected to arrive alongside the higher-resolution iPad update. We're told that the forthcoming Apple TV (the product is said to likely carry the same name as its predecessor) will have 1080p capabilities, and will work in conjunction with the iPad and other Apple devices to deliver new video streaming / mirroring functionality (which will also fall inline with new Mountain Lion features).
Hello, Google Play: Google launches sweeping revamp of app, book, music, and video stores
http://mobile.theverge.com/2012/3/6/2848223/google-play-store-rebranded-android-market
Highlight:
Google is taking a big new step in bringing all of its content arms under one roof — and that new entity is called Google Play. Starting today, Google will begin a rebranding of the Android Market, Google Music, Google Books, and its video offerings. Until now, all of those content hubs had more or less resided under the banner of the Android Market, and it seems like the company is interested in making users understand those disparate pockets of content as a unified whole. A company spokesman called Play "an evolution of Android Market."
How newspapers are faring trying to build digital revenue
http://www.journalism.org/analysis_report/search_new_business_model?src=prc-headline
First paragraph:
A new study, which combines detailed proprietary data from individual newspapers with in-depth interviews at more than a dozen major media companies, finds that the search for a new revenue model to revive the newspaper industry is making only halting progress but that some individual newspapers are faring much better than the industry overall and may provide signs of a path forward.
TheMarioBlog post #964