Why is it that my camera always malfunctions in the most beautiful places?  (It's probably the same reason it never rains when you carry an umbrella.)  Last year at about this time I went to Kas, and managed only a half dozen photos before my camera decided it needed its battery recharged.  It gave no warning, just suddenly wouldn't turn on.  Since then I've travelled with the battery charger, which came in handy in Cappadocia.  My mother, on the other hand, experienced the frustration of having her battery die just as our balloon was taking off.
So when I decided to join my friend Gaby for a trip to a place she'd described as "paradise"  I was sure to take my charger with me.  We took the 9 AM dolmus from Migros and arrived at the Adrasan stop (a highway crossing) at 10:30.  We caught a dolmus to the beach almost immediately, but sat in it a while (much longer than the 5 minutes the driver had said) before the driver realized that if he waited much longer for more passengers he'd lose the two he had. (I'd gotten off the bus and started looking for someplace from which to call a taxi.)
When we arrived at Selin Bungalows the proprietor greeted Gaby warmly.  We went right to our cabin (no "check in" necessary) and then headed to the beach (which was directly across the walkway/ main thoroughfare).  It was, as Gaby had described, paradise.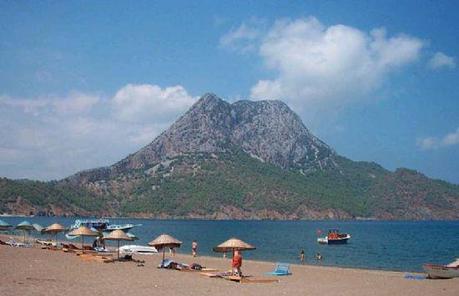 Photo from Turkiyeinternette.com
After a swim in the bay and a walk on the  beach I immediately took out my camera and snapped several shots.  Later, I saw they were all almost completely white.  I thought maybe I'd accidentally changed some light setting, so I tried messing around with it, but I didn't really know what I was doing, so I had no success.  I figured the camera was broken, and had to content myself with taking pictures with my cell phone.  Of course, those can't be downloaded because my Samsung phone and my Mac are incompatible.  So I have resorted to the internet for images that most resemble what I saw.   When I got home I fixed the camera in about 30 seconds by searching "coolpix overexposed" and following the advice given in a forum. (Apparently there's something called an "ISO" setting which needed to be changed.)  Why I didn't bother to try that at an internet cafe in Adrasan I can't say.
Here are some photos of Selin Bungalows, where I stayed in Adrasan.  I can't download them, but the link will take you to what my photos would've looked like had my camera not malfunctioned.
You might wonder why someone who lives in the beach town of Konyaalti would go on a beach vacation, and you'd have a point.  But there are some real differences.  Konyaalti beach is beautiful, but it's still a city beach.  You have to cross a 4-lane highway to get there unless you are staying at a hotel with an underground passage.  Meeting someone at Baki Beach #1 would require a dolmus from the #17 near me, and beyond Baki beach (which extends to #24) is Beach Park.   All in all, Konyalti beach from Liman to Ataturk Park is about 4 miles long, whereas walking from one end of Adrasan's beach to the other takes about five minutes.  Unlike Konyaalti's stone beach, you can actually walk on the sand beach in Adrasan.  And since nobody lives in Adrasan, until school is out the only visitors are weekenders.  From Monday through Thursday Adrasan has a desert island feel;  I kept expecting to find Gilligan in one of the hammocks.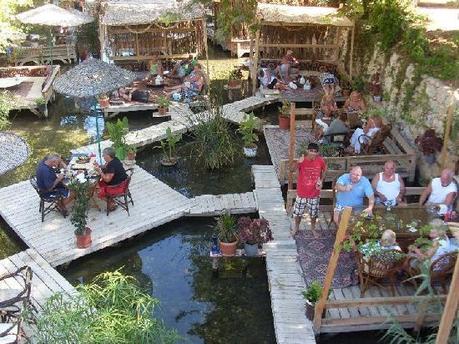 This photo of
Adrasan
is courtesy of TripAdvisor .  It looked like this except that we were the only ones there.
Adrasan also has teahouses with seating built right on the water. I've never seen that anywhere else.  One thing that didn't change though was the way men treated us.  We were invited to have tea at one of these places, and before we knew it the owner was sitting with us, telling us how he has no interest in the young Turkish girls want to marry him for his money, and how he wants someone his own (i.e. our) age.  By the time we left he was taking about marrying Gaby.
The next day we took a boat trip.  We were hoping to go to Olympos, as Gaby did in previous years, but apparently day boats are no longer allowed to dock there.  It's become too crowded.  So we stopped at a couple of coves that made Adrasan look like a booming metropolis.  One of these was called Porto Genovese, and I'm still trying to find out why.  But I do now understand why this area is called the Turquoise coast, since the water really was that color.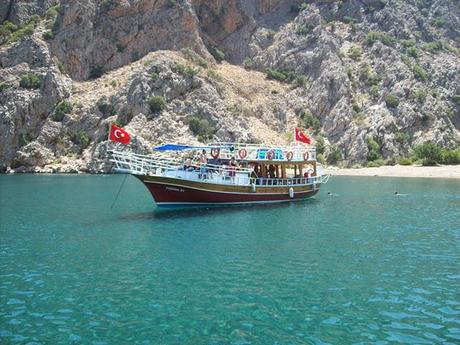 While anchored at Porto Genovese we had a delicious lunch of fresh grilled fish, salad, and spaghetti.  After a swim we had tea and watermelon.  On the way back, Gaby decided she wanted to dance to the Turkish music playing, so we did.  This brought on more undesired attention, giving Gaby another opportunity to use her favorite word,"yok" when her phone number was requested.   I've told Gaby that if she continues to smile at men and dance with them she'll keep getting these offers, but she says she doesn't want to change her personality.  I get the same response from my other German friend when I suggest he stop getting upset about Turkish driving.  I don't think I'm "changing my personality" when I don't respond with a smile to a man looking at me, or look both ways when I cross the street even when I have the light.  I call it adapting to my environment.
On our last day, in addition to swimming in the calm waters and walking on the sandy beach, we found a restaurant run by an aging hippie and a bar at which we danced with the owner and the 13 year-olds who worked for him. He later took us to Olympos, where we were the only occupants of an empty disco. When we got back to Adrasan I went to sleep in the cabin and Gaby went to sleep at the beach.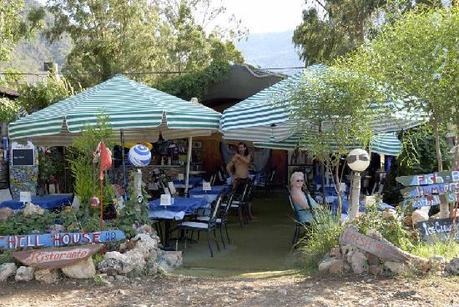 Chill House Lounge, where the hippie made me great salad.  (photo from Trip Advisor)
After checking out of our Bungalow and going for a final swim we went back to the bar to say goodbye. The owner convinced Gaby to stay another day.  Since he'd taken no for an answer the night before on the beach, she figured, why not?  Well, when she left the following day he demanded payment for all the drinks he'd "offered" her.  He had of course been expecting some kind of payment in return.
Yes, Adrasan is a paradise.  But there's a reason Gilligan wanted to be rescued.  I was glad to get back to my home in Konyaalti, to yoga at the beach and movie night at Cenk's.  One can only do absolutely nothing for so long.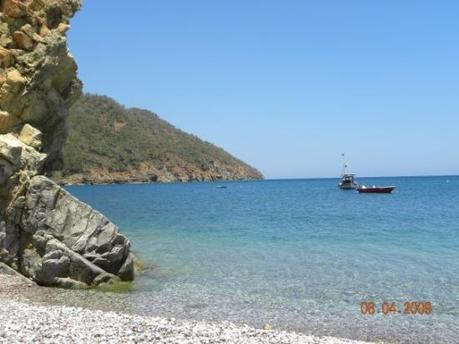 This photo of
Adrasan
is courtesy of TripAdvisor