Goteborgs Posten: the front page mini poster at work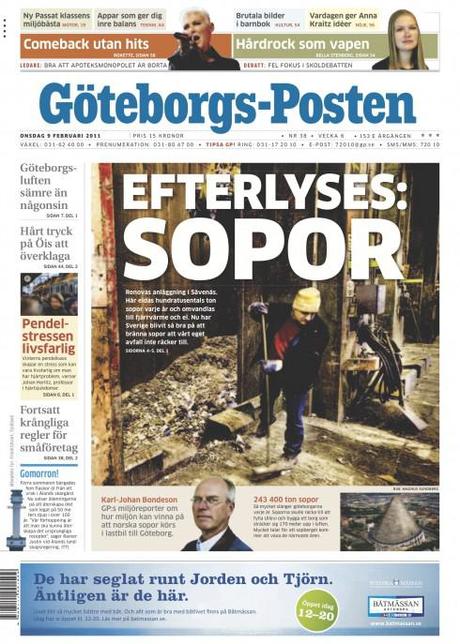 Front page of today's Goteborgs Posten: mini poster concept
Part of our workshop discussions at the Goteborgs Posten this week has been the concept of the mini poster as lead element on page one. The GP is a tabloid format, where mini posters have the greater impact.
Today's GP leads with a mini poster devoted to a subject of interest to all: trash.
As it happens, Goteborg has a unique problem: not unique trash.  Indeed, as I wrote yesterday, it is nice up north, and the Swedes are tidy and organized.  But it is also quite cold in western Sweden, which poses a problem: trash is processed and utilized to heat homes.
Solution? Goteborg is mporting trash from other places, like those neighbors up north in Norway.  Or perhaps Italy.  That is what the story on Page 1 is about.
GP News Editor Anders Goliger explains how he conceptualized this page one mini poster for the trash story:
Coffee, bananas and… trash. Sweden is burning garbage like never before – using the energy to heat houses. The unlikely consequence is a need to import trash. Lots of it.
We used the mini poster to profile our reporter, and also showed the side story – on how much trash the people in Göteborg produce every year. Put together it makes a nice 1-2-3 on the trash story!
Note: Anders' reference to 1-2-3 is about the concept that I recommend when conceptualizing a mini poster.  The mini poster should tell the 1-2-3 points of the story, and assume that some readers may not go inside to read the rest of the package, so the 1-2-3 is the quickie version of the story. A nice way to create something that is visually appealing, but informative as well. Mini posters should never be mere decoration.
We have another mini poster image at the bottom of this blog post.
For more about mini posters in TheMarioBlog:
http://garciamedia.com/blog/articles/a_day_for_follow_ups_on_mini_posters_logos
The incredible as possible

The Times of Oman winning pages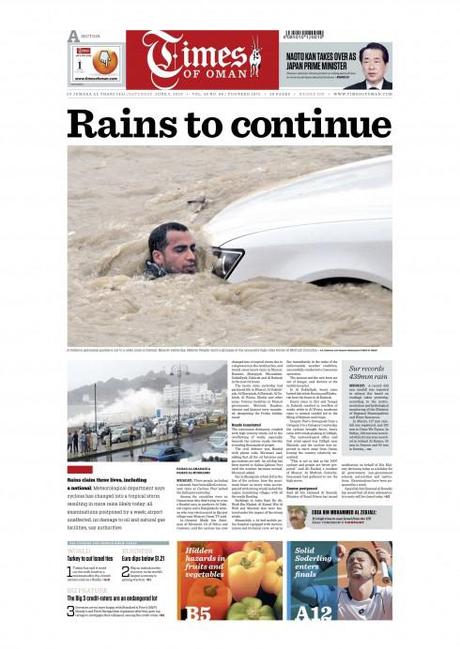 Recent front page of Times of Oman: among pages entered in the SND Contest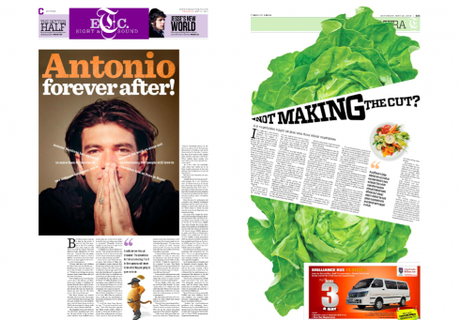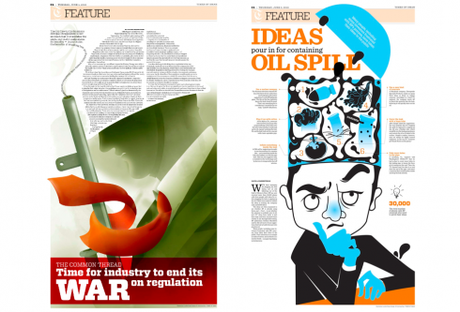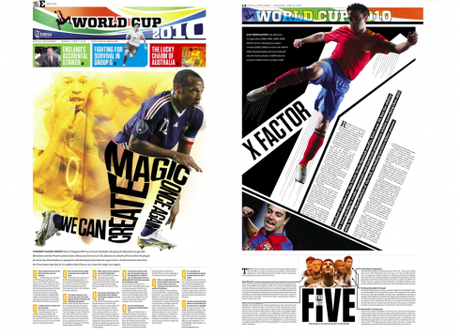 The Al Shabiba winning pages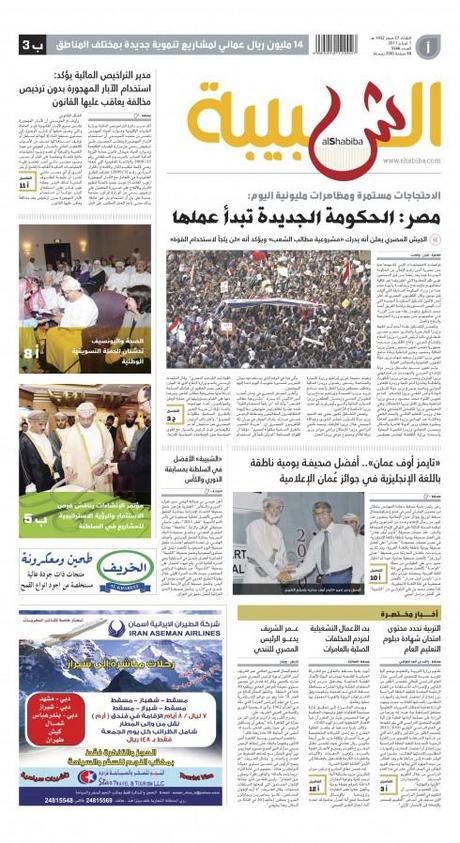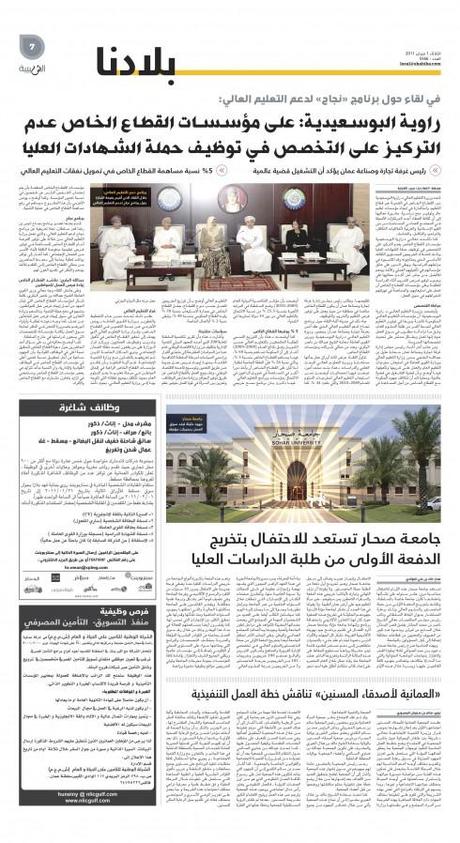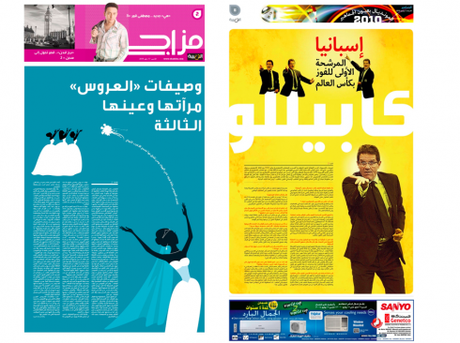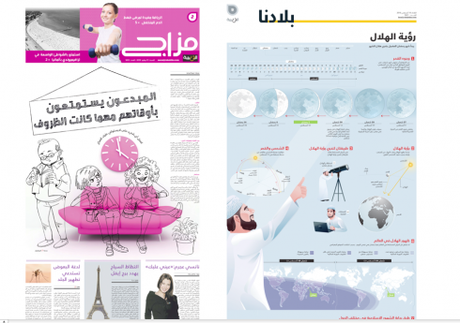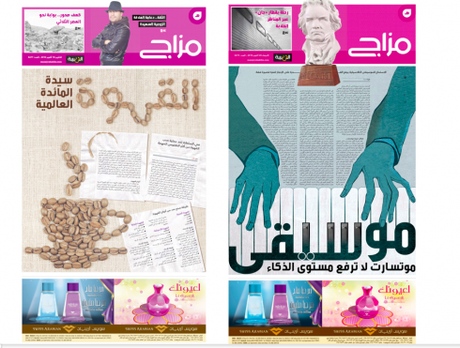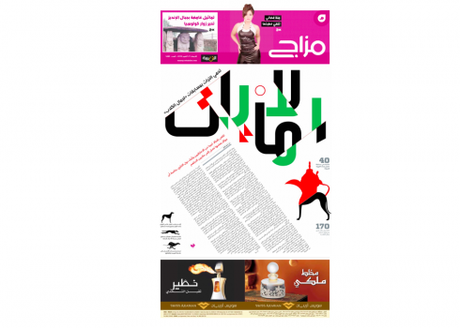 This is the type of story that we all like to hear, especially if we are working in a small publication, with bare bones resources human and otherwise, and with day to day survival as the main goal, even with our best intentions.
My connection wtih the story of Times of Oman and Al Shabiba starts in 2008, when the CEO Ahmed Essa Al Zedjali, invited me to come to his picturesque capital city, Muscat,  in this small, but scenic country, and take a look at his newspapers, with the idea of redesigning them.  I was happy to do so.  I disembarked in Muscat on a hot July day——as a Floridian I do know what hot is, but I relearned it in Muscat, where temperatures in the 40s (Celsius) during a summer day are nothing out of the ordinary.  But, alas, thanks for the nice beach at the foot of the Shangri La Hotel Muscat.
And while the temperatures may have been hot outside, inside the building of the Times of Oman I spotted a cold trail when it came to any presence for design or designers.
I told Mr. Ahmed that it would be a futile effort to do much without creating an art department and hiring a good design director, as well as illustrators and infographics people, plus designers.  A couple of early efforts to do so failed, and so we postponed our project till we could create the infrastructure.
Enter Adonis Durado, the very talented design director for Times of Oman and Al Shabiba. I had worked with Adonis at Dubai's Gulf News, where he was art director of the weekly Xpress.  However, Adonis had moved to Bangkok.  I contacted him there and told him about the wonderful prospects of creating his own art department from scratch. We were lucky and Adonis made it to Muscat.  The magic began.
With the help of our Garcia Media Europe senior art director, Jan Kny, we started working on early prototypes for Times of Oman.  For the Arabic langauge Al Shabiba, Adonis hired Osama Aljawish, who immediately set out to work closely with us on the new logo of Al Shabiba, plus a style that has made the newspaper perhaps one of the best designed in the Arab world, not to mention that, in my view,  it may be perhaps the first Arab language daily to win so many accolades at the SND Awards.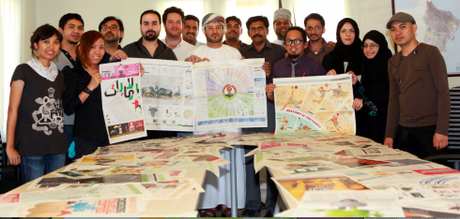 The design team of Times of Oman/Al Shabiba, posing with CEO Ahmed Essa Al Zedjali(center); Adonis Durado, Design Director is fifth from right; Osama Aljawish, art director, Al Shabiba, fifth from left
The first prototype
From the time we worked on the first prototype, I knew we had a winner.  Working as a team, we tackled the old fashioned, disorganized and unattractive Times of Oman one page at a time.  Revamped the grid.
Incorporated new fonts.  Infographics made their way into stories, as did fact boxes, a good navigator on page one, and better internal navigation within stories.
Feature pages combined the best of magazine design with the necessities of daily newspaper journalism.
At each step, Adonis brought magic and innovation to the most ordinary of topics.  He would look at feature section fronts as the canvas on which to paint, not necessarily with rectangular photos and straight type.
The pages shown here, entered in the contest, show the variety with which the pages of the Times of Oman, as well as Shabiba, delight their readers daily.
The precedent
This is not the first time in my career that I have seen one of the little trains take to the fast track and finish first.
It happened with La Gaceta of Tucuman, Argentina.  It was 1994 and I arrived in this northern city, referred to as The Garden of Argentina.  The publisher wanted to redesign the newspaper, and make it, in his words, "more with the times, more visual, contemporary, something we will be as proud of as we are of our local reporting."
But, as in Oman, there was no infrastructure to accomplish his goals.  No art department.  No art director.  Visuals did not play a role. It was a text driven newspaper where photos were used to break up headlines.
And because it was difficult to recruit outsiders to come to this far flung province, I had to be resourceful. I remember putting signs all over the building.  Wanted; anyone with an art background, see Mario at 4 pm, second floor newsroom.
Several candidates came.  Their portfolio pieces were among the most impressive I have ever seen to this day.  Some were plastic artists, others sculptors, or cartoonists.  They were all working inside La Gaceta, in jobs ranging from paste up artist in advertising to production people in the night shift.  Art was their hobby, their second occupation, their dream job.
La Gaceta provided them with the outlet for their talent. An art department was formed.
Soon, La Gaceta was winning SND Awards as well as accolades in regional, national and international contests.
Muscat and Tucuman,two charming cities that are definitely not often present on 'must see" lists, although I recommend both.
For every designer out there working from day to day to survive, dreaming of the big time while in a small pond somewhere, the stories from Muscat and Argentina are testimony to the fact that good things can happen everywhere where people are passionate about their work and refuse to accept "small and limited" as excuses for not putting their best effort forward.
I still look at the Times of Oman and its recent finish as second only to the giant Los Angeles Times as an incredibly inspiring story.
Sometimes little trains hit the track with the speed of bullet trains. It has happened here.
Those who wish to read more about La Gaceta of Tucuman's redesign of 1994:
http://issuu.com/mariogarcia/docs/mario_garcia_pure_design
Taking a look at the early prototypes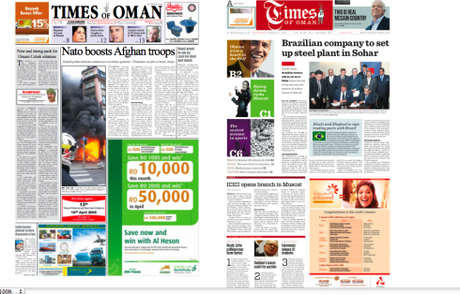 Before and after front pages of Times of Oman: notice change of logo—-as published on day of the launch of new look March 31, 2010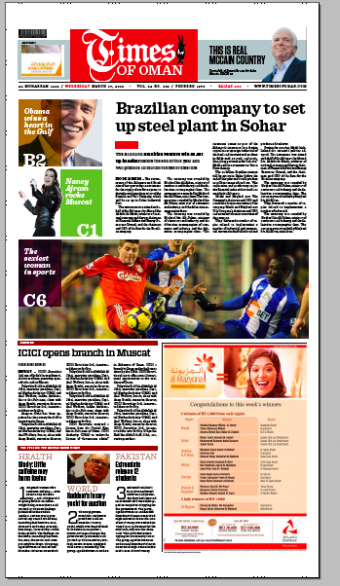 A variation of the new front page of Times of Oman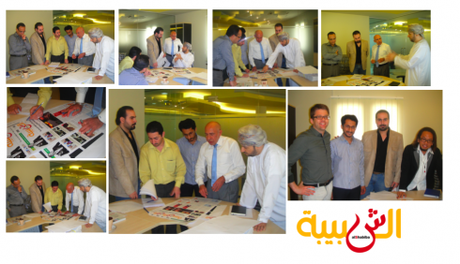 Here we show various scenes of our work with the Times of Oman/Al Shabiba team; CEO Mr. Ahmed (dressed in white at right in most photos)

For those who follow the SND contest, held at Syracuse University, here are the results of the 32nd Annual Competition:
http://www.snd.org/2011/02/unofficial-results-32nd-edition-of-the-competition-is-complete/
The reactions inside the Times of Oman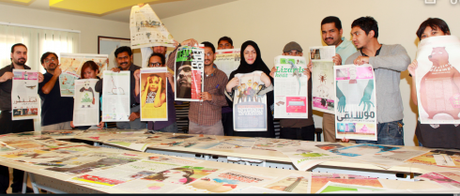 The design teams of Times of Oman and Al Shabiba select pages to enter the SND Contest

"This is a fantastic recognition – a great feat of our design team, our editorial staff, our newspaper, and our country. Instantly, we have put Oman in the global spotlight. For I truly believe that a great country deserves a good newspaper. And this is just the beginning: We will continue to do amazing work for our readers."
—Ahmed Essa Al Zedjali, CEO, Times of Oman/Al Shabiba

"Winning 36 awards is unprecedented and truly very historic for us. Our newspaper is relatively unknown, and it's the first time that we've entered the competition. Making it instantly to the top five (in the company of the giants in the industry) is surely a big honor."
—Adonis Durado, Design Director, Times of Oman & Al Shabiba