TAKEAWAY: At least six newspapers compete for the attention of those loyal Dutch newspaper readers daily.  How long can the market support all of them?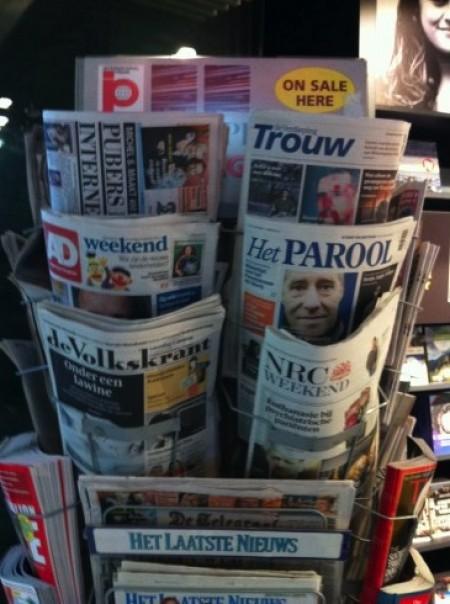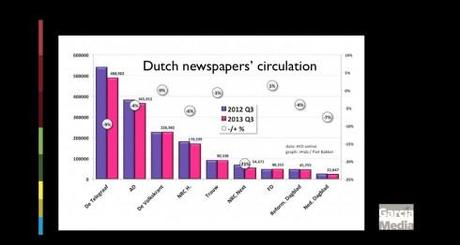 I was in Amsterdam last week as we at Garcia Media continue to work with the De Telegraaf team on various aspects of their next evolution.
Hans Haasnoot, associate editor of De Telegraaf, has sent me this photo with the headline: Media sextet.
The photo includes a rack with all six of those competing dailies in Amsterdam. Good to know that readers have a choice, and the variety is definitely there.  In addition to the ones in the photo, there are two free newspapers and a financial daily.
As happens globally, print newspaper readership is down for Dutch newspapers, including De Telegraaf, where the drop is of 9%. The slide in Dutch newspaper circulation began in 2009. It is probably a matter of time before we see fewer slices in the newspaper pie. But, who knows?
If there is a part of the world where we can imagine many dailies competing in the market, it is definitely in the Netherlands.  The Dutch have always been among the most loyal and devoted newspaper readers in the globe.
However, this is 2014, on the way to 2019, and I can foresee that some of these dailies will first stop print editions Monday through Friday, doing a weekend print edition only.  Others, in my view, may cease to exist all together as print products.  And, as I am almost certain it will happen, there will be new digital publications appearing to satisfy the news hungry Dutch audience.
Long live the Dutch media sextet and those loyal Dutch newspaper readers .
My Continuing Education Courses at Columbia University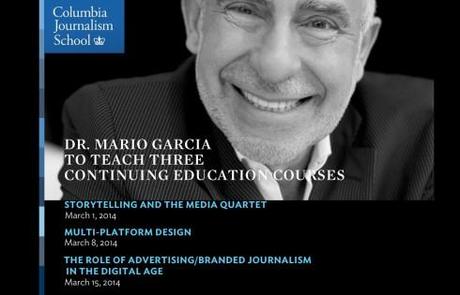 One of the most exciting aspects of my semester as Hearst Digital Media Professional in Residence at Columbia University's Graduate School of Journalism is that it will not only allow me to teach a regular class for graduate students, but also, conduct three courses via the School's Continuing Education Program.
The three courses, which are open to the public, are:
-Storytelling and the Media Quartet
Multi-Platform Design
The Role of Advertising/Branded Journalism in the Digital Age
A Multi-Platform Design & Storytelling 3-Series Bundle is available at a discounted price, which includes the aforementioned courses: Multi-Platform Design, Storytelling and the Media Quartet, and The Role of Advertising/Branded Journalism in the Digital Age. Register for the 3-course series.
Enrollment is limited so please act soon if you are interested in these courses.
About the three courses
The classes will run on a Saturday from 9 a.m. to 1 p.m.
Storytelling and the Media Quartet
Overview: Readers get their news from multiple platforms, and today