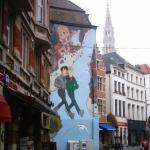 One of the things I've always loved about living in the Netherlands is its close proximity to... well, everything!
Five hours in the car and you're in Paris. Nine hours to Copenhagen or Geveva. A little over eight hours and you're in Prague. Or seven hours to Berlin. Then, of course, there's our neighbors in Belgium, with cities like Antwerp and Brussels two and three hours away, respectively.
Don't have a car? No problem! You can travel by plane, bus or train to all of those places (just keep in mind that your choice of transportation may shorten or lengthen your travel time).
If you're not sure you can sit in a car, on a train or on the plane long enough to make it to Denmark or Switzerland or your stay in the Netherlands looks like it's going to be a short one, your best bet is to head to beautiful Belgium and see the sites a little closer to home base.
For those just passing through, consider taking a tour that will allow you to see the best of both Antwerp and Brussels in just eleven hours. Why Antwerp and Belgium? Well, where shall I begin....
Antwerp, the second largest city in Belgium, is the capital of Flanders and one of Europe's largest ports. It's also home to the famous Antwerp market square and the gorgeous Cathedral of Our Lady. And - I'm sure I don't have to tell you (but I will anyway) - Antwerp has the distinction of being the diamond capital of the world.
In Brussels, you'll see the Tomb of the Unknown Soldier, the Antomium, the Royal Palace, European Commission Headquarters building, and the Manneken Pis statue. There's the lace factory where visitors can learn more about this traditional Belgian craft. Oh yeah, and the city is also the capital of the European Union.
And that's not forgetting the great shopping and mouth-watering Belgian chocolates both cities have to offer.
The best part? You'll be back in Amsterdam by evening!
© 2013, Amsterdam City Tours Blog. All rights reserved. On republishing any part of this post, you must provide a link back to this original post