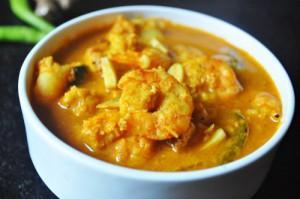 Daniell's Tavern, the Indian fine dining restaurant at the Imperial has a menu featuring the artists, Thomas and William Daniell's gastronomic expedition (1786-91) from all the cities they visited. With Coorg being very much a part of their itinerary it is but natural that it is hosting the Coorgi food promotion.
The Coorgs' (Kodavas) fondness for good food (kadi) and liquor (kudi), and with all the natural beauty that it has been bestowed upon, makes it my kind of place. The people of Coorg are "strict" non-vegetarians, and Pork is their all-time favourite, cooked mostly as Pandi curry.  Coorgis are also partial to vegetable dishes that use produce from their forests and fields. With its robust, spontaneous flavours, the Kodava cuisine can be a most enjoyable experience.  The basic ingredients of traditional gravy for a Coorg Curry, is coconut, ground with onions, garlic and a selection of other spices.
As I enter Danell's Tavern at Imperial in an excited frame of mind, I am greeted by Prem Kumar Pogakula, the biking loving executive sous chef of the restaurant. With a hotel no-pork policy, the legendary pandi curry is not on the menu, but Prem promises to take me through an exciting food journey into Coorg with other ingredients. At his signal the starters start rolling in.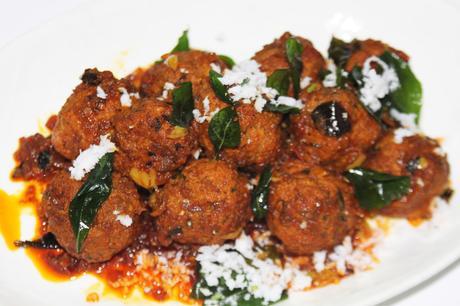 The first starter to be served is chicken fry in red masala (Rs 900). Here morsels of chicken have been cooked with red chilly, mint and coriander giving a piquant taste. The khaima unde (Rs 1000) is melt-in-mouth minced mutton balls cooked with a delicious combination of garlic, ginger, curry leaves and fresh coconut, making it a most enjoyable bite. The mutton chops (Rs 1000) have been marinated in a coriander chilly paste and freshly ground pepper. The vegetarian yam fry (Rs 750) is cooked with green chilies, mace, cloves, pepper and cardamom is as delicious as its non-vegetarian counterparts.
It is time for the soup course now. The mutton bones soup (Rs 450) has a meaty broth made with mutton bones, onions and pepper corns and is served with mutton bits. The mushroom coconut soup (Rs 400) has mushroom with coconut milk and ground spices; and is a lighter, vegetarian option. Both the soups have their own delectable character.
As we wait for the main course, I ask the chef what Coorgi food means to him. He describes it as robust home cooking with heat provided by fresh spices, predominantly pepper.
Next we are served a lavish thali consisting of chicken curry (Rs 1000), Prawn curry (Rs 1650), vegetable korma (Rs 800), potato masala (Rs 750), beans curry (Rs 800) and ghee rice (Rs 400). The dishes that delight me most are the prawn curry that is cooked with flavourful fennel, tamarind, red chilly paste giving it a unique, kaleidoscope of flavours and the sheer simplicity of the vegetarian potato curry and green beans curry.
The chef promises an exciting culinary journey into Coorg and delivers with aplomb. The festival is on from 11th to 17th November 2013.
Ratings out of 5
Food: 4.0 | Ambiance: 4.0 | Service: 4.0 |Overall: 4.0
Meal for Two: Rs 5000 | Alcohol: Yes | Credit Card: Yes| Timing: 6:30 PM to 11:45 PM
Address: The Imperial, Janpath, New Delhi | Phone: +91 11 41116608