Market analysts have been coming out with unhappy news for the makers of traditional desktop PCs. This summer saw an overall decline in sales in this computer class; the research firm Context reports a fall in desktop PC sales across western Europe in the current quarter, and the market research firm IDC reports that worldwide shipments of desktop PCs are expected to fall worldwide this year, a similar trend to 2011. This situation is partly due to belts tightening around the world – but there are signs of a longer-term trend against the humble desktop, as consumers get tired of hulking boxes with forests of wires sprouting from the back.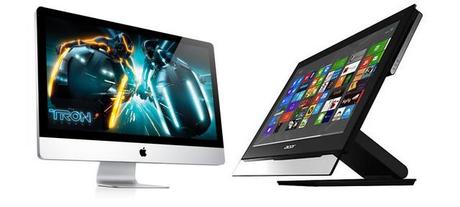 As desktop sales are falling, there has been a rise in sales for all in one computers, which go some way to solving at least those (primarily aesthetic) problems – though they have not arrested the overall decline. All in ones have come a long way since the business end of an iMac was crammed in the back of a brightly-colored CRT monitor, and now offer performance roughly comparable to the high-end of the desktop market. Large LCD monitors are also increasingly enabling the all-in-one PC to supplant the living room TV.
The main contender for this market is still Apple's iMac. The daddy of them all has not gone away, although the colored plastic has thankfully been supplanted by that brushed chrome finish from Apple's top-end laptops – making it much more tasteful. Inside the box, you get a quad-core Intel i5 CPU running at 2.5GHz in the basic model and 3.1GHz at the top-end. A sharp, TFT display (21.5 or 27 inches), powered by a decent (though not world-beating) Radeon 6000-series chipset, is enough to keep Apple's target market of digital artists and designers and casual users happy.
But at last the competition is heating up a little. Desktop PC powerhouse Dell has new offerings with higher specs – including Intel Core i7 chips and top-end NVidia GPUs – at roughly the same price point. HP have done the obvious thing and spliced a touch-screen into their TouchSmart range.
Indeed, it's somewhat surprising that touch-screens haven't made more headway in all in ones. While the technology is there, there is the issue that operating systems just aren't set up for it yet. TouchSmart PCs offer enough functionality to replace the average mouse, but Windows just doesn't (yet) have the functionality to support all the multi-touch dexterity that's built into every tablet. OSX is better set up for that, with multi-touch pads built into most Mac notebooks, but Apple has a more laid-back approach to putting out new generations of its desktop PCs than it does with its tablets and similar devices.
Windows 8 could change all that – after all, Microsoft has staked a great deal on its new interface, which looks very much more targeted at trendy mobile devices than a traditional desktop OS. Full multi-touch desktop PCs wouldn't be much of a headline-grabber in today's smartphone/tablet obsessed tech market, but it would be an opportunity for any Windows PC maker to beat Apple at its own game.
With all-in-one sales on the up in any case, there's no reason for the likes of Dell and HP not to give it a try. All-in-ones still suffer some structural disadvantages in the desktop PC market – the economical design makes upgrades all but impossible for end users, and repairs can be expensive. Apple compensate for this across their range of computers by making them desirable objects in themselves; competitors have to offer something substantial as an alternative to Apple's branding power.