TAKEAWAY: We take an opportunity to show a series of poster illustrations published by the Gulf News of Dubai on the occasion of the United Arab Emirates' 40th birthday as a nation PLUS: A new Len Kubas survey of advertising execs in the US and Canada: digital is the big thing!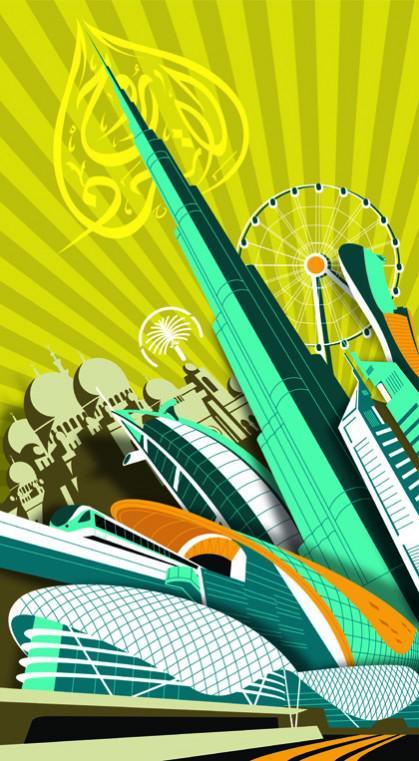 DWYNN R. TRAZZO, Gulf News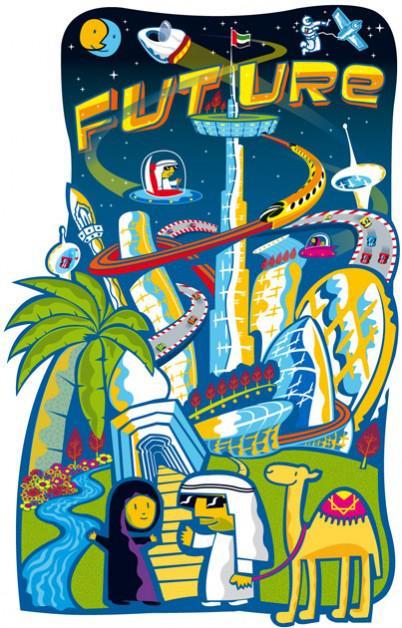 JOSE LUIS BARROS, Gulf News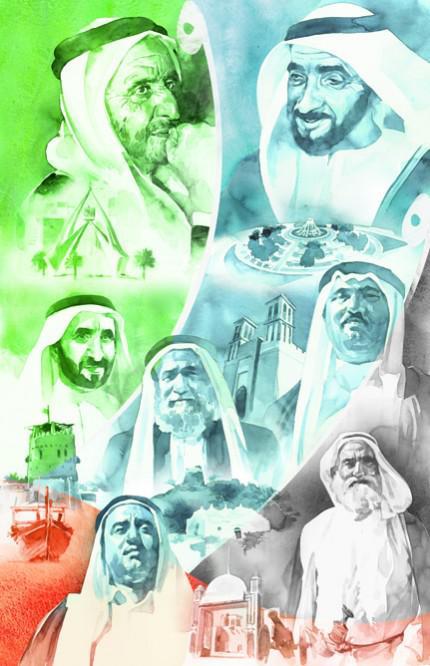 RAMACHANDRA BABU/Gulf News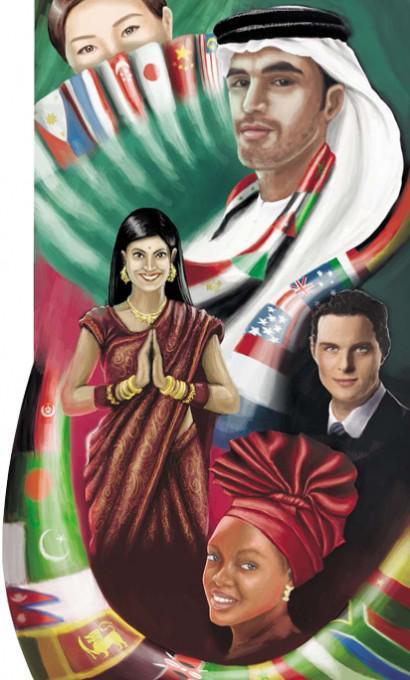 DANA A. SHAMS/Gulf News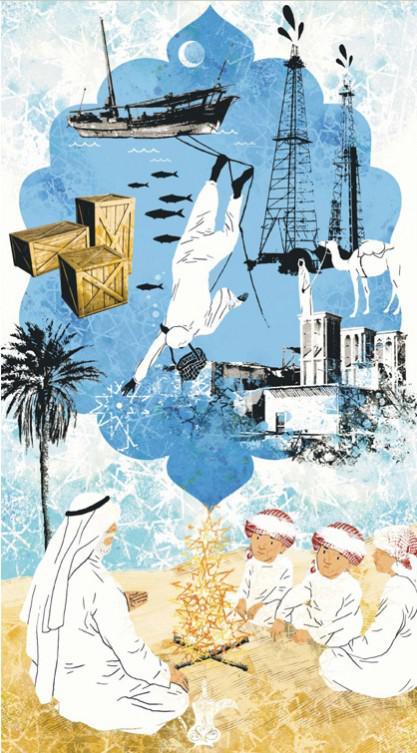 LUIS VAZQUEZ, Gulf News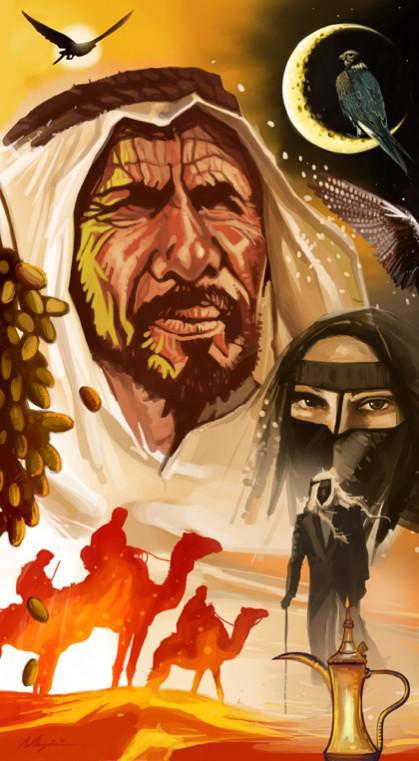 NINO JOSE HEREDIA, Gulf News
Yesterday our blog post celebrated illustrations in newspapers, with a glorious example from The Wall Street Journal, as used for its holiday gift guide, courtesy of designer Bryan Erickson.
Today, we bring you several posters published by the Gulf News
of Dubai recently, as the newspaper celebrated the 40th anniversary of the United Arab Emirates.  Miguel Gomez, design director, writes me the following message:
We created 6 posters in celebration of National day. The objective of our assignment was for the illustrators in our design department to create a series of posters showing what the United Arab Emirates represents to them. In order to avoid repetition, we had this idea to create a timeline, which made each of the posters quite distinctive.
The posters shown here deal with subjects as heritage, trade (oil, pearls, gold), unification (seven emirates in older times), achievements (Burj Al Arab, Burj Kalifa), multiculturalism, the future (green energy, technology, water).
Kubas study: survey of newspaper advertising execs
Our colleague Len Kubas has released his firm's fifth annual preview survey of newspaper advertising execs in US and Canada, in which he surveyed over 400 daily newspaper executives and managers. All segments expect sales declines overall and in nearly all print revenue categories.  The survey does not surprise, and it does not paint a happy picture for the industry either. Len indicates that actual outcomes have been below the respondent expectations in all four earlier studies. 
Highlights:
Growth is perceived in the digital area mostly:
"Strong growth in digital ad revenue is expected in 2012, but all other categories are projected to be flat or down."
"Strong majorities plan to start or upgrade content delivery on mobile devices and to improve their website for online visitors."
Majorities have definite plans to expand email, mobile or e-reader digital advertising, to improve website advertising programs and options, and to upgrade digital sales capabilities.
Two other important areas of attention are upgrading print sales capabilities and improving ad pricing and rate structures.
Find the study here:
http://snpainfo.org/eBulletin/print/KubasPrimedia-Newspaper-Preview-2012.pdf
Remembering Pearl Harbor through the front pages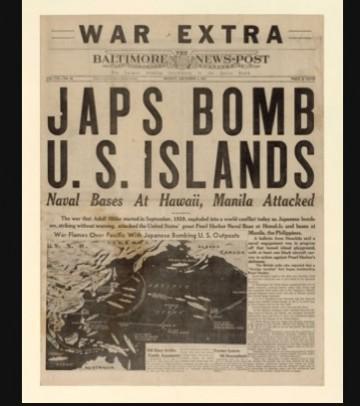 Here is an interesting display of how Pearl Harbor attack on December 7, 1941, played in US newspapers.
http://www.washingtonpost.com/local/pearl-harbor-on-the-nations-front-pages/2011/12/06/gIQAmTXmaO_gallery.html?hpid=z4
Of special interest today
From the WAN-IFRA Executive News Service
http://www.wan-ifra.org/events/digital-media-europe-2012.
- UK: Guardian and FT see mobile "revolution"
http://digitalmedia.strategyeye.com/article/mUvVtnttzsg/2011/12/06/guardian_and_ft_see_mobile_revolution/?nsl=AqncTr3KblaM

- USA: MediaNews Group's 'Digital-First' Mondays Bring Some Paywalls Down
http://paidcontent.org/article/419-medianews-groups-digital-first-mondays-bring-some-paywalls-down/

- USA: Strib metered pay wall: Web traffic down 10-15 percent, revenue up
http://www.minnpost.com/braublog/2011/12/06/33613/strib_metered_pay_wall_web_traffic_down_10-15_percent_revenue_up#.Tt5Um96dWws.twitter

- USA: Politico emphasizes personalization in its latest app update
http://www.niemanlab.org/2011/12/politico-emphasizes-personalization-in-its-latest-app-update

- Five Lessons Newspapers Have Learned About Online Video
http://www.onlinevideo.net/2011/12/five-lessons-newspapers-have-learned-about-online-video/

TheMarioBlog post #909