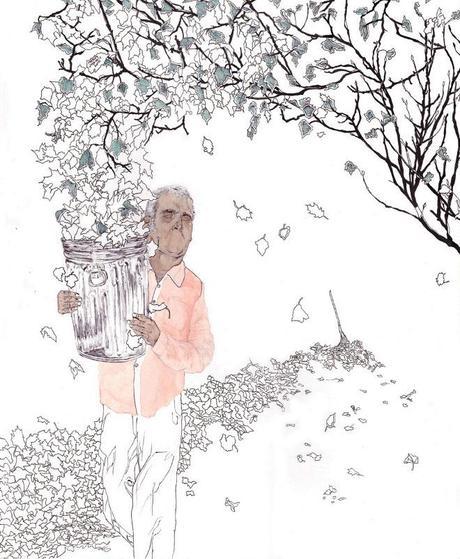 Did this one about a year ago. It was actually specifically for the blog. My friend Chen had like to make a play on my name Jardley. Jardstick (Yardstick), Jardwork (Yardwork) and I ended up using Jardwork for the blog. So I started to think of ideas that would be essentially yardwork. That I would make as banners for the blog. One day when my mom and I were getting into the car, and I saw a worker, one of the ones who clean people's yards passing by the car carrying a trashcan with leaves in it and this is where this piece was born.
This is the first time I'm showing the full piece in all it's glory and not just snippets here and there. You'll note that even as it's used as my twitter background, parts of it are hidden by the tweets.
It almost feels strange to be showing it in it's entirety.
So that's the meaning behind the piece. I thought it was also fitting for this Illustration Friday challenge. Literally.
Done with micron pen, ballpoint pen, and watercolor on bristol vellum.