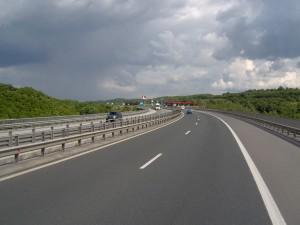 A 28 year old Illinois State Trooper has died after his cruiser was struck by a semi-truck on Interstate 294. According to sources, the Trooper was stopped on the shoulder of Interstate 294 when the semi-truck struck him from behind. The driver of the semi-truck was questioned and apparently had burns to his hands.  The semi-truck was part of a national moving fleet of vans and trucks.  Investigators say that it was a horrific crash and they are waiting on the blood test results of the semi-truck driver.
Illinois State Police Director Hiram Grau said he was not sure if the trooper's lights were on or why he was stopped but that at one  point the semi-truck was on fire.  "Our accident reconstruction team is working", said Grau.  The team is still gathering details and waiting on the blood test of the semi-truck driver.
According to Chicago Tribune, the 28 year old trooper is the second fatality in the last five months.  A 32 year old Illinois trooper was struck and killed by a semi-truck during a traffic stop at the end of November on Interstate 55 near Litchfield, Illinois.
Yesterday, I blogged about a tragic accident involving a father and his young daughter involving a semi-truck accident in St. Joesph, Missouri. Unfortunately, due to the size of semi-trucks in comparison to regular passenger vehicles, semi-trucks usually win the size battle.  Due to their mass, semi-trucks are harder to stop and often striking a car or being struck by another vehicle will often not change the course of the semi-truck.  Interstates are especially dangerous as all motor vehicles are traveling at a higher rate of speed. When you have extremely large trucks traveling down the interstate at 65-70 miles per hour, they are often deadly.
While motor vehicle accidents resulting in fatalities and serious injuries are always tragic, it is so disturbing to hear of two Illinois troopers in less than six months. State troopers as well as police officers, fire fighters and EMT personnel all make a commitment to working in more dangerous areas that most of us, but it is truly disturbing when one is taken from us in this manner. We rely on state highway patrol officers to help keep us safe out on the highways and interstates. Each of us know that knot in our stomach when  we see those flickering lights–either we are going to fast or there has been a wreck. But, we all know that there is a comforting feeling when the Highway Patrol arrives that the accident and supervision will go according to strict guidelines and procedural correctness.  It is not easy to become a higway patrol trooper and it requires courage and true caring for other human beings to do  such a job.  The loss of any officer is a tragedy and certainly a loss for the community.
Pulling over onto the shoulder of a highway or interstate has been a blog topic many times for me when I primarily addressed regular motor vehicle operators.  I have gotten to know countless people who have been hit by passenger cars and semi-trucks when they were pulled over on the shoulder due to their vehicle becoming disabled.  You should never pull over onto the shoulder of a busy highway or interstate unless your car simply will not operate.  Highway patrol officers are the men and women that respond when you are in such a situation, thus they do not have a choice about pulling over to the side of the road.  Their crusiers are equipped with more lights and warning signs, but as this incident points out…….not all drivers either see or pay attention.
We think of troopers and other highway officers to be highly skilled in safety and proper use of warning lights and flashers, so when there are two fatal accidents in a short time we seek to understand how and why these fatal truck accidents happened.  Semi-truck accidents are rarely minor.  After these two fatalities, it is my hope that the Illinois Department of Transportation will conduct thorough investigations into the causes and factors of the accidents.
Victims and families of victims deserve to gain information after a semi-truck accident.  Accident reconstruction experts are often used to examine the physical terrain, witness statements, victims and blood tests to determine all causes for the accident.  If you have been seriously injured or have lost a loved one in a semi-truck accident or an auto accident, you may need legal representation.  At The Cagle Law Firm, we understand a personal injury claim or a wrongful death claim is traumatic and we help our clients sort through the insurance and claim process.  Call toll free 1(800) 685-3302 or locally (314) 276-1681 for a free consultation.
Link to this post!Illinois State Trooper Killed in Semi-Truck Accident on I-294" onclick="javascript:this.select()" readonly="readonly" style="width: 100%;" />