Thursday night's
Trovatore
 revival found the Met's forces in reassuringly fine form: under Daniele Callegari, the orchestra played with passion and precision, and the cast was without a weak link, contributing strong and stylish singing. The only thing missing was, for me, the ineffable spark that would have been needed to set the performance ablaze. Still, it made for a most musically satisfying evening. David McVicar's 2009 production, its visuals inspired by Goya's famous Black Paintings, creates an appropriate backdrop for the brutal story. The "gypsies" are here armed partisans under Manrico's command. Unfortunately (at least in this revival, and I don't recall significant differences from the production's first run) McVicar's exploration of the violence of nineteenth-century Spain doesn't go much deeper than this. The choreography is mostly traditional; although attentive to the music, McVicar doesn't seem to give hints as to whether Azucena or Ferrando is telling a more truthful version of past events; of how Di Luna's other subjects are affected by his rule; of what events have led to this combustible situation with all the characters living on their nerves. (A few camp followers and piles of rubble do not a commentary on sexual and political violence make.) In McVicar's favor, I will say that recent experiences have led me to appreciate cohesive visual language and characterization as qualities not to be dismissed lightly, and there are several striking touches in the staging.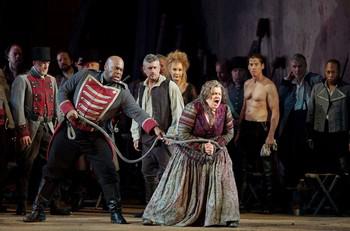 Robinson and Zajick
Daniele Callegari's conducting was propulsive and alert to detail, bringing out the horror, violence, and romance of Verdi's score through its nuances (yes, they exist) rather than relying on the sheer power of its construction. The shivering and wailing strings distinguished themselves especially, but it was a very strong performance all around, distinguished for variety of tonal color. The five principal singers were remarkable; I include Ferrando without a qualm here, as 
Morris Robinson
's singing was among the most charismatic of the night. Robinson exhibited a powerful stage presence, as well as a warm-toned, commanding, and surprisingly agile bass. I hope to hear more of him. Franco Vassallo made an overtly cruel Di Luna, but did justice to the count's scruples with strong, sonorous singing and fine use of vocal coloring. Dolora Zajick commanded the attention of the gypsies and the audience even before she sang; McVicar's staging makes it clear that Azucena is a figure of authority within the community, and Zajick's singing makes it easy to believe. None of the narratives languished: Zajick's command of the text made each feverish soliloquy unmissable. Her voice showed some signs of age, but her range is still awe-inspiring, and she still owns this role, making Azucena the complex, compelling, tragic figure Verdi envisioned.
Carmen Giannattasio was Leonora, in a very impressive Met debut. She sang with a lovely, passionate directness, and seemed at ease with the bel canto agility demanded by the role. Leonora's naive fearlessness may be her downfall, but Giannattasio presented it as also her greatest strength: a capacity to disregard everything but her love, and act accordingly. (Confession: I got a little teary in the convent scene when she sees Manrico resurrected into her embraces.) Giannattasio's soprano was warm, well-rounded, and notable for a marked, pleasing 
squillo.
Gwyn Hughes Jones
, her troubadour, started out sounding a little pinched, but warmed up nicely. Although not especially large, his voice is sweet-toned and pleasing, supporting his characterization of Manrico as a straightforwardly decent sort whose tenor heroics are thrust upon him. He had good dramatic chemistry with Zajick, was tender with Giannattasio, and made each of his emotional quandaries palpable. Let it be noted that, to my shocked delight, he not only transitioned well from "Ah, si! ben bio" to "Di quella pira" (supported by Callegari's sensitive conducting) but actually did
sing
the latter, instead of bellowing it. While this
Trovatore
may have worked out to less than the sum of its parts, it was still a
Trovatore
of several minor miracles.
Curtain call photos: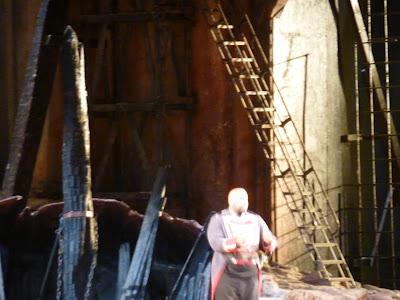 Robinson (Ferrando)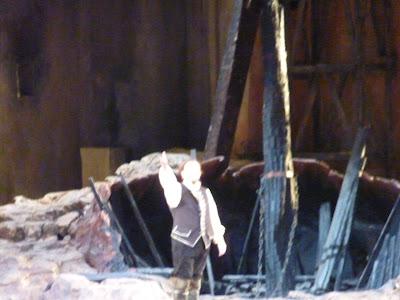 Vassallo (Di Luna)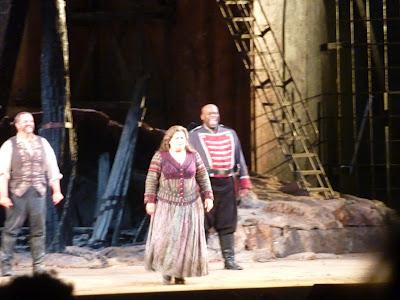 Zajick (Azucena)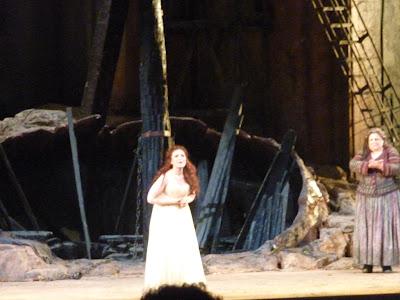 Giannattasio (a very happy Leonora)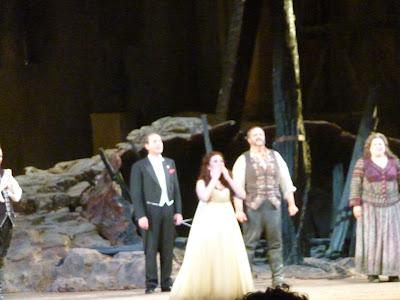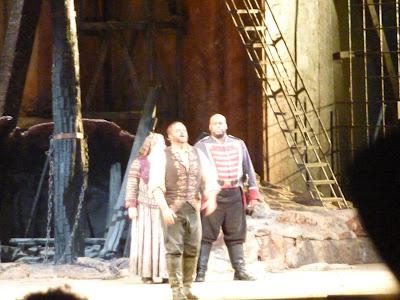 Hughes Jones (Manrico)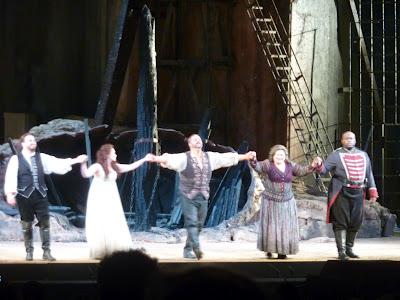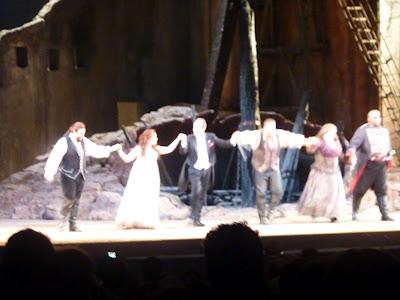 Cast and conductor