This blog is a work in progress, but if you've been following along you know that I work in fashion for my husband's family business and they are exotic leather belt artisans.  Technically, we make some of the world's most absolute luxury products but don't make luxury money! I've written a bit about what it like to work in luxury without making luxury money here.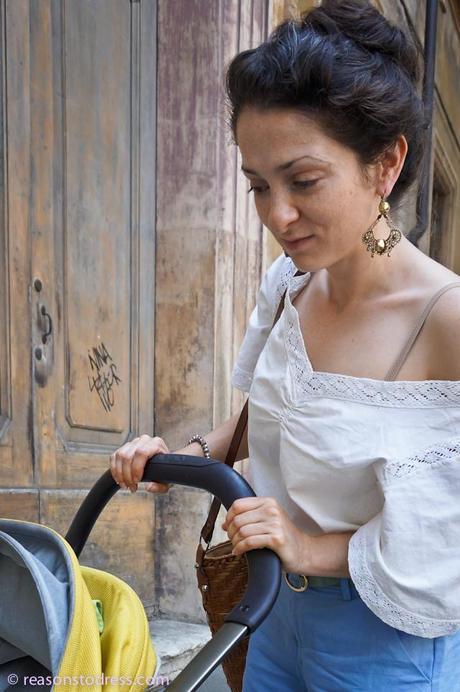 Working in the world of the rich, when you yourself are normal, means getting creative. Creativity in dressing isn't always easy because the stitching on a poorly made top is always going to be bad, and fake leather anything doesn't cut it with clients who are decked out in the real deal. I try to seek out unknown designers, Italian artisan brands and of course vintage finds so I can recreate a certain look without looking too cheap.
I've found a lot of cute things online but one of my secret weapons are the stalls at the Market!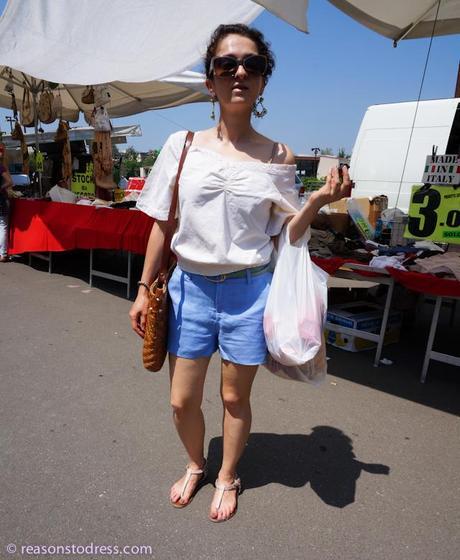 Il Mercato
In Italy "Il Mercato" usually refers to a weekly, or monthly temporary market where vendors sell housewares, clothes, vintage items, toys and everything else!
Not to be confused with the vegetable and fruit market!
***
Note if you are looking for one or the other be specific when asking for directions, for example "il mercato di frutta e verdura" for fruit and vegetables and if you are looking for clothes you could say "il mercato dell'abbigliamento e indumenti" and for housewares you could say "il mercato di casalinghi".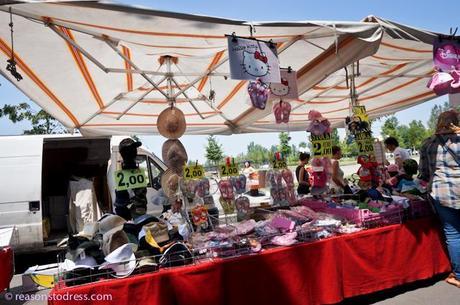 I've written here about Italy's Antiques and Vintage markets, but these are focused on antiques and authentic vintage items and not necessarily sell-offs, cheap, discontinued or used items. At "Il Mercato" you can find brand new kid's clothes from big brands for 10 euro a piece (they are probably from the collection from two years ago), retro and vintage finds for a few euros each, bras for 7 euro, and scarves for 3!
MANY ITALIANS SHOP HERE! In many ways "il mercato" is how you survive in Italy, sifting through the stalls until you find a brand new, name brand top for 5 euro, or last seasons winter coat for 30! Not everyone admits to shopping at the market, but you'd be surprised who you run into!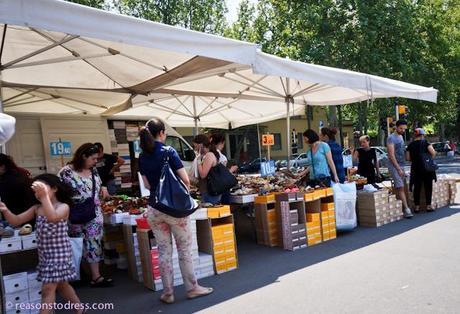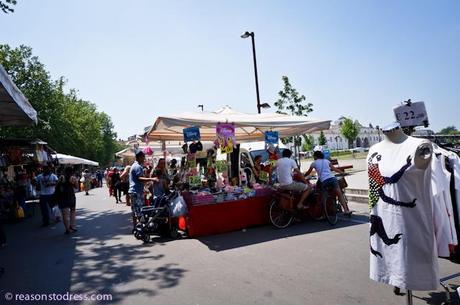 I've picked up some of my favourite things from il mercato (the market) like this scarf, a Missoni inspired short sleeve sweater and an ombre beanie.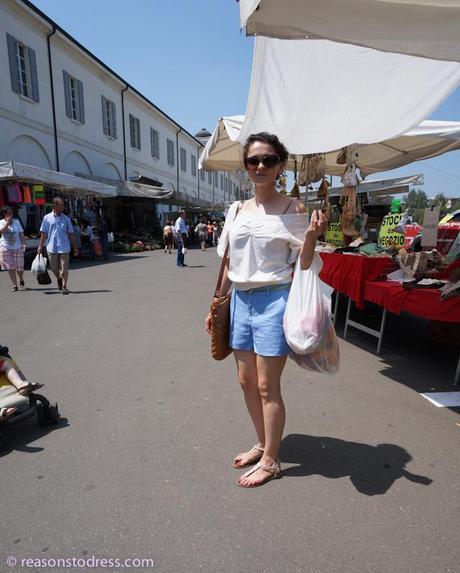 I took a BIG BREAK from blogging last week but I'll be honest and say it's nice to be back.  I have a lot of blog reading to catch up on and in many ways this blog is now a little piece of my life so I really missed writing while away.  But sometimes breaks are necessary so I can concentrate on real life and just enjoying the moment, which I did fully!
Sharing is Caring – What I Wore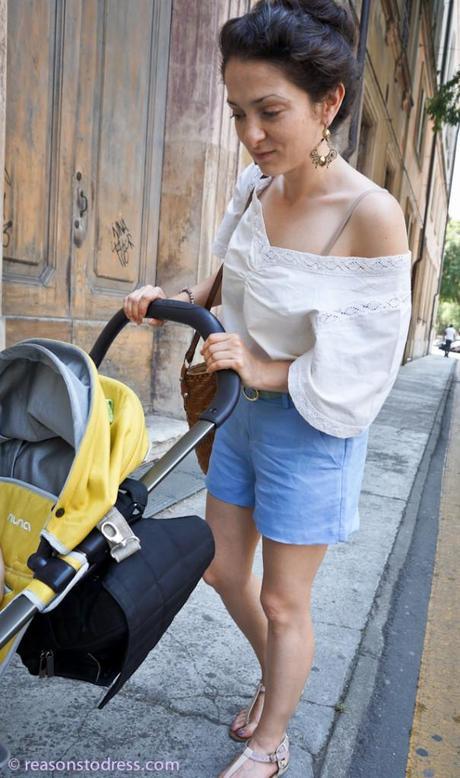 If you read this post about my blue Kimono, you know that I'm a lucky girl when it comes to receiving free accessories and gifts.  Now that I have the blog I also get a few more "gifts" in exchange for mentions on the blog, but not always.  Often, when you work in fashion, gifts come with the territory.  A girlfriend of mine is a fashion journalist for one of Italy's major fashion magazines and her closet is FILLED with gifted designer pieces (I'm not quite so lucky), but I did get this great pair of earrings for free!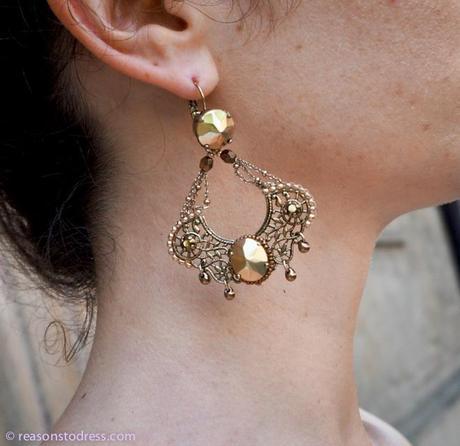 I wanted to share the love, so I'm giving them away!! This isn't a sponsored giveaway, it's more like a "pass it on" sort of thing.  My readers have become new virtual friends, so I thought this would be a fun way to pass on these earrings.  I've only worn them once (to take this outfit shot!!), they came from a friend's designer jewelry boutique and retail for around 130 euro.  I'm opening up the giveaway worldwide and will personally pay for shipping, just to say thank you.  I may start doing this more often in the future along with the sponsored giveaways,  but closet is pretty full so why no pass along things I don't wear?  What do you think?
a Rafflecopter giveaway

My shorts are 100% linen bought online here during a flash sale for 7 euro aka 10 bucks!!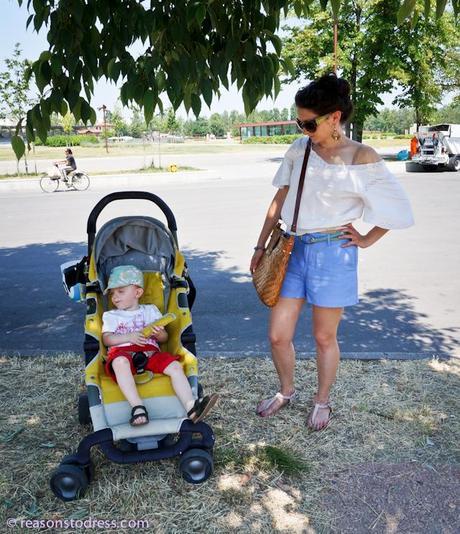 My peasant crop top is also linen with a cotton lace border bought at a small vintage fundraising market for 3 euro.  My sunglasses are Betsey Johnson, my belt is  real lizard leather (handmade by my man) and my wicker bag was a vintage find!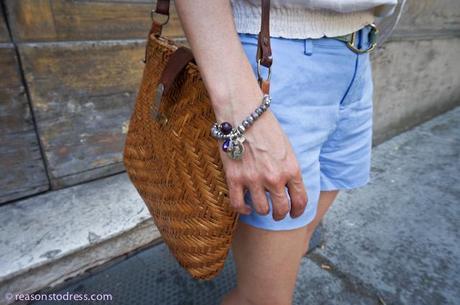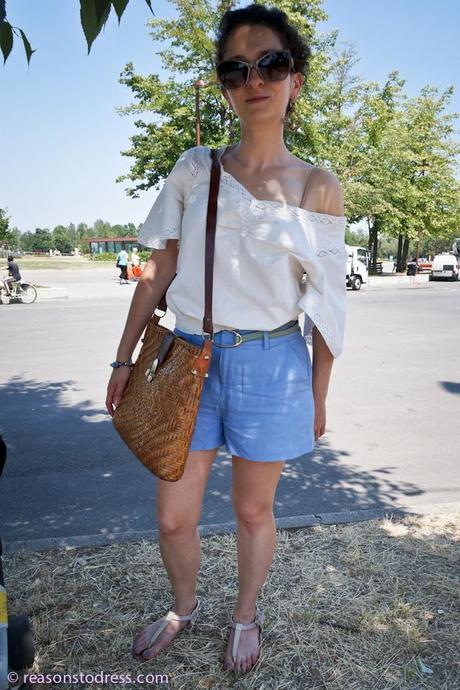 I hope you enter the giveaway and good luck!! Next week I'll be sharing my adventures (and mis-adventures) from Lisbon in Portugal!

Follow Reasons to Dress through Bloglovin' & get 1 email a day with all the most recent posts from the blogs you love.

 You can find Reasons to Dress on  Facebook, Google +, Twitter, Instagram, Pinterest and Bloglovin'! I love hearing your comments and suggestions, please feel free to share any of my posts with your friends and don't be a stranger!
I'm a Top Mommy Blogger! Reasons to Dress is ranked as a top Fashion and Style Blog for moms, if you'd like to leave a comment about this blog or vote please visit TopMommyBlogs.com …THANK YOU!
Link-ups!
Every week I try to link-up my with these fantastic ladies.
Visit their sites for some inspiration & to discover new bloggers!
Momma in Flip Flop's Real Mom Style, Mama and More and Mother.Wife.Me's #AllAboutYou, Style Elixir's Style Sessions, and her Fab Favorites, The Pleated Poppy's What I Wore Wednesday, My Girlish Whims' Your Whims Wednesday, Because Shana Said So's Random Wednesday, Get Your Pretty On's I Feel Pretty, Perfectly Coutured's Three-fer Thursday, Her & Nicole's Lovely Thursdays, The Life of The Party's Fashion Informant, The Penniless Socialite's Look What I Got, Rachel The Hat's Passion 4 Fashion, Mummy's Got Style's Fashion Friday, Musings of a Housewife's Fashion Friday, Vodka Infused Lemonade's Tres Chic Thursday, Fry Sauce and Grits' Be You Tiful.