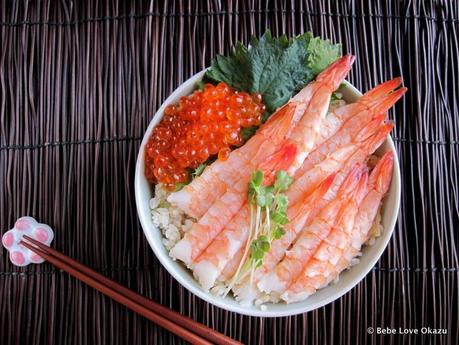 Happy Girls' Day!
Today, March 3rd is Hinamatsuri, or Japanese Girls' Day, and is also known as Girls' Doll Festival.
Dolls are displayed in the family's home to wish for happiness and good fortune for all the girls in the family. This year, we managed to display our Hinamatsuri Dolls for longer than a few days as we remembered to set them out earlier in February. In years past, we hastily displayed our dolls just a few days before March 3rd, only to take them down immediately after the 3rd as it is considered ill-fortune to leave the display up for too long. A Japanese superstition claims that Hinamatsuri dolls that are left out too many days after the 3rd means that girls in the family will have difficulty marrying at an appropriate age.
These days, I'm not really sure what the "appropriate age" for wedlock is in Japan or even here in America, but culturally and historically, marriage in Japan often took place between adults who were much younger in age.
My Mom was barely 21 when she married my Dad. Back then (and perhaps today too), I suppose her marriage was considered "age appropriate" in Japan. My maternal grandparents must have done a great job putting away her Hinamatsuri dolls in a timely fashion. ;)
As for my marriage, I was no "spring chicken" like my Mom when I married my husband but whose to say my parents did/didn't put away my Hinamatsuri dolls in a timely fashion. ;)
Today, to celebrate the actual day of Hinamatsuri, I made a very easy chirashi sushi topped only with ingredients that Bebe (and Mama) like, and used several short-cuts (photo above).
For the sushi rice, I made brown rice, and while this was cooking, Bebe and I took a quick trip to our local Japanese supermarket. The items I purchased for our short-cut chirashi sushi lunch were:
SushiTaro brand Seasoning Mix for Sushi Rice (my homemade sushi rice recipe is available here)
1-package of cooked shrimp (for sushi)
1-package of ikura (wild cod roe/caviar)
Fresh shiso (perilla) leaves
Kaiware (radish sprouts)
As soon as we got home, I allowed some of the cooked rice to cool to almost room temperature in a large bowl. I added the seasoning mix for sushi rice. Then I served our short-cut sushi rice in a bowl, topped with the cooked shrimp, ikura (caviar), shiso leaves and kaiware.
Voila! A perfectly beautiful chirashi sushi lunch made with our two favorite ingredients: ebi (shrimp) and ikura caviar along with miso shiru/soup (recipe available here) and some of Bebe's favorite Japanese-style okra (recipe available here).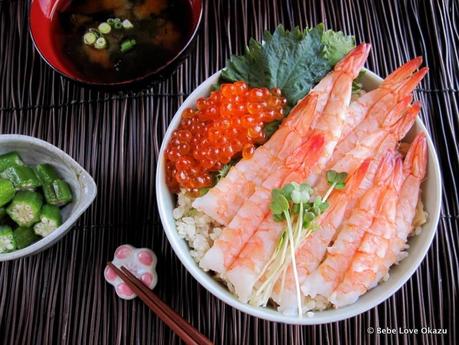 Over the weekend, we celebrated Girls' Day with our entire family. Everyone pitched in for a delicious lunch. Where available, links to recipe posts on my blog are provided.
Salmon
Teriyaki chicken
Chinese chicken salad
Crab cakes
Seafood paella
Char siu bao
Nigiri sushi
Edamame maze gohan (mixed rice)
Inari sushi
By the way, if you do not follow me on Instagram from your smartphone, you can always find more photos of the food that I cook, eat, and share daily. While I share photos in summary format here on my blog, I share many more day-to-day photos via Instagram. Feel free to search and follow BebeLoveOkazu on Instagram. I look forward to seeing you on Instagram!
Happy Girls' Day!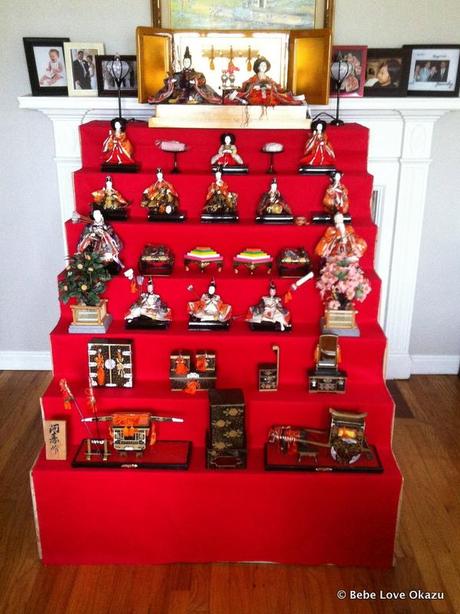 Print
Ikura and Ebi Chirashi for Hinamatsuri (Cod Roe and Shrimp Scattered Sushi for Japanese Girls' Day 2014) Author: 
Judy | Bebe Love Okazu
Recipe type: 
Sushi
Cuisine: 
Japanese
Prep time:  10 mins Total time:  10 mins Serves: 
1 to 2
  Ingredients
2 cups cooked brown rice
1 package seasoning mix for sushi rice (or use homemade sushi rice recipe available on "Recipe" page of Bebe Love Okazu
6 to 8 pieces of pre-cooked shrimp
2 ounces ikura / cod roe caviar
Kaiware (daikon radish sprouts), optional
Shiso leaves, optional
Instructions
Mix cooked brown rice with sushi rice seasoning (either homemade or pre-packaged)
Serve rice in a bowl, top with cooked shrimp and ikura caviar. Garnish with kaiware and shiso leaves, optional.
3.2.1275