After moving in to a smaller flat last year, I quickly realised that I didn't have the space for two of my Ikea Ivar shelving units. One was sold locally and, although I managed to squeeze the other in to the bathroom cupboard space, I soon decided that it was excessively deep and warranted downsizing. With that second Ivar unit sold, I had the funds available to purchase something more compact; again from Ikea, I went for the Hejne shelving unit.
It is less substantial than the Ivar design and I wouldn't expect it to withstand as much weight. But this was mostly to house my walking and camping gear and I knew it would be fine. Mostly importantly, it was only half as deep as the previous units.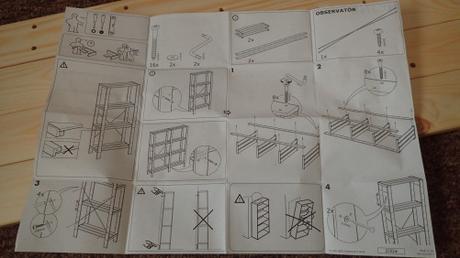 In that typical Ikea fashion, it came with a sheet of visual instructions to help someone put it together. All of the components were packaged well enough and complete with their corresponding fixings.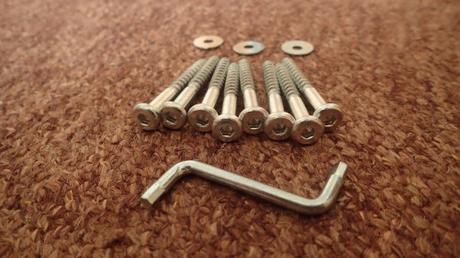 I've said before that I have a pact of not using these feeble allen keys that are enclosed as standard... They end up in my bin, as I reach for a tool that's battery powered! I do feel sorry for anyone who perseveres with only what they are given.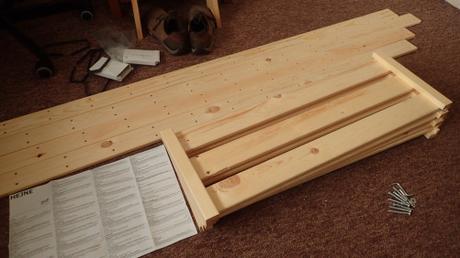 I didn't bother to go to the extend of sanding this lot. For one, I didn't want to cover every surface of my new home in very fine dust. I just couldn't be bothered with the hassle and, with the shelves constructed in a slatted formation, there would be many intricate and hard-to-reach edges that require attention.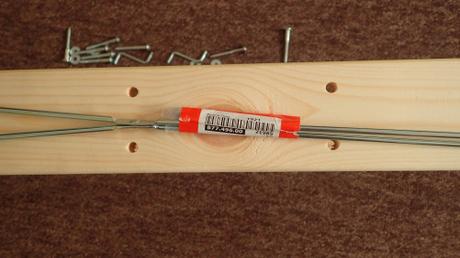 My biggest challenge in all of this was finding the metal brace in the Ikea store. It wasn't in the same aisle as the wooden components and the display unit was extremely vague in giving away its location. I double-checked on the computer screen. I pushed my trolley up, down and around the self-service area. In and out of every nearby aisle... In the midst of defeat, I plodded on towards the tills, ready to pay and conjure up and alternative means of bracing the structure during my drive home...
The, there they were. Heaped on the floor a few metres from the self-service checkouts! Problem solved and it even comes with screws.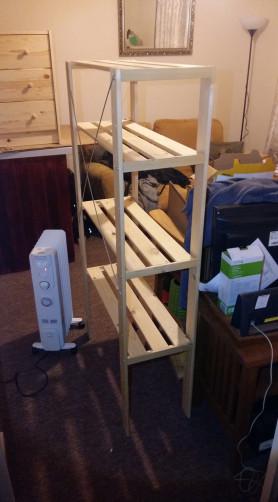 It didn't take long to assemble the unit. Each of the legs screws on to the front and back edges of the shelves. I started with the top and bottom shelves to create a four-sided frame. Then, laying it down on its front, I could square the unit up and fix this with the metal X-brace, before adding the intermediate shelves.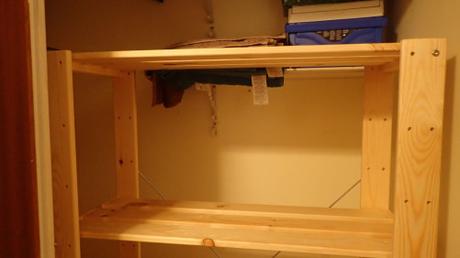 But when I came to fit this new unit in to my bathroom cupboard... I found that it was too tall, fouled by the existing wall-mounted shelf.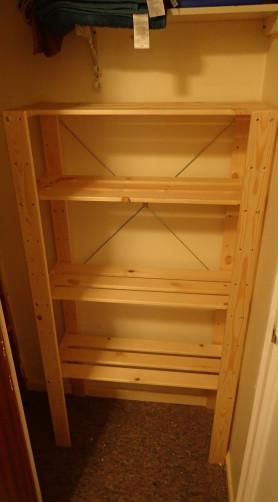 I live in a rented property and I have no right to remove or reposition these items. So instead, I opted to saw a few inches off the top of each leg - problem solved! Neither am I allowed to fix anything to the walls of this flat, while Ikea strongly recommend you do this on many of their products.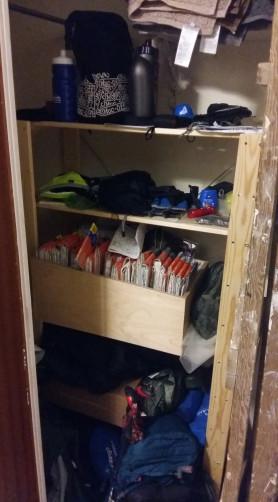 As anticipated, there was enough space on these shallow shelves to store all of my various kit.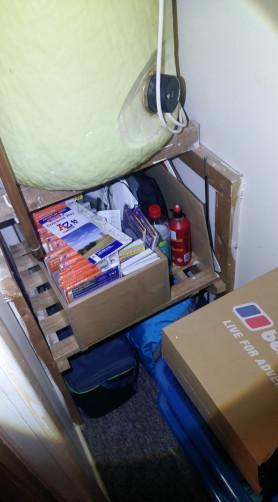 ...As time has passed though, I've questioned my need to have stoves, sleeping mats and water bottles on display when I may only reach for them once a week at best.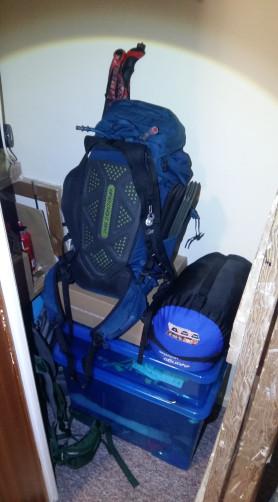 I've removed the Ikea Hejne shelving unit from my bathroom cupboard and the former contents of those shelves have been packed in to a pair of plastic storage boxes. I don't go camping through the colder months and, at best, I'll only reach for these goods once a month through the summer. Again, I question that need to have it all on display when I truly am pressed for space.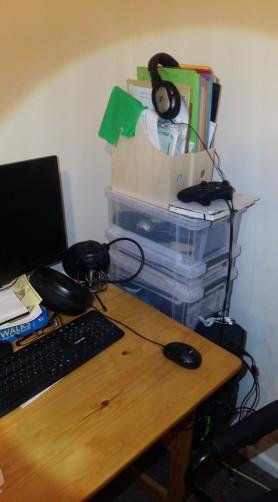 Without selling it on or putting it to waste, I have adapated the Ikea Hejne unit in to its new home beside my computer desk. It is still freestanding and not fixed to any walls.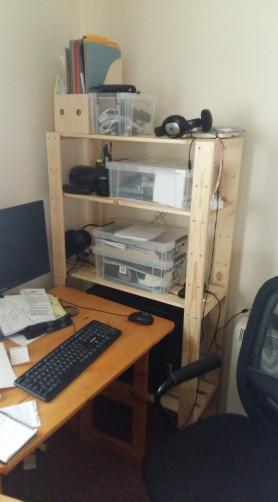 From another stack of plastic storage boxes, I have gained a new sense of organisation within this compact corner. I've done a bit more work to this since... But I'll write about that soon.
Thanks for reading.

I live in Weston-super-Mare, close to the Mendip Hills and I enjoy spending time outdoors. This inclues long day walks, camping trips and backpacking trails. I have two blogs: Olly Writes (woodworking, DIY, baking) Olly Outdoors (walking, camping and kit) You can also find me on YouTube, Twitter and Facebook. My second YouTube channel is titled 'Walks with Olly'. View all posts by Olly Parry-Jones
Published