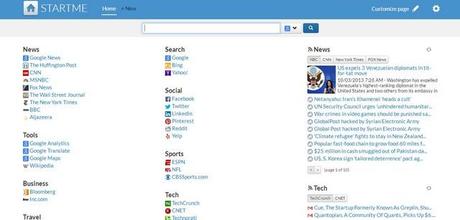 Back in July 2012, Google announced that its' personalized homepage, iGoogle will be retired on November 1, 2013, as a part of their Spring Cleaning process. With less than 30 days left for the shut down, Google has just sent out a scary notification to all the iGoogle users to back up their data within the next 30 days. And now users are slowly starting to panic, thinking that they'll have to go back to the old boring Google homepage. Don't worry, there are several alternatives to iGoogle. Startme is one of them.
Startme is a simple personal startpage that works like iGoogle. After signing up with your email, you get to set up your own homepage with bookmarks and RSS feeds of your favorite blogs in a smooth drag and drop interface. Best feature of Startme is that you are allowed to customize your search with different search engines including Google, Yahoo, Bing, Wikipedia, YouTube and others of your choice, unlike iGoogle where you get stuck with Google Search.
You may also like: Lady Gaga, Eminem to Perform at YouTube's First Music Awards Show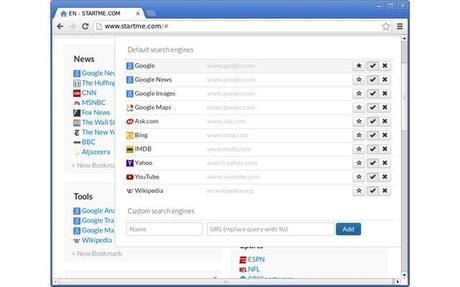 This startup is still in its' early development. So, right now you are stuck with basic bookmarks, RSS and web search on your Startme startpage, which is nothing compared to the facilities you get with iGoogle. Although, the Startme team promises that they have a lot of cool features in the works like Themes, and widgets for Weather, Date & Time, as well as for Gmail, Facebook and Twitter. And I hope they will add social signup to the service soon because signing up with email is a little annoying.
"Startme.com has developed based on what users want and we'll continue to listen to our users and add features in the future," said Jonathan Roorda Content Manager of Startme , "Upcoming features include the possibility to include links to local files or folders and setting your own background. Much more will be added as we continue to receive feedback. Startme will never be a finished product."
It's only a matter of time before Startme becomes the next iGoogle. If you're a fan of iGoogle, then I'd suggest you to try Startme and see what it has to offer.

(All the images, trademarks, logo's shown on this post are the property of their respective owners)
Follow @nrjperera - Roshan Jerad Perera