In case you're not familiar with the app, IFTTT is a service that lets you connect two different online services to make unique, automated actions – "If This Then That". For example, you can connect Gmail with Dropbox to save email attachments to the cloud storage upon performing a specific action.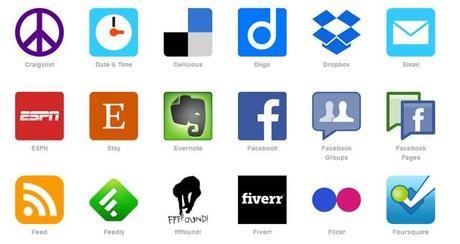 98 Apps to Choose From
Read Also: 7 Android Games Guaranteed to Keep You Glued to Your Phone
IFTTT for Android app is little bit buggy at the moment. Even I can't seem to find the login button on my phone, because the app was not properly optimized for 4-inch devices. IFTTT team says they are working on an update to fix these issues, so if you're having trouble at the moment, just hang in there. In the meantime, check out these awesome recipes to get started with IFTTT. Keep in mind that this is only scratching surface of IFTTT. The capabilities of this service is virtually limitless, so feel free to experiment.
Upload New Instagram Photos to Flickr
Having trouble uploading your photos to both Instagram and Flickr? No worries, just activate this recipe to automatically upload all your new Instagram photos to Flickr.
All your missed calls will automatically receive a text message saying you'll call them back soon or they can't reach you or whatever you want.
Share Website Links to Facebook
Who has time to login and share stuff on Facebook these days. Just use this recipe to keep your fans, friends entertained by automatically sharing links to latest posts from a website.
Save Gmail Attachments to Dropbox
To avoid losing your valuable files that comes to you as email attachment, use this recipe to keep a backup on Dropbox.
Keep your GPS turned on, and when you reach the office, your phone will automatically mute and switch to vibrate.
Get Notifications for Weather
Get notified if it's going to rain tomorrow, so you can grab an umbrella.
Keep a Phone Call Log in Drive
Log your calls and keep track of you calls or see if someone's secretly using your phone to make calls.
If you've got some of your own awesome recipe's, let us know in the comments.
(All images, trademarks shown on this post are the property of their respective owners)
Follow @nrjperera - Roshan Jerad Perera