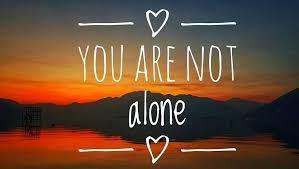 By: Rhonda Nemri
Psalm 116 5-9-Gracious is the Lord, and righteous; Our God is merciful. The Lord preserves the simple; when I was brought low, he saved me.Return, O my soul, to your rest; for the Lord has dealt bountifully with you. For you have delivered my soul from death, my eyes from tears, my feet from stumbling; I will walk before the Lord in the land of the living.
"If you need anything, let me know". One of the typical phrases one hears after losing someone, or something. It's a common phrase stated by friends and family. But what does it really mean? For some, they believe it has to be said as an assurance and support of the relationship, or simply a statement one thinks they have to say. But on the receiving end sometimes it isn't so clear what it is we need when we are in that moment of tragedy and grief. "I just want my father back is what I need" has also crossed my mind when someone says it to me.
I too am guilty of saying it to my loved ones, even to those I may have little to no relationship with. Why? Because grief and tragedy is all too familiar to me, and I know the strong feelings and emotions they are going through. Whenever I hear of someone losing a loved one, it begins to replay in my head moment by moment. From when I first heard the news to the final goodbyes, and the days after. Those are the days when darkness overpowers the light. The days when people are constantly in front of you asking "do you need anything?" When all is said and done, those people slowly drift away, and it is just you and your thoughts. The knocking on the door lessens, the food brought to your house disappears, and you are now left alone in that grief, trying to figure out a way to feel whole again.
We often believe there is nothing someone can do for us to help. But being there, even in silence can be helpful. It is difficult to even know what to say or how to act in front of someone who just lost a loved one. For some, they haven't truly experienced a heavy loss, and don't know what to say or do. Even in my experience, I still find it hard to say the things I want to say. There are moments of feeling you don't want to say something wrong to a person that just got their world turned upside down. When I say that phrase, in my mind I do not necessarily mean I want to vacuum their living room or cook them dinner every night. Although those gestures can be nice for some. It is more of a suggestion of being an open ear, and helping them vent when they need to. I am here if you need me to help you figure out a way to overcome this. In some cultures, it is almost mandatory to help people in your family.
At some point in your life you will experience tragedy. You will lose and gain friendships and even family members. I find it warming when someone checks on me, and asks how I am doing. For some, they just want to be left alone, and in the darkness for just a moment. It is okay to allow someone to be angry and mourn. There is no timeframe as to when it ends. For all I know, grief never ended for me. Life moves with or without you. If you decided to lock yourself up in a room for a long period of time, the day doesn't stay on pause. For a while, I felt like I was stuck in that moment of tragedy. The days did pass me by. It was doing just that; passing by. I was doing nothing to help me heal in the very beginning. Going with the motions, and not doing m uch of anything that helped heal my body and soul. I worked out a lot, and that was probably the closest to helping myself physically. I was full of anger and suppressing feelings. Building up anger against God. "Why did you do this to me God?", "How could you take away my father from me and my family?", and "What did we do to ever deserve this hurt?"
"If you need anything, let me know". Don't be angry when someone tells you this. It is already hard enough on people to even say something, in a moment they too can be a loss for words. I know that in our mind we may think, they can never give me anything I need or help me. I tell you a solid friendship, or relationship can be there for your needs. Needs of prayer, needs of being an open ear, needs of just being available to love and support you. Do not say it if your intention is to never ever help them, especially if they come to you for help. Don't be afraid to take that support from those who genuinely want to give you that. I will have to keep reminding myself of these thoughts. They are part of our healing. I have been able to seek God for my burdens, and speak to God when I see someone else in need. I have been able to be open to my faith again, and allow the healing to happen each and every day, even when I sometimes don't see it clearly.
Some days I do not know why, but I know that with all this pain and tragedy, it has helped me heal in other capacities. It has allowed me to be empathetic and forgiving. I am more aware of my surroundings, and supportive. In that moment we want to let go of everything, but surely I tell you that you will gain something out of pain, even if you can't truly see it. The next time you hear "If you need anything, let me know" welcome it with an open heart, accept that some may not know what to say, and some really want to help you.