I was recently pointed to the web tool If This Then That (ifttt) by my friend Theda Sandiford, and I'm simply amazed. Using ifttt, you can create "tasks" where one action triggers another action, usually involving online communications.
The best way to describe ifttt is to give you concrete examples. You could program the following:
"If I post a photo to Instagram using the tag #travel, trigger the action of posting that photo to my Facebook Page."
"If I save a link to Delicious using the tag #social, trigger the action of posting that photo to my Facebook Page."
Okay, those are actually two tasks I created: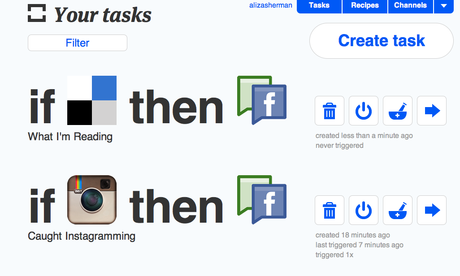 I'm definitely not a fan of automating everything. If you're going to participate and be part of the communities in your social channels, then by all means be present and interact. But to trigger a few ancillary postings from your social actions feels like acceptable flavor and color to me.
Here is the result from the first action above – a photo posted through Instagram appeared on my author fan page, particularly handy since you cannot yet post directly from Instagram to your company's Facebook Page.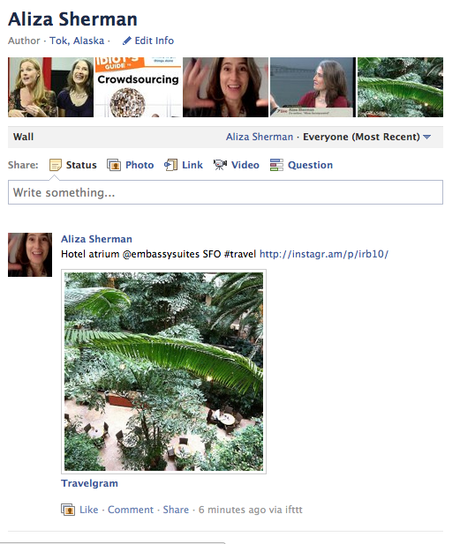 Some say that you should post directly and manually to Facebook for better rankings, but I'm one for mixing things up and not being so caught up in the numbers all the time.
You can create links and actions between a number of channels including the usual suspects like Twitter, Facebook profiles, Facebook Pages, and LinkedIn but also Dropbox, Evernote, YouTube, GTalk, email and even a phone call.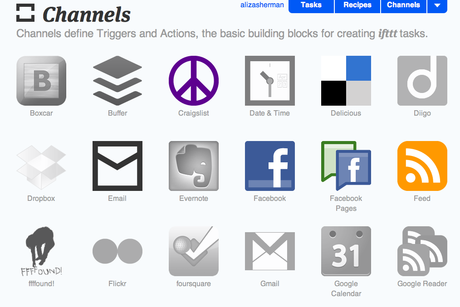 I can't wait to figure out more uses for ifttt, and I promise to share them if they work well for me.
Are you using ifttt? If so, what are some tasks you've created?
Subscribe to my Weekly emails – get my QR Basics Handbook