Today, I'm linking up with Cinful Cinammon and her new "Me" hop, where she asks us to focus on our thoughts for a moment and share our response to one or more powerful questions. She posted the questions to choose from on Monday and I have to admit that I've been pondering them all week. The question that seems harder to answer, and thus I've decided is the one that I should answer, is this -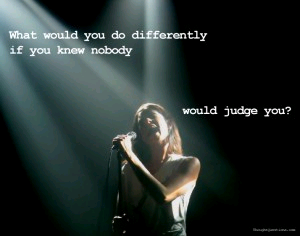 Wow. I think there are several things I may do differently. But at the same time, I think that I'm pretty open and honest about myself most of the time too.
Some things I
may
do differently include:
I'd sing out loud more often...maybe even try karaoke. But I know I'm a terrible singer. Oh, well.
I'd be a bit more honest about when my life is stressful. I really am a generally happy person, but no one is happy all the time.
I'd say that it irks me when I get accused of being depressed just because I write a few less-than-flowery blog posts.
I'd say that my feelings get hurt every time someone assumes that all agnostics/atheists are immoral people. Or unpatriotic. Or lack appreciation for the beauty in the world. Or are basically angry, unhappy people. Those things just aren't true.
I'd tell some people how much I love and miss them without worry that they'll think me overly emotional.
I'd be more outspoken about gay rights. My sister is one of the most beautiful, intelligent, loving people I've ever known. She also happens to be a lesbian. It's part of who she is and I love every part of her. I'm also so very proud of how she has become an influence for positive change in the LGBT movement.
I'd tell everyone who's ever taught me something, "Thank you" and give them a big hug.
I'd be more upfront about the reality of having multiples: It is amazing and I feel uncannily lucky to have them, but it is absolutely not easy. In fact, it's very much like teaching - stressful and often difficult, but more rewarding than I can put into words.
What would you do differently if you knew nobody would judge you?
Also, tomorrow is the last day to enter my $40 PayPal Giveaway! If you haven't yet, go check it out!