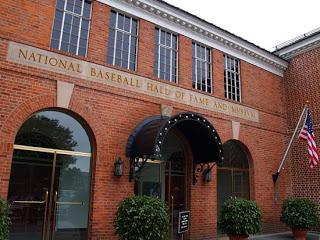 The Baseball Hall of Fame will announce the results of the balloting tomorrow at 6 PM, and there are 32 candidates for induction this year.
I am a member of the Baseball Bloggers Alliance, and we get a vote every year as to who should go in at Cooperstown. On the actual ballot, the writers can vote for up to 10 candidates. (I think it should be unlimited, but that's another story.) Here are the ten I would vote for:
Ken Griffey Jr.
Mike Piazza
Tim Raines
Jeff Bagwell
Trevor Hoffman
Edgar Martinez
Curt Schilling
Alan Trammell
Lee Smith
Jeff Kent
Nope, no Barry Bonds or Roger Clemens. It looks like their percentage this year will rise, as the ballots already made public seems to reflect that both will be around the 50% mark.
If I had an expanded ballot, I would have included both Mike Mussina and Larry Walker.
It looks like Griffey and Piazza are sure bets this year, based on the public ballots.
This is Nomar Garciaparra's first appearance on the ballot, and probably his last. He's gotten almost no public support, and it looks unlikely he'll get the 5% to continue next year. Like Don Mattingly, his career just flamed out too quickly, and that is a damn shame.