Icy Shine Fragrance Oil is a scent that is sure to bring thoughts of a girls' best friend to mind. Diamonds! With their beautiful shine to them, diamonds are unforgettable, just like this luxurious scent. Any women with a jewelry obsession with be obsessed with this scent as well! All of your friends, family and even your customers are sure to love this scent as much as you do! Really though, how could they not when it transports your mind to a place full of all the most amazing and beautiful diamonds in the world?
What Does Icy Shine Fragrance Oil Smell Like?
Luxury. Beautiful jewels. But since that really isn't a smell, I'll tell you what it really smells like. Our Icy Shine scent is a vibrant fragrance of pooled sweet raspberries and juicy melon. The smell of white musk is softened by a bountiful bouquet of peonies, magnolias, and muguet. It has top notes of orange, raspberries and melon, middle notes of rose, peony, muguet, magnolia, and jasmine, and bottom notes of musk and vanilla. A definitely amazing scent.
How Do Our Customers Use Icy Shine Fragrance Oil?
With the thoughts of a girls' best friend, every woman will definitely love this incredible scent. For all the candle makers out there, Icy Shine performs perfectly in wow wax and joy wax, and is also nice and strong in soy wax. If you would love to make your house smell like a reminder of a luxurious jewelry store, use this fragrance oil in aroma beads!
For bath and body products, Icy Shine scent can be used in many different things with a 5% maximum usage rate. It is great for lotions, bath gels, perfumes, bath oils and soaps. There is also a maximum usage rate of 50% if this scent is used for incense and potpourri. Icy Shine is awesome for cold process soaping. Our CP findings are: no discoloration and a great scent. It has a perfect pour with no acceleration or ricing or separation and has no oil sweating.
If you love creating other bath and body products, then Icy Shine scent is perfect for you! We love to make recipes with our products. We have created a Silky Hair Gel Recipe with this luxurious fragrance! If you love hair care products that have natural ingredients in them, this recipe is just right for you! Your friends and family and even your customers will love this special hair gel as well! It is sure to be a treat for everyone!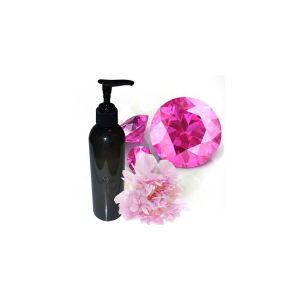 Are you trying to figure out the easiest way to find these fantastic products on our website? On our site, just type "icy shine" into our search bar. That will take you right to our Icy Shine Fragrance Oil page. On the top of the fragrance picture, there is a little green box that says "Recipe." If you click that link, it will show you the name and picture of our Silky Hair Gel Recipe. If you click that, it will take you directly to our amazing free recipe. Have fun and enjoy! And don't forget to keep watching for more Enlightened by Layla!