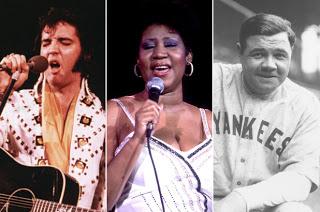 Trivia is happening this Tuesday night, August 28th at 8:30 PM, with "Elvis, Aretha and The Babe Trivia" as the Special Category. As you know, Aretha Franklin passed on August 16th at the age of 76, and joined Elvis Presley and Babe Ruth as iconic American figures who died on that date. So we will honor all three with seven questions about that great trio. The Q Train lightning round will be "1-10 Trivia', ten questions where each answer will be a number from 1-10, with each

answer being a different number, and it will be multiple choice as well.


The Sneak Peek question for this week is:
"What animal is on the state flag of California?"
We had a bigger crowd in last week, and it appears the crowds are growing as we head to fall. So I encourage you all to get in early to get a good seat or table on Friday night. See you then!