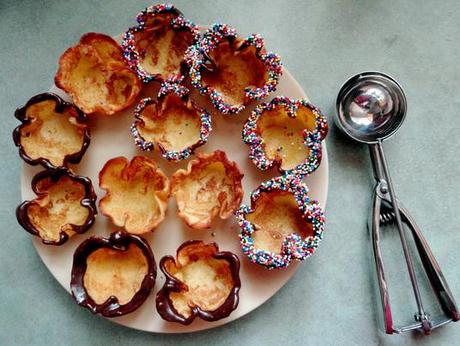 As a little girl, these were a few of my favorite things:


Pizza from Chuck E. Cheese.




The Edith L. Moore bird sanctuary off of Memorial Drive.




Ice cream from Baskin Robbins.




Now, these may not be as melodic as raindrops on roses or whiskers on kittens, but they made me smile, and apart from Chuck E. Cheese, they still do.




Last night, Ryan and I walked through our neighborhood. The air was hot and sticky, and my legs were already itching again from those seemingly required bug bites I receive each time I step outside.




I talked about ice cream, and how much I  loved going to Baskin Robbins  when I was a little girl. My parents would strategically take me to get one of those clown cones moments before my big sister, Susanne, drove away to her dorm in Austin. The sadness (and believe me, there were usually A LOT of tears) was softened by the sweetness of the cream and the crunch of the cone.




Last Thursday, Ryan and I returned to Austin after spending a week in Maine with the same sweet sister. Even though I'm twenty years older, I learned I still need that sweetness to ease the pain of being apart from those that I love.




Thankfully, our friends decided to throw an ice cream party on Saturday afternoon. We came into a house full of happy people, even more jubilant children, and bowls and bowls of homemade ice cream. I still thought about Susanne, about how much fun Halley and Ben would have running around in the backyard, but as I licked the last bit of strawberry ice cream off of my spoon, I told myself,  just like when I was a little girl, that this separation wouldn't last forever.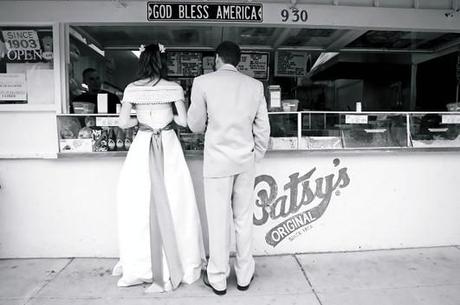 Ryan and I ordering ice cream on our wedding day. Now I don't own an ice cream maker. I limit my kitchen expenditures to all things BAKING. I'm grateful though that I live near quite a few people who have mastered the art of ice cream making, and I'm even more thankful that I live down the street from Amy's Ice Cream.


So when I thought about what to bring to the party on Saturday, I turned to my oven. Silly, being that it has been well over 100 degrees for the past 40, 50, 60 days...but what can I say? I have a problem.




I wanted to make waffle bowls. Little bowls

that could house a scoop or two of creamy goodness. But I don't own a waffle iron either, so I decided to get creative and make crepes.


These petite bowls were easy to make, fun to decorate and delightful to eat. They aren't crunchy like your normal waffle cone, but they hold their shape, and the eggy/buttery batter is perfect for housing a scoop of Strawberry Basil or Chocolate Bacon ice cream.




If you've made crepes before, you are all set to make these crepe cups. If you haven't, don't worry. Making crepes is a lot easier than you might think. A good skillet, a hefty dose of oil or butter, and a watchful eye will produce paper-thin crepes in no time.




Please remember to leave a comment on my last post for a chance to win a batch of cookies and greeting cards made by me! I'll be drawing for the winner on Tuesday night.




And let me know what ice-cream flavor you'd fill these cups with...I'm craving Chocolate Chip Cookie Dough tonight.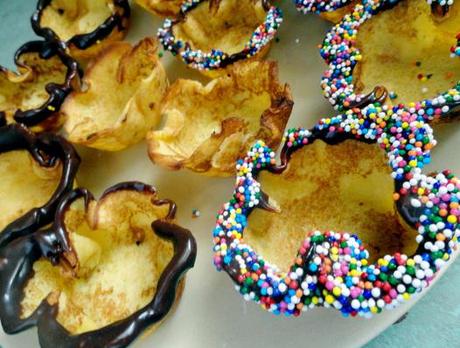 Ice Cream Crepe Cups




*yields 12 cups


2 large eggs
1/2 cup granulated sugar
4 tablespoons butter, melted and cooled
2 - 3 tablespoons milk
1/2 teaspoon vanilla extract
1/3 cup flour
1/8 teaspoon salt
Vegetable oil and pastry brush


Melted Chocolate




Sprinkles


1. In a medium  bowl whisk together  the eggs and sugar until frothy. Whisk in the melted butter, milk and vanilla extract. Add the flour and salt.  Whisk until the batter is smooth. The batter should be thin, so add more milk if the consistency is too thick. 


2.

Heat a 8 or 9 inch saute pan over medium heat until very hot (you want a drop of water to sizzle). Reduce the heat to medium low and brush the pan lightly with vegetable oil. Pour or ladle about 3-4 tablespoons of batter into the pan and immediately tilt or rotate the pan so the batter forms a thin 5 inch circle. Place pan back on the heat and cook until the batter is set. Slip a spatula under the crepe and gently flip it over. Cook until golden brown.


3. Slide

the crepe from the pan onto your work surface. While the crepe is still hot, quickly place into a muffin tin. You can arrange the crepe's edges while still warm.
4. Continue making the rest of the cups, lightly brushing the pan with vegetable oil each time. To crisp the cups,  preheat the oven to 400 degrees F  bake for about 5-6 minutes. Place on a wire rack to cool. If desired, dip the cooled cups into melted chocolate and sprinkles. Fill with your favorite ice cream.


Always,




Monet




Anecdotes and Apple Cores