I woke up to crows this morning, which may not be everyone's cup of tea. To me it was heaven and just part of my Walden. The crows were here all summer and then one day you just didn't hear them anymore. I actually saw them a few days ago, a little bit north of here, so I knew they were close by. Now they are back where they belong ... in my world.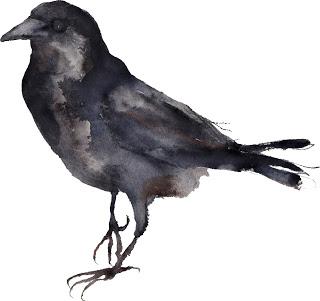 Art by SkandiaDesignStudio
Crows are one of the winter birds that keep me company in the bleak, un-green world. The starkness of their black feathers against the ethereal-ness of winter is so beautiful. I wrote about this a few years ago
here
, if you care to read it. I am so glad to have them back, for now. They are one of the small windows to nature that keeps me sane, when the rest of the world hibernates.