Over the weekend, I managed to watch a total of three films that were new to me (not counting a fourth, later and from my DVD collection), all without rendering my faces with distinctly square eyes.
On Saturday evening, I made my first cinema trip of the year to see Birdman, starring Michael Keaton among others. I'd love to be able to summarise it for you but I'm still trying to decide upon the ending… It's worth a look though, as long as you don't expect a superhero film! Actually, it reminds me of an advert from British TV a few years ago on the dangers of alcohol and how it can make you feel invincible…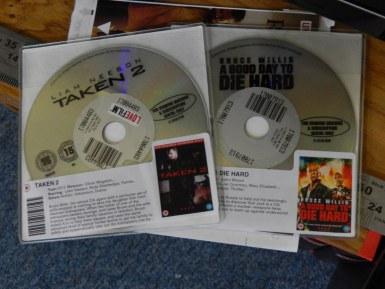 But in this post, I'm going to write briefly about my two latest DVD rentals.
One of the deciding factors for taking [ha!] this LOVEFilm subscription was so that I could watch Taken 2 in preparation for a cinema trip to see the third installment. It goes without saying that I enjoyed the first film and will watch it almost any time I see it popping up on Freeview. But the sequel was quite underwhelming and certainly seemed to lack the pace and intensity of the original. It looks as though Taken 3 is not being terribly well received either .
I tend to base my intentions to see a film nowadays on a simple rating system that you can find with a quick Google search. This either gives you a mean percentage from the reviews or a rating from one-to-five stars. I try to avoid too many trailers and words as they seem to present you with too much of the film (Taken 3 looks to be a prime culprit of this).
Now I've got this rental subscription going and the fact that film-to-DVD releases are forever accelerating; I think I'll hold on to my £9.50 and wait until it comes out. But, having watched the film twice, I feel I could summarise Taken 2 in one of two ways:
"Kim gets an extreme driving lesson."
Or:
"If Taken was The Bourne Identity then Taken 2 is more akin with Jackie Chan's The Medallion."
Neither Liam Neeson or his on-screen wife develop superpowers, however. It just seemed to be a world away from the original and yet, it was like they were attempting to recreate parts of that film but with only a fraction of the budget. My most enjoyable parts were again witnessing the many tricks from this ex-CIA man's sleeve, without any James Bond-esque shenanigans.
Then, there was the fifth film in the Die Hard series…
Oh dear. While I quite enjoyed Die Hard 4.0/Live Free or Die Hard (with the exception of the Timothy Olyphant's poor personification of a villain), there wasn't an awful lot to like about Live Free or Die Hard. Bruce Willis is, in my opinion, not too old be the hero once again but I found it very hard to take this installment seriously. It was inevitable that Die Hard 5 would include John McClane's son (Jack) after we met Lucy in the previous film. But to have Bruce running around almost like some kind of comedy father… It was almost as unbearable as some of the jokes in Dumb and Dumber To.
Killing a terrorist and returning his body to the leader with the message 'Ho ho ho, now I have a machine gun' – that's the kind of funny we should expect from a Die Hard film, I think. At least the bag guy was quite respectable this time, he signed off with a reassuringly gruesome end and they did attempt to remix one of the classic Die Hard themes towards the end of the film.
Rent 'em, don't buy 'em. That would be my best advice.
Thanks for reading and hopefully a more positive reflection upon my next two rental DVDs, which should include the never-before-seen Inception!