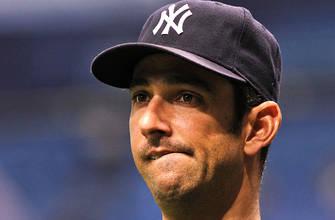 I am not even sure why I was so invested in the second game of the Yankees-Sox double-header.It didn't matter. We have clinched the AL East and can coast until the first round of the playoffs.Last night had no bearing on our team except to unnecessarily tire out of our bullpen (and cause me to miss both the season premieres of The Good Wife and Desperate Housewives, which did not please me, especially for a 14-inning loss).Regardless, I wanted to win the game.If anything, simply to plunge the Red Sox deeper into the nightmare they have been running from since September began and to, of course, twist the dagger deeper into their current state of doom. For kicks.We still won the series, so I can't complain.But damn you, Jacoby Ellsbury.I was confused why Scott Proctor was pitching, since this isn't 2006 and Joe Torre is no longer trying to see if his arm will physically detach on the mound.But there he was, blowing games as usual, which is not all that surprising, considering his arm has still not completely reattached from the aforementioned Torre-induced torture of the mid-2000s.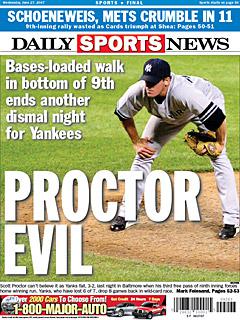 A cheerful reminder of past glory.
So here we are, the last week of the regular season, and the AL wildcard spot is still up for grabs.Had we won last night, the Sox and Rays would be tied; however, the loss allowed the Red Sox to retain a one-game lead with three games left to play.They travel to Baltimore, which has the fourth-worst record in all of baseball, and will be throwing Beckett, Bedard, and Lester.Not bad for a three-game series that will make-or-break your playoff hopes.The Rays, on the other hand, the AL East Champion New York Yankees.I kind of sort of maybe perhaps want the Yanks to roll out their bench squad over the next three days to give the Rays an edge in taking the wild card.Would that count as some type of illegal collusion and lack of sportsmanship? I am not suggesting that we throw he series – just to (wink wink) rest all of our important players and give some rookies the chance to shine.Or, maybe we can try out a new defensive scheme.I have always wondered whether Jorge Posada would make an excellent centerfielder or if Andruw Jones could handle the hot corner, and this seems like the perfect time to experiment.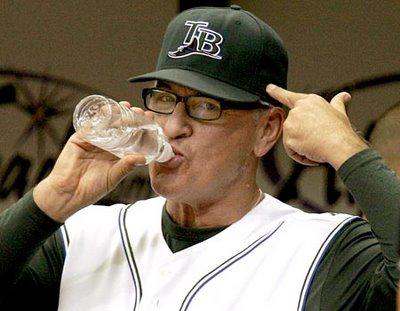 I am not sure if that is even a smart strategy; maybe the Yankees would prefer to play the Red Sox in the postseason.But, considering our dramatic anything-can-happen historic rivalry, I would rather see Boston exit as quickly as possible, and ideally not make it at all.The Rays are playing much better baseball right now.They have excellent young starters, reliable relievers, and an offense anchored by Evan Longoria.They also have the quirky and creative Joe Maddon, who takes risks and always manages to make lemonade out of lemons.But once the playoffs begin, the slate is wiped clean. And the Red Sox will be out for blood.They may have sucked in April, and they may suck right now, but I fear that middle period, those months throughout the summer, when they played, by far, the best baseball in the Major Leagues.Lester and Beckett make a formidable one-two punch, maybe the strongest starting pair, and Boston's lineup – when producing and healthy – is downright scary. Pedroia, Crawford, Gonzo, Ellsbury, Big Papi, and Youkalis? They can break-out at any moment.I would rather take the Rays' scrappy bunch of Jennings and Zobrist and Damon and company, even if their overall starting pitching is stronger than the Red Sox, any day.So I look forward to seeing Ramiro Pena on the mound tonight with Robinson Cano behind the plate.Fun times in Tampa Bay.