It was Joni Mitchell who wrote the song "Both Sides, Now", a song that I first heard during my school music competition in 1970. The phrase, 'Rows and flows of angel hair and ice-cream castles in the air,' still resonates with me. I sing it to my granddaughter.
Of course, we learn about the science of clouds in geography lessons at school. They have fascinating names - the highest clouds in the atmosphere are cirrocumulus, cirrus, and cirrostratus. Cumulonimbus
clouds
can also grow to be very high. Mid-level
clouds
include altocumulus and altostratus.The lowest
clouds
in the atmosphere are stratus, cumulus, and stratocumulus. The names roll on the tongue like candyfloss, popping and fizzing.
My father often used the cloud formations as a weather forecaster before he trapesed off with his fishing rod and tackle. (He wore a yellow vinyl jacket and trousers when he went fishing off North Pier - the jacket had a hood with a peak. Mum would say, "There goes Busby." It was so funny - he looked just like the yellow bird on the BT advertisements). But I digress - we were talking about clouds. Dad would see a mottled formation of cloud and declare that it was a 'mackerel sky' and that meant it was going to be windy. If there were no clouds over the Trough of  Bowland when viewed from the vantage point at the top of John Slack Hill, he would predict that there would be rain in Blackpool very soon.
I often cloud -gaze and unlike the prophets of doom, I love to see vapour-trails criss-crossing the sky on a clear day. I once had a close encounter with an extraordinary cloud formation. My father died on May Day 1998 and I left my husband in August of that year. Divorce was a certainty but terms became acrimonious so I packed up the children and moved in with Mum. Her house has only two bedrooms and as you can imagine the situation was far from ideal but it was a stop-gap.
I tried to maintain normality for the children and twice a week drove my daughter to her gymnastics training in Garstang. We often went across country, over Shard Bridge, through Out Rawcliffe. One day, around 4.30pm we were on an open stretch of road when we encountered something incredible...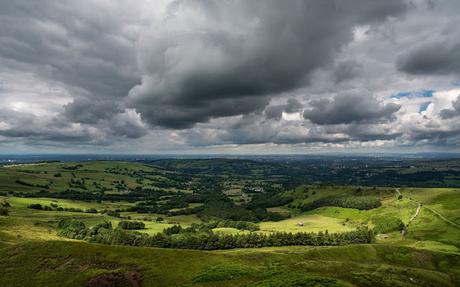 On the road to Garstang
Do you remember the day –
The day we had our visitation?
We were driving through the countryside
To a usual destination,
When suddenly we saw a sight 
Beyond our comprehension
A vision of an angel
In a mighty cloud formation,
With two great wings
The heavenly seraphim filled our view,
The sunlight streamed behind
Like glory shining through.
I stopped the car, we stepped outside
And stood amazed and quiet. 
A vision surely sent to us –
To say God's love is true.
My grieving heart was lifted high,
I would not walk alone.
It was a sign from heaven
A guardian of our own.
Email This
BlogThis!
Share to Twitter
Share to Facebook
Reactions: