Last Thursday I got to see something that made me smile, got me to stand up and has been bouncing around in my brain ever since.
It was one of those times when music hits you right smack dab in the forehead and then leaves a trail of goosebumps all the way down your body.
It was in fact, Choir! Choir! Choir!
The Toronto Botanical Garden kicked off their Edwards Summer Music Series with a performance by the eclectic Toronto choir in the gorgeous courtyard behind the main building.
The show featured approximately 60 choir members, 1 acoustic guitar and a set list that included…
Elvis: Can't Help Falling in Love

Rihanna: We Found Love

Robyn: Call Your Girlfriend

The Arcade Fire: Rebellion (Lies)

Patti Smith: Because The Night

Radiohead: No Surprises

Big Star: Thirteen

Survivor: Eye of the Tiger
All of the songs had arrangements that take them away from the studio versions that we've all learned and turn them into events. And while they fully admit that there isn't anything fancy in the way they put things together – it sounds awesome and looks like they've put enough work into it to me.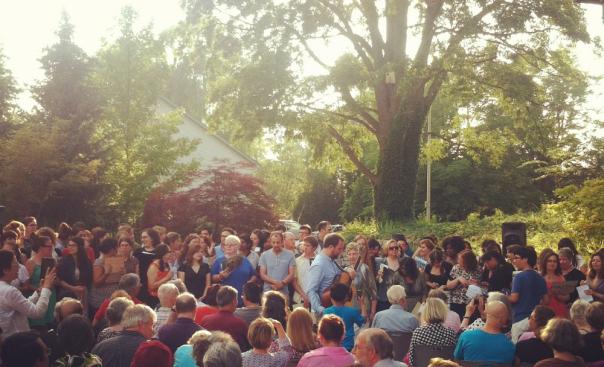 In all honesty, I really want to go and sing with them. And I can because these guys are awesome and anyone can go and hang out and have a drink and sing with the choir on Tuesday (No One Writes To The Colonel) and Wednesday (Monarch Tavern) nights. All you have to do (as far as I can tell) is bring $5, a smile and the willingness to sing your heart out with a rad group of people who are all there to do the same thing.
I'm hoping that I can talk a few other people to come with me so I can curb the whole "new guy all alone in a crowded room" thing – so please, if you want to sing with Choir! Choir! Choir! too – let me know!
If you have never had the chance to listen to C!C!C! I would very much recommend checking them out on SoundCloud (just click this here) or go to YouTube for awesome videos of the choir singing.
Now, turn up the volume – find some songs that you love and enjoy!