My mum brought chips tonight, like she does every Friday night, she feeds the 6 kids for me. Its my one night off at tea time as she dishes up and serves while I make a cuppa.
While the kids eat we get to have a natter and a catch up. Tonight we even helped out hubby on his Xbox Who wants to be a millionaire game. I had no idea about the mythological Greek creature but mum did.
My mum never seems to age, if anything she looks much more youthful now than I remember her when I was a child.
When did my mum become a MILF?
With her designer clothes and glossy hair, perfectly manicured nails is it right that I felt a pang of jealousy about my own mother?
She works hard and would put many to shame with her wisdom of finances, it has not always been that way. There was a time when she did not even have 50p to put in the electric meter. When we hid from the rent man and robbed Peter to pay Paul. Yet here she stands in my kitchen looking amazing.
She is a superb role model to her grandchildren, better than me, that hurts to know.
Looking at myself in the mirror these days is scary. I live in the same clothes I lived in a few years ago, I get a new haircut maybe twice a year and the only thing about my nails are they come in handy for removing suborn snot from the kids noses. My eye brows could be mistaken for caterpillars and I have no idea the last time my legs saw a razor.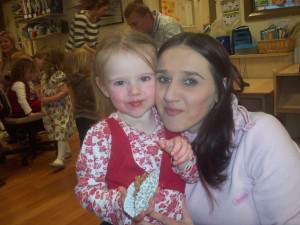 Kia & Me taken today at The Nursery Xmas Party
What must people think about me?
But I have hope, there is some good news: In eighteen years, I'm going to look fantastic just like my mum. Once all the kids have flown the nest I too can become a MILF – well a GILF that is.