Tweet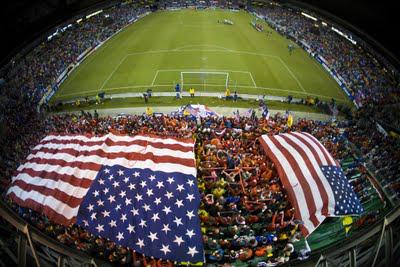 I mentioned in my last post that I came to soccer late. While part of that is my fault, part of the blame also lies with the US media machine. "Soccer is a second tier sport", "Soccer will never be a Big 4 sport", "Soccer will never be popular in the United States"…on, and on, and on.
Let's take a look at some numbers;
Mexico vs New Zealand – 90,526 (3/3/2010) SOLD OUT; the Rose Bowl, Pasadena, CA
Chelsea vs. Inter Milan - 81,224 (7/22/2009); the Rose Bowl, Pasadena, CA
Mexico vs Ecuador – 77,507 (5/7/2010); East Rutherford, NJ
Mexico vs Angola – 70,099 (5/13/2010); Houston, TX
Chivas de la Guadalajara vs. Barcelona - 61,572 (8/8/2009); Candlestick Park, San Francisco, CA
USA vs Turkey (a
friendly
) – 55,407 (5/29/2010); Philadelphia, PA
USWNT vs China (World Cup Final) – 90,185 (7/10/1999) SOLD OUT; the Rose Bowl, Pasadena, CA
Manchester United vs Barcelona – 81,807 (7/30/2011) SOLD OUT; FedEx Field, Landover, MD
There are many other examples of course, but these are a good reference. As for television audiences, the 2006 FIFA World Cup Final drew an estimated 16.9 million viewers - about the same as the average audience for the 2005 World Series. The 2009 FIFA Confederations Cup Final was watched by almost 4 million, which makes it the fourth-most-watched USMNT game in ESPN history. Clearly soccer is growing, and people are watching.
As for the United States' top league, the MLS, average attendance continues to grow as well. Here are the 2010 average attendance numbers for the Big FIVE (from MLS Daily):
1. NFL – 67,508.69 (2009 season)
2. MLB – 30,213.37 (2009 season)
3. MLS – 18,452.14 (2010)
4. NBA – 17,149.61 (2009/10 season)
5. NHL – 16,985.31 (2009/10 season)
Wait, wait, wait…the MLS is drawing more fans on average than the NBA? I thought we couldn't sell soccer in the US? Well, as it turns out, the MLS and soccer in general has the same problem as other sports in the United States; that problem is that no one can sell a
mediocre to bad
product in the US. It's as simple as the difference between selling a quality product and an inferior one. When each product is affordable and readily available, consumers will always choose the quality product. People won't go see
bad
soccer when they can stay home and see
good
soccer. But that isn't exclusive to the MLS or the sport in general. With the exception of the NFL, whose sales revenues seem immune to club inferiority (i.e. the Denver Broncos and their consecutive sellouts compared with how bad they've been the past couple of years), baseball, basketball and the NHL can't sell mediocre either. In fact, Atlanta has recently lost an NHL franchise for the
second
time in 31 years for just that reason.
Let's take a look at Major League Baseball's Baltimore Orioles, who averaged 45,000+ fans per game when they were good (1992 – 89-73, 1993 – 85-77), but are averaging only 22,076 (with a record of 44-67, LAST in the American League East, and 28
th
of 30 teams in attendance) so far this year…and THAT is down over 2,000 fans per game from two years ago. In addition, they play in arguably the nicest baseball park in the country, Camden Yards. Bad baseball doesn't sell either.
Does the MLS still have a lot of work to do? Of course they do. But considering the MLS is the newest of the major country "premier" leagues in the world, they are headed in the right direction. As Andy Mitten mentioned in the Manchester Evening News, "
Football is now built on more solid foundations in the United States, with salary caps and home-grown players supplemented by expensive imports like David Beckham and Thierry Henry. Major League Soccer (MLS) is growing at a sensible pace, with improving standards and attendances…"
The quality
has
to get better, and frankly so does the marketing of the teams and the league itself. And if it does, even some of the bloggers here at Free Kicks and French Toast will have to start watching. Right, Toast?