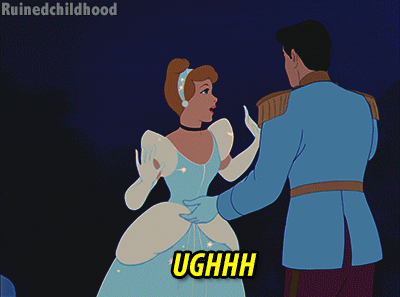 My almost two-year-old daughter got one of those Little People Disney princess castles for Christmas this year. It came with two princesses, 
Cinderella
 and 
Snow White
 — but you can buy a variety of other princesses to come hang out in the castle; 
Belle
, 
Ariel
, 
Tiana
, and 
Rapunzel
 to name a few. I was happy she got it: she's the second child so she's very into hand-me-down boy toys. Okay, she might be forced to be very into them — it's all she really has. It was cute to see the princesses in her little hands — I thought, "Why not?" Each princess, when set upon this little stand in the middle of the castle, activates her own personal song and sayings.It was a while before I really paid attention to what the songs were. I'd hear the melodies, but I never really focused on the words — I knew they were familiar and derived from whatever respective fairy tale the princesses came from. Then one day I was sitting next to her when her little fingers propped Cinderella on the stand:
I'm waiting for my prince
The one who's meant for me
My dreams can't all be wrong
I know he'll come along
As handsome as can be…
Maybe I should have paid attention sooner.
Read the rest on
Mommyish
...