I have what looks like science project going on in my kitchen...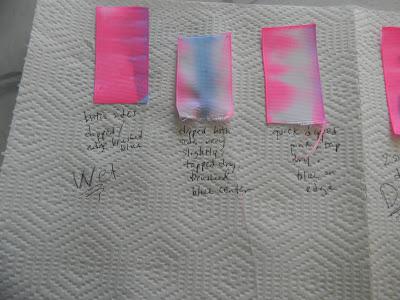 Ever since I spied this pretty picture on Pinterest of some dip-dyed  ribbon I have been wanting to try it. It is originally from Ruffled, and uses muslin as the ribbon.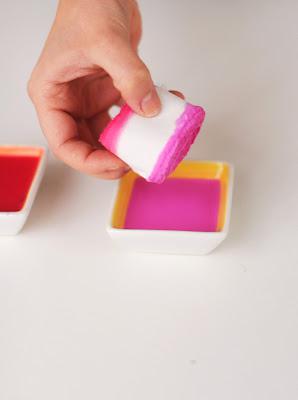 I have some roman shades that are going to need a banding, so I figured I'd give grosgrain ribbon a try.
What you will need is: Ribbon and some dye.  I love Dye-Na-Flow. I have used it several times, and the colors are very true and it already mixed and you can paint with it.  Water down to lighten colors. Its also cheap, less than $3 a jar.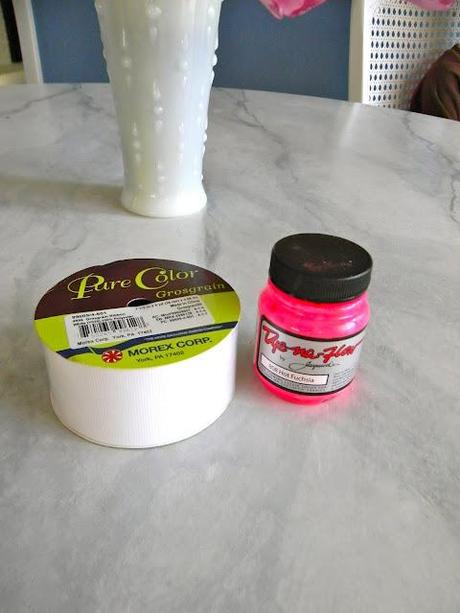 So I cut a few test pieces and wet half of them.   I rolled and dipped...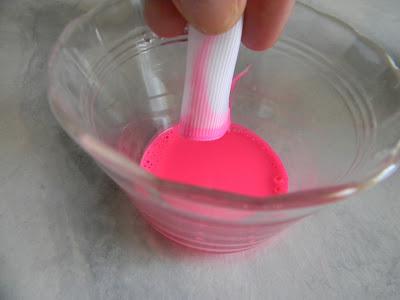 On some I tapped off the excess to keep the dyed edges smaller.   If you don't it will travel up farther.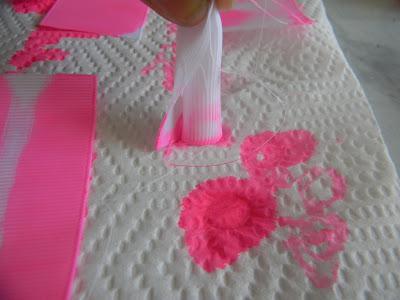 I was getting a bunch of different looks...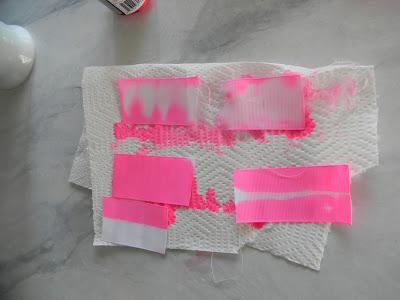 I documented them for you.
Here are the strips that I wet first... I also used a small paint brush and ran a second (blue) color through, either down the center or along the edge. This batch bled quickly and was harder to control, but I really on eon the right.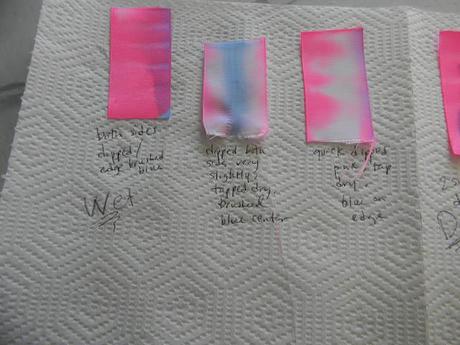 And these are the test strips I did on dry ribbon.  The center is my fave here. The one on the far right was all done with a brush...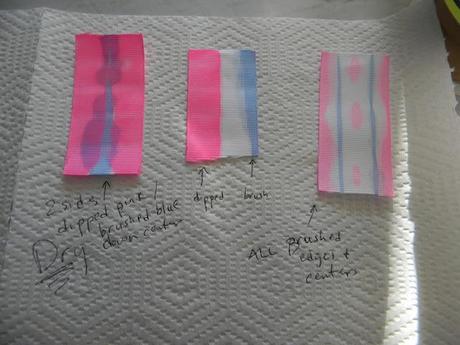 So I played around with the brush technique next, running a wet brush down both sides. I actually like the look of this a lot.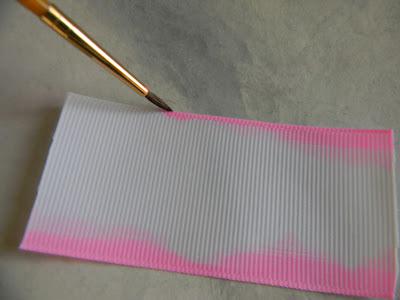 Next I wanted to add dots and make a more Ikat looking pattern...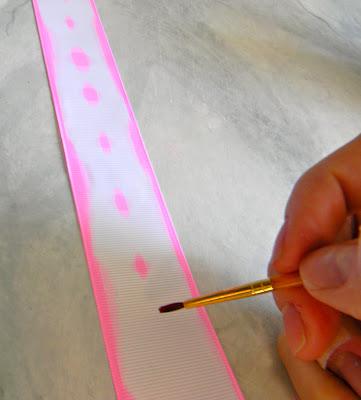 I ran a thin line of dye down the center to see what happens...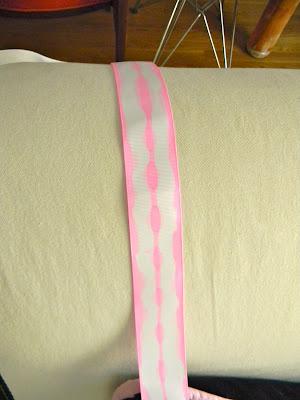 Then I rolled up a bunch and used my brush to paint three stripes along the edges inward... like I was cutting the circle in thirds. It bled quickly, and I kept adding dye until I felt it was good.  I did the same on the other side...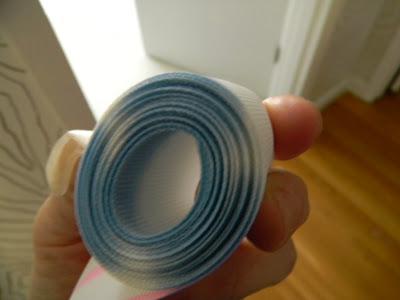 and I unrolled and got a wiggly edge...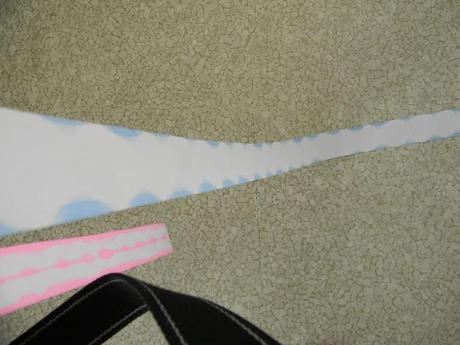 Next I added dots to the center of the large open areas...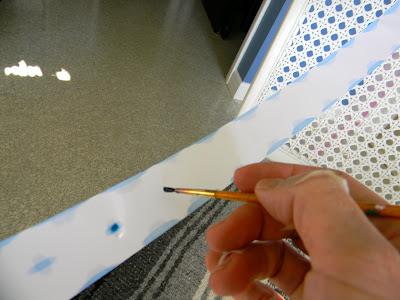 I strung it over two chairs to work ...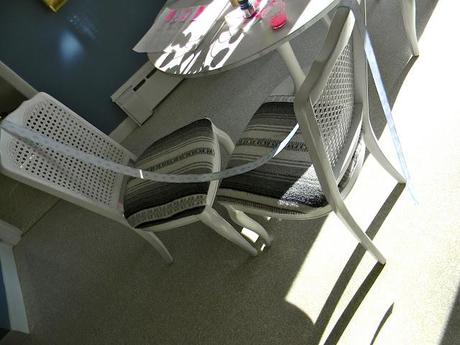 And this is what I got...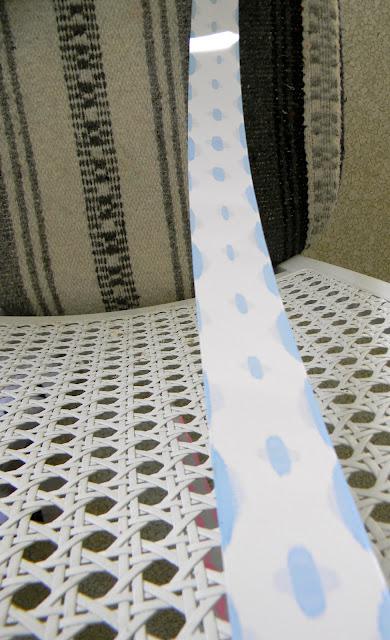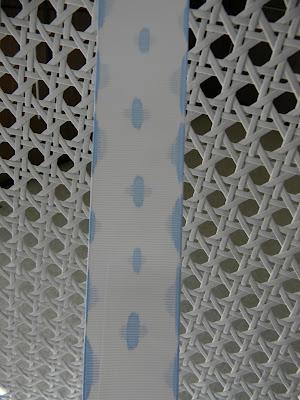 I tacked it onto the edge of a white drape to see what it would look like in real use...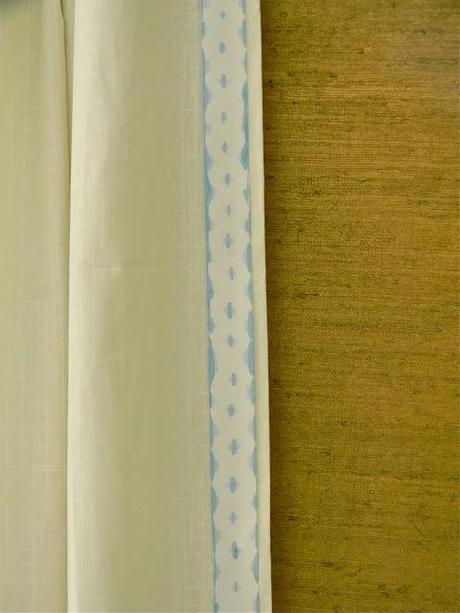 I kind of like !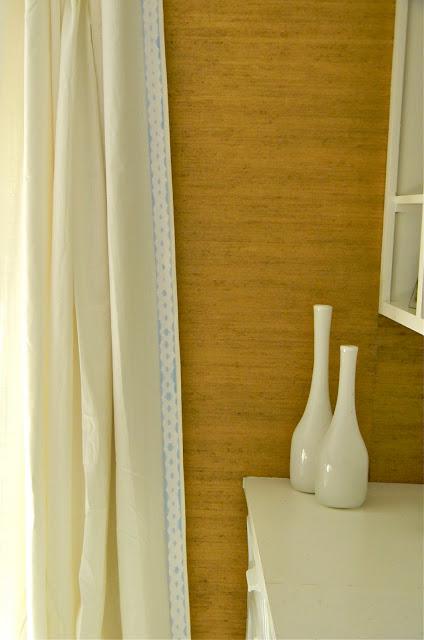 Hmmm.... custom  trim for lampshades and pillows? And instead of dots, how about criss crosses down the tape instead?
This has me wanting to buy more white grosgrain and play around with other techniques. I have a lot of colored ribbon, so I thought I would try out bleach on it...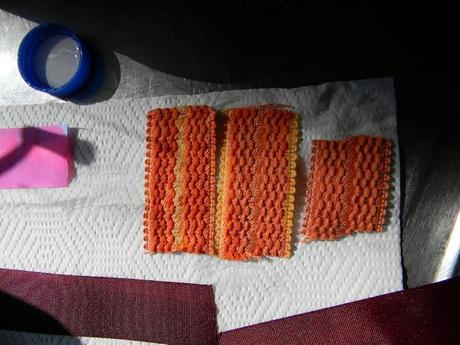 FYI... Bleach doesn't budge synthetic grosgrain...  (You can see where I put it on the burgundy -it is darker) BUT cotton is awesome. The orange trim I found in a remnant pile for next to nothing. I painted some down the center of the one on the left, dipped the edges on the middle and the right is the original. I fades  to yellow quickly, and then almost white after 5 minutes...