Okay. I just want to say…..
I RAN 10.5 MINUTES WITHOUT STOPPING TODAY.
This could very well have made my day. This is something I have been working SO hard for. Like insanely hard. And I did it.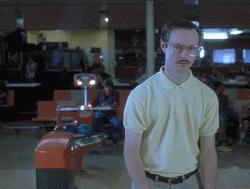 Also – this GIF instantly takes me back to Freshman year of college.
(Source)
I couldn't wait to share it with the world, and by world, I mean social media.
I wrote up a quick post on the SweatPink Ambassadors group page on Facebook and was astounded at the response I received. My milestone was huge to me, but I expected just a few people to like the status.
It's not their victory. In fact, many of them have been runners for years. Running 10 minutes is a warm-up to them. I just needed to share it some place. And I knew that place would at least get my excitement. Even if no one responded. It was at least in the right venue.
And before I knew it, the alerts on my iPhone were blowing up.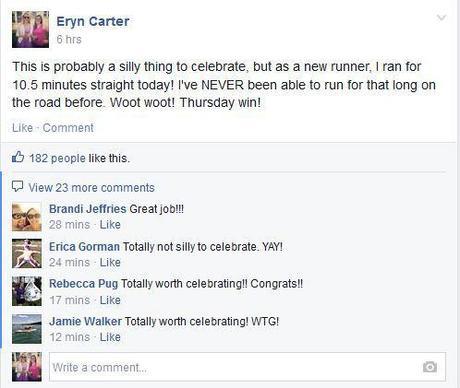 Over 180 likes, and amazing words of encouragement and congratulations, were being sent my way. And those numbers continue to climb.
Words reminding me that no milestone is too small or too silly. It's a milestone and it's MY milestone.
Words that reminded me to never compare my journey to others. It's my journey, and no one elses.
Words that motivated me to do it again tomorrow.
Words that reminded me why I applied to be a SweatPink ambassador. Because it's more than just being an ambassador; it's a community of women who support, encourage, congratulate and offer advice. No matter your size, athletic ability, fitness level, running experience, careers, etc., this community rallies around their own.
And finally words that reminded me why I run. I run for me. No one else. I run because I can and because I want too. I'm never going to be out there winning races. Chances are, I'll never run a half-marathon (I think I'd get bored… no offense to those that do. I just have a really short attention span.)
I run because I love seeing how my body builds endurance and can go for longer each time I hit the pavement. I love seeing the progress I'm making. I love knowing that just a few short weeks ago, I couldn't run up & down one length of my street without stopping. And now I can run up and down it almost 4 times (Just about a mile).
I know that when that 20 minute run comes next week, I can push through. I can do it.
Because at the end of it, I know that I'll be celebrating my next huge milestone, complete with another silly little post in the SweatPink community.