So, the Running Dead Zombie Mud Run was on Saturday... AND I'M STILL SORE! For reals.
But you know what? I SURVIVED!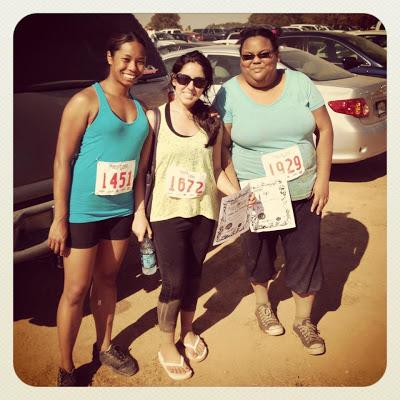 That's me on the far right!
That's right! All of the living were given 2 flags (2 lives) and I came out with one still intact! WOO-HOO! And no, it wasn't one that I happened to find lying on the ground & picked up (yes, some people cheated and did just that). It was my very own life. MY LIFE!
The mud run was pretty fun! Some of the zombies looked obviously fake... others were eerily convincing (maybe they were real?) And zombie or not, I was just terrified of losing my flags! I'm not much of a runner, but I'm a huge dodger. I was a sneaky little thing, to be honest. I did a combo of walking and running... mostly walking until I was within the vicinity of a zombie... then I'd look them in the eye, gauge how they were moving, and... BAM, I'd run & dodge & spin & escape (and run somewhat off course through brambles and uneven ground where I knew they probably wouldn't follow me...) A few times I'd hit them with some Korean-style
aegyo
and be all cute-faced and sad-eyed and ask, "You're not really gonna kill me, are you?" And yes, some of those zombies had hearts.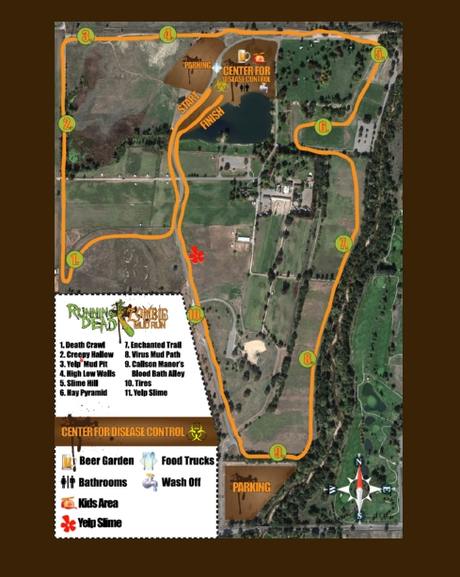 The Obstacle Course Map
I didn't participate in every single obstacle, but did most of them. I waded through pools of mud, climbed a wooden wall, and was bombed with blood. I didn't climb the hay pyramid though, because I totally didn't see it until I passed it! Then I looked at how far it was and was like... turn back? EFF THAT! I was so damn tired. Haha!
I did the course with my two friends T and E, and T also came out alive with a life, but E... I'm sorry to say died 4 times after having 2 lives given to her. It's okay, though, right?? We still got our free shirts, and opportunity of free beer, which the three of us declined because we're not much beer drinkers.
All in all, had a LOT of fun! Was hungry as hell, though.