Lately I've been sifting through my Pinterest food board looking for more recipes to try out, and last night I really wanted muffins. Mmm... muffins. I love muffins.
I love the muffin top and the muffin bottom, and how together they form one compact and portable morsel of deliciousness. I love the firm and sturdy (yet soft) texture of the outside, and the even softer, more fluffy texture of the inside. This is pretty much how I feel about cupcakes as well, but with the added bonus of frosting. Mmm... frosting. But that's another recipe for the future...
I was also wanting something with pumpkin in it, and all of those Fall-like spices associated with it. Fall-esque muffins in Summer, why not? I opted to try
Fall's Best Pumpkin Muffin recipe from The Prime Pursuit
. It was an awesome choice!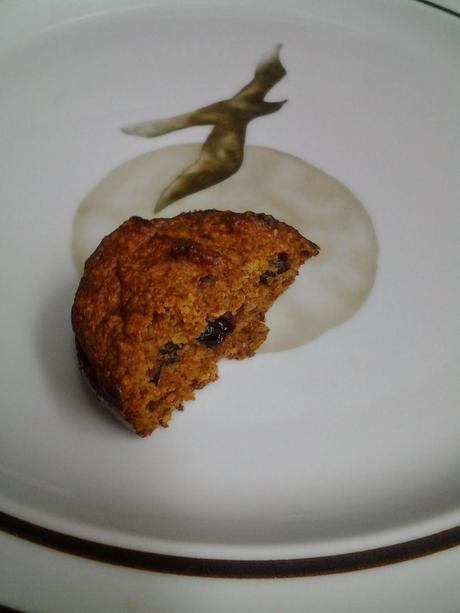 There's only half of one left! Gone so fast. Grain-free pumpkin muffins are a hit!
Grain-free and refined-sugar free, super easy to throw together, and the taste is awesome! They tasted even better the next day. I think I would have loved them even more if I had put raising in them, but we only had cranberries. But they still tasted amazing! The recipe uses pure maple syrup to sweeten, but also gives the suggestion of using a very ripe banana if you'd rather just use fruit to sweeten. I think these work great as a dessert or for breakfast, and can even work as a bread to go with lunch or dinner. You could even but the sweetness by half to make it a more savory side for lunch or dinner.
We only have cupcake pans at home, but I'm starting to think I need to invest in an actual muffin pan, because I see more muffins in my near future. I'm especially eyeing a few lemon poppyseed muffin recipes, because that's probably my most
favorite
 muffin
ever
, and I haven't tasted them in years. I like
this Lemon Poppy Seed recipe from Civilized Caveman Cooking
, because it combines both almond flour and coconut flour, which seems to be a combo that works out great and produces great texture and flavor in baking, as well as stability, and I wouldn't need to make any substitutions of ingredients, either. I'm also considering
this recipe from Elana's Pantry
because of its simplicity, or this recipe from Almost Supermom. I like that there are these three different recipes to try... one with both coconut flour and almond flour, one with just coconut flour, and one with just almond flour. I might even try all three and see which I like best. :)
Now I just need to buy some poppy seeds and lemon...