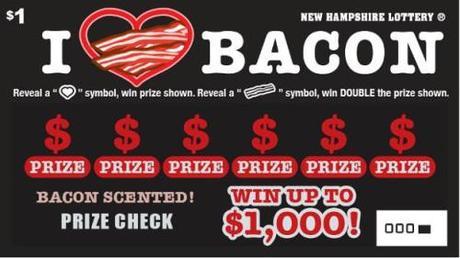 WMUR.com: The New Hampshire Lottery has launched its first scratch-and-sniff scratch ticket, the organization announced Monday.
The "I Heart Bacon Scratch Ticket" costs $1 and offers a grand prize of $1,000.
The ticket first went on sale Jan. 5. Players get a whiff of bacon after scratching the ticket.
"The (NH) Lottery is focused on developing new and fun ways to engage customers. The I Heart Bacon scratch ticket combines two things people love: the chance to win cash and the wonderful, enticing smell of bacon," said Charlie McIntyre, executive director of the New Hampshire Lottery Commission.
The lottery will hand out the scratch tickets and free slices of bacon outside the Verizon Wireless Arena in Manchester on Jan. 21, at the Cumberland Farms on Main Street in Keene on Jan. 23, at the Durham Marketplace on Jan. 24 and at the Hooksett Welcome Centers on Jan. 30.
Love it!
DCG