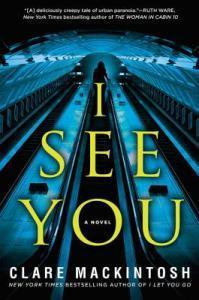 Book Cover Image: I See You by Clare Mackintosh
" data-orig-size="265,400" sizes="(max-width: 199px) 100vw, 199px" aperture="aperture" />
BOTTOM LINE: Disappointing
Genre: Suspense and Thriller; Crime Mysteries
Publication Date: 21 February 2017
Source: Publisher via NetGalley
Synopsis from the Publisher:
"The author of the New York Times bestseller I Let You Go propels readers into a dark and claustrophobic thriller, in which a normal, everyday woman becomes trapped in the confines of her normal, everyday world…

Every morning and evening, Zoe Walker takes the same route to the train station, waits at a certain place on the platform, finds her favorite spot in the car, never suspecting that someone is watching her…

It all starts with a classified ad. During her commute home one night, while glancing through her local paper, Zoe sees her own face staring back at her; a grainy photo along with a phone number and a listing for a website called FindTheOne.com.

Other women begin appearing in the same ad, a different one every day, and Zoe realizes they've become the victims of increasingly violent crimes—including murder. With the help of a determined cop, she uncovers the ad's twisted purpose…A discovery that turns her paranoia into full-blown panic. Zoe is sure that someone close to her has set her up as the next target.

And now that man on the train—the one smiling at Zoe from across the car—could be more than just a friendly stranger. He could be someone who has deliberately chosen her and is ready to make his next move…"
My Thoughts: Clare Mackintosh's first novel was an excellent twisty thriller. There are plenty of clues scattered throughout the novel, but no matter how many times you guess the ending, you are wrong. The ending comes as a complete surprise and changes the meaning of the entire story.
Given its excellence, there were high hopes for Ms. Mackintosh's second novel. I See You should be just as amazing and equally thrilling. After all, what is more terrifying than someone stalking you without your knowledge? Unfortunately, lightning does not strike twice in this particular case.
The main disappointment is the fact that the ending is too predictable. You can envision how the story is going to end much too easily. Nothing is really a surprise. To make matters worse, you can accurately predict the ending less than halfway through the story. This is the death knell for thrillers because the minute you do so, the suspense disappears. Such is the case with I See You.
Moreover, Zoe is just plain annoying. She should be sympathetic as she has all of the reasons one should sympathize with her. Divorced, working a job that doesn't thrill her but keeps her busy, struggling to accept her children's life choices, and then dropped into the middle of this mystery that has all-too-real consequences. What she comes across as though is whiny, self-absorbed, and meddling. You are not rooting against her so much as you are just waiting for something to happen that will make her see the errors of her ways.
The female detective who takes an interest in Zoe's case is not much better. She is a person who thinks she has everyone and everything all figured out and rules are made to be broken if she feels it necessary. Except there is no reason for her to do so, and it just adds a layer of unnecessary frustration. Between the main character who I just wanted to stop being so selfish and the detective who I just wanted to get her head out of her ass and start listening to her superiors who knew better than she did, I was already rather aggravated with the story. When I figured out the culprit behind the crime at the halfway point, that is when I became truly disappointed.
Had her first novel not been so stellar with an ending that is the ultimate in shocks, I See You would have been a decent thriller. Because it was however, I was looking for the twist as well as the clues, and doing so ruined the story for me. While you should never judge one book by another, it is difficult to refrain from doing just that when written by the same author. In this case, I suspect that those unfamiliar with Ms. Mackintosh's previous novel will thoroughly enjoy this one. Those readers who enjoyed it though will be disappointed with her sophomore novel.












Related Stories
Shining a light on The Unseeing