From Film School to Films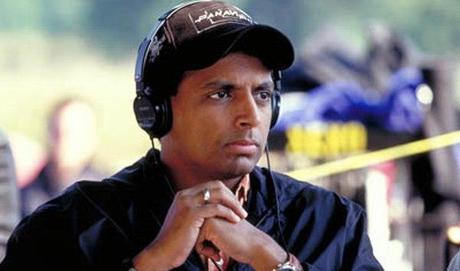 Filmmaker M. Night Shyamalan (seriable.com)
Indian-born director and screenwriter Manoj Shyamalan, known in the film trade as M. Night Shyamalan, first burst upon the scene a little more than 20 years ago. He grew up in an affluent Philadelphia neighborhood. In fact, many of his best films take place in or around "Philly."
A graduate of New York University's Tisch School of the Arts, Shyamalan was taken with the film medium at an early age. Much like his hero Steven Spielberg (and another young talent, director J.J. Abrams), Shyamalan was a huge fan of Super-8 film-making, with literally dozens of home movies to his credit. He went on to direct two early full-length features: a student film, Praying with Anger (1992), which his family helped to finance, and Wide Awake (1995), released three years later.
Shyamalan wrote or co-wrote various Hollywood screenplays, some of which were turned into actual movies. However, in 1999 he hit pay dirt with the stunning worldwide success of The Sixth Sense. Two consecutive first-run features later (Unbreakable in 2000; Signs in 2001), Shyamalan came up dry with the risible The Village from 2004. His next flick, Lady in the Water (2006), was even more disappointing, and his worst-performing film excursion yet. He recovered, somewhat, with the release of The Happening, one of those apocalyptic "end-of-the-Earth" exercises that were all the rage after the 2008 financial crisis.
A critical bomb but a financial blessing, Shyamalan's subsequent 2010 production of The Last Airbender (in mind-bending 3D), based on the animated show Avatar: The Last Airbender for the Nickelodeon network, proved he still had the Midas touch, internationally at least: it made back its initial investment (and then some) with a whopping $320 million take. He subsequently entered into a deal with actor Will Smith, his wife Jada Pinkett Smith, and their son Jaden, to direct and co-write the screenplay for the sci-fi adventure flick After Earth in 2013, which starred the Smith team (father and son). It received mixed reviews from both audiences and critics.
Still, the question has to be asked: whatever happened to M. Night Shyamalan's blazing talent behind the lens? Has the fire gone out of his movie-making once and for all? Where is the film guru we once knew and where is he headed, now that his early screen successes have all-but dwindled to a mere handful, if that?
It's hard to tell, really, where the Dark Night of Shyamalan's soul will eventually end up. There's one way to find out, however, and that's by taking a closer look at his past films and most lucrative movie ventures.
 The Sixth Sense (1999)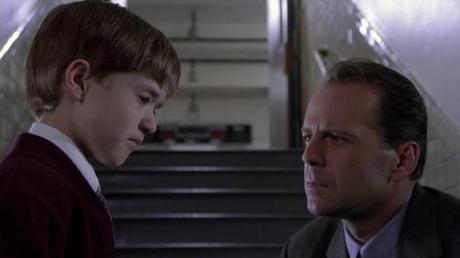 Haley Joel Osment & Bruce Willis in The Sixth Sense (screencrave,com)
A film that seeps into one's subconscious at odd hours and times, 1999's The Sixth Sense is a modern ghost story told in purely existential terms. Child psychologist Malcolm Crowe (played by a thoroughly laid-back Bruce Willis) tries desperately to help antisocial patient Cole Sear, a young boy with a most peculiar problem: he sees dead people (no kidding!). Both Malcolm and Cole learn their proper place in the world through a series of passive-emotional shrink sessions interspersed with ghostly visions. Check out Cole's last name for a clue.
The film establishes its own ground rules, and wisely keeps to them. One of the few modern productions that is as much of a joy to see as to listen to, The Sixth Sense quickly established Mr. Shyamalan as a movie man to watch, with many intelligent plot points to ponder. It's cleverly written (one could say too clever by half). The sound design plays an integral part in the drama, as does the rich color scheme and gorgeous cinematography of Tak Fujimoto (The Silence of the Lambs). James Newton Howard wrote the creepy musical score.
Willis is superb as the child psychologist Malcolm, and the young and talented Haley Joel Osment underplays his part as the boy, Cole. As actors, he and Willis have an amiable working relationship that gives their characters needed believability. If understatement were used in most movies of this type, we'd be reveling in a mass movement at this point.
The surprise ending, which this film is rightly celebrated for, will both shock and perplex you, thus forcing one to go over the entire movie again from the beginning. This is Shyamalan's strongest suit, i.e., his ability to lead audiences in exactly the direction he wants them to go, by both subtle and surreptitious means, until he hits them over the head with those left-field revelations. Hitchcock would be pleased.
Toni Collette plays Cole's mom. Donnie Wahlberg (ex-New Kid on the Block) lost 40 pounds to play Willis' crazed former mental patient, Vincent Grey, in a remarkably concentrated performance that lasts all of a few minutes on the screen. Vincent is the catalyst that drives what happens next. Glenn Fitzgerald is Cole's teacher nicknamed Stuttering Stanley, and Shyamalan appears in an unbilled role as a doctor (in honor of his parents, who are both physicians).
An excellent effort by all concerned and a big winner at the box office, The Sixth Sense sealed Shyamalan's fate for all time. See it, if you can, but not with small children: there are a few intense moments scattered throughout.
Unbreakable (2000)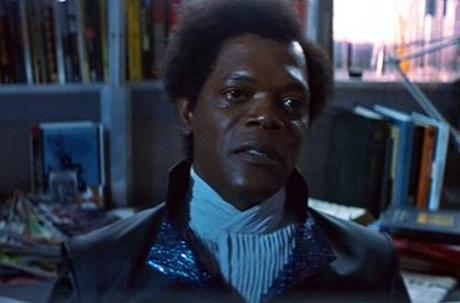 Samuel L. Jackson in Unbreakable (blogography.com)
Real-life superheroes don't really exist, but it sure would be nice if they did — and this film charts the thought-provoking possibilities of such an event actually taking place. M. Night Shyamalan's meticulous follow-up to his surprise hit The Sixth Sense is an ode to the world of comic-book lore. He's one of the few filmmakers around who can afford to take his time in telling a good story, while giving us plenty of food for thought along the way.
The low-key approach he brings to the subject of comic books and action heroes is much appreciated and clearly in the style of his earlier success. The film has its longueurs, but is nonetheless well made. We learn there can be no "good" in this world without the coexistence of "evil," that what we perceive as the status quo is often not what it seems, as the search for one's rightful place in it can turn into a lifelong, often-times fruitless endeavor.
The acting throughout is splendid, especially by Bruce Willis as security guard David Dunn, who's never been sick a day in his life; Samuel L. Jackson (whose coiffure was modeled after that of abolitionist Frederick Douglass) as Elijah Price, the owner of the comic book store; Charlayne Woodard as his concerned mom; Spencer Treat Clark (Gladiator) as Willis' hero-worshiping son; and Robin Penn Wright as Willis' stressed out wife. The score is by James Newton Howard, and the muted cinematography is by Eduardo Serra.
The physical look of the production closely resembles the panels of an actual comic book, and offers a unique perspective on comic-book art and its recent manifestations on the big screen. Unbreakable is a captivating work that certainly predates the current trend in super-hero action spectacles (i.e., X-Men, Spider-Man, Watchmen, Iron Man and their ilk) by several years, while treating the subject with a childlike innocence and reverence for its existential viewpoint.
A fascinating concept, though not totally convincing, we must give director Shyamalan (who also wrote the screenplay) high marks for trying. He even has a bit part as a suspicious-looking sports fan that Willis stops and questions at the gate (the director isn't bad, either).

Signs (2001)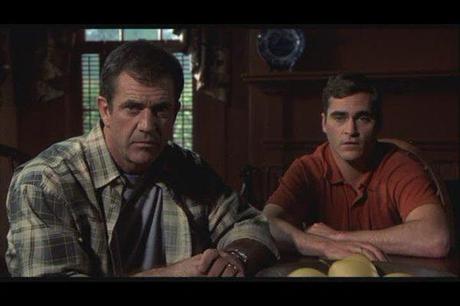 Mel Gibson & Joaquin Phoenix in Signs (veehd.com)
Alfred Hitchcock's The Birds gets a modern makeover in this deliberately paced but more-than-effective suspense thriller from the director of The Sixth Sense and Unbreakable. One of its many virtues is the lack of elaborate special FX to distract viewers from the main story line.
The plot involves mysterious crop circles found in Mel Gibson's cornfield, but that's only the tip of the iceberg. The question soon arises: are enemy aliens really about to invade the Earth, or is it all a hoax, an elaborate form of mass hysteria? M. Night Shyamalan certainly knows how to handle numerous tidbits of minutiae, piling on hint after hint in subtle and ingenious ways, until the viewer becomes unaware of the full extent of his manipulation. He also has a cameo in a key role as Ray Reddy, a neighbor with a guilty conscience harboring an uninvited house guest.
Mel Gibson plays a grieving, disillusioned ex-minister who needs a healthy dollop of faith to snap him back to reality after his wife is killed in a horrific traffic accident. He must learn to cope with the loss without his customary assurance and bravado. Gibson is filled with a coiled tension just seething below the surface that manifests itself at key points in the drama, particularly during his son's asthmatic attacks and in his family's flight to the cellar.
Joaquin Phoenix is particularly adept as his sad-sack brother Merrill, a former minor-league baseball player who still knows how to swing a bat. Both actors play off one another beautifully. They have a long, protracted, and vastly pleasurable scene in which the discussion centers on the meaning of "luck and coincidence," "fear and hope." It charts the film's course, much as the Vincent Grey sequence from The Sixth Sense did.
Cherry Jones is Police Officer Caroline Paski, whose motherly concern for Gibson's well-being goes above and beyond the call of duty (but not in a bad way). Gibson's motherless kids are wonderfully played by Rory Culkin (Macaulay's little brother) and the adorable Abigail Breslin (she's so cute you want to squeeze her); the eerily subliminal film-score is by James Newton Howard, done as homage to the late master, Bernard Herrmann: there are noticeable traces of Psycho and Vertigo abounding in it. It even begins with that scratchy violin from Camille Saint-Saëns' concert piece Danse Macabre. (Talk about creepy!)
There are also numerous references to The Birds and other Hitchcock thrillers. Shyamalan uses a framing device wherein he positions his actors in or near doorways, porches, archways, and such in order to look into the main characters' souls. Interestingly, there is more humor in this film than in any other the director has worked on.
Of all Shyamalan's films, this is a must-see for fans of the extraterrestrial invasion genre, despite a few protracted scenes. Stay with this one all the way, though, as you'll be amply rewarded for the effort. It should play better on DVD and Blu-ray Disc. Take the PG-13 rating seriously.
The Sixth Sense, Unbreakable, and Signs can be viewed and enjoyed as part of a tripartite whole. I encourage readers to download, rent or buy (if you feel up to it) all three of these terrific films. Trust me, you won't be disappointed. As for M. Night Shyamalan's remaining oeuvre, I'd give them a wide berth for now. Who knows what his future brings? If the past is any indication, something better this way may come…The "signs" all point to some improvement!

Copyright © 2013 by Josmar F. Lopes