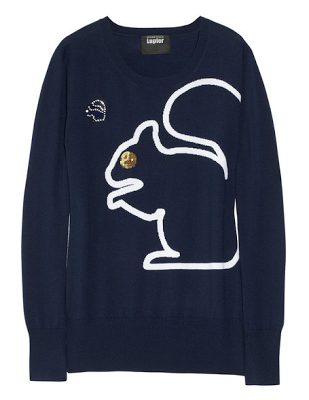 I'm not the only one who wears animal characters on my chest, just admit it!
Validation is sweet! Especially at times when you're a tad worried you may be the crazy one. Do I look strange in this Owl print blouse? Is it OK that my shoes has whiskers? Sometimes we doubt ourselves....
Well, if you're like me and you happen to enjoy a good animal graphic print sweater or accessory then stop worrying, there is nothing wrong with you. 
Last week I discussed the topic - -here - and it has been chosen as part of IFB's weekly round up. So check it out for yourself in case you missed it, and don't forget to check out some of the other great posts that were also chosen.
Happy Friday!

Links à la Mode: October 24th 
     
All That Glitters is Gold: 10 Ways To Wear A Scarf      
Attire Club: A History Of Costumes: Vintage Halloween Photos      
Belle Belle Beauty: Line Those Eyes - Favorite Eyeliners      
Carly Tati: behind the scenes with american icon pendleton wool      
Cat Eyes & Skinny Jeans: halloween-perfect black polishes      
Corals + Cognacs: 5 DIY Halloween Costumes for your LBD      
Foxy Oxie Supernova: The Art of Being a Lady: Being THAT Woman      
Frantic But Fabulous: What to wear to a bat mitzvah      
Happy Pretty Sweet: Halloween In Your Closet: 1920's It Girl      
Insanely It: MakeUp tips: How to wear color mascaras      
Juliet's Lace: Five Things To Consider Before Blogging.      
Kiri Yanchenko: Do It Yourself Fashionable Florals      
Madame Ostrich: What's Wrong With This Picture? Rihanna's Trip to Abu Dhabi      
Nothing 2 Wear: Cute Animal Graphic Fashion; Yes Even If You're 30      
Risticulous: Jakarta Fashion Week 2014 | "PopBatik" by Dian Pelangi      
See Lark: Rule of Three: The Patterned Pump      
The Glambition: IT TREND: GRUNGE FEVER      
The Stylish Butterfly: FURocious Fashion Face-off      
Trend Survivor: Denim Pencil Skirt Reloaded      
What 2 Wear Where: Halloween inspiration from Rent The Runway