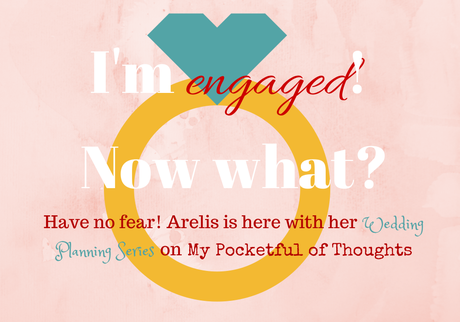 I'm engaged, now what? If you are recently engaged yourself, you might be asking that very question. The answer is unfortunately not so straightforward. Everyone and their mom will give you a different answer. No really! So who's right? Probably everyone because what comes next is individual to you and your fiancé.
Read about Daniel's romantic proposal in Central Park.
Daniel and I have been engaged for almost six months. It seems like it was just yesterday that he got down on one knee in front of the Bethesda Fountain though. At that point in time, we actually had quite a bit done for our wedding. I know, I know. How did we do that before even getting engaged? Easy. There are no concrete rules. Life is full of choices and how you get to the alter is really up to you.
I just said something super important! Did you catch that?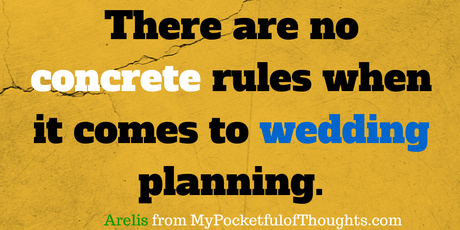 I say that there is no concrete rules to wedding planning because you can make your wedding unique to you. What I like, you might not. What your mom likes, you might not. What you like, your fiance might not. Before I go off tangent on a discussion about compromise, let me assure you that this is a great thing! Flexibility is key. <– Remember that and it'll save you from headaches down the road.
First things first, though. You have to start with a vision.
Pinterest is perfect for getting ideas of your vision for your wedding. The great thing about Pinterest is that you can have more than one person pin to the board. Over the last two years I've created 52 Wedding boards. Each board is broken down by category but you don't have to go crazy like I did. You can have just one and call it Wedding ideas. It's what I started out with and as the time passed and the board continued to grow it became difficult to find particular pins. I broke them out by category and that is how 52 Pinterest boards were born.
Follow Arelis Cintron's board Wedding Ideas on Pinterest.
If you haven't started pinning yet, don't freak out. Here are 5 things to discuss so you know what to pin:
What's your vision?

Sit down with your

fiancé

 and start discussing what you see as your magical wedding day. Is the snow falling? Are the flowers starting to bloom? Are you serving burgers on the grill or sitting down for a five course meal? Paint a picture of what the day looks like in general. This will help narrow down a season to plan around. Daniel and I compromised on the middle of Fall.
How many people do you see? Will a large gathering make you nervous? Are you sitting in a cozy room with your closest friends and family? If you and your 

fiancé are having different visions on the guest list then you will definitely have to discuss #3.

What's your budget like?

Do you have savings towards your wedding? How much can you put aside between now and your wedding? Combining these two numbers will give you a rough estimate on your budget for the biggest party of your life.

Will you have a theme?

After watching countless David Tutera episodes of My Fair Wedding on WE TV, I fell in love with the idea of a Masquerade Ball. We'd all gather at the reception and wear fancy masks. Daniel and I had a blast envisioning our November 1st wedding with a fun theme for the adults and the kids!

Adults … and kids?

Having kids at your wedding is an important decision to make right from the start. It can alter your guest list and your theme. Make sure you listen to each other if you have opposing views on this topic!
Remember your vision is not set in stone. As you begin planning, your vision may shift in a completely different direction. Many factors will come into play throughout your entire process. Be Flexible. Be ready to compromise. Be excited! After all you are planning the day that will start off your happily ever after!
Have you started planning yet? If not have you had a discussion of your wedding's vision? If you're married, what did you start with first when you planned your wedding? Share your thoughts in the comments below!
Until then,