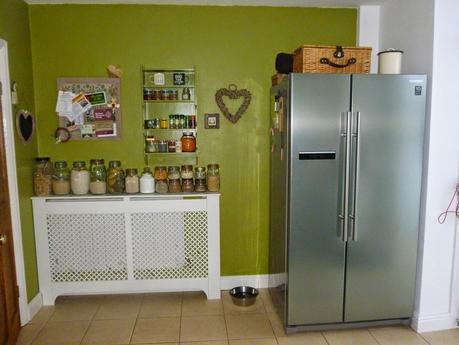 I'm back.
What have you been up to you might ask, and where on earth have you been?  
It's not often that I miss posting for almost a week.  Of course when I have a holiday I warn you and set up some fun little things to post in my absence, but sometimes life catches up with me and what I thought was going to be a 'holiday' with Lovely Hubby off for over a week from his day job and at home with me full time, turns out instead of giving me more time to Blog giving me less, much much less.
First we had a visitor ... one of our favorite visitors, as Lovely Hubbys'  little sis Alison fits in so well with our lifestyle ..... and the dogs love her to bits.  So the break from work started well with doggy walks and a nice meal out.  Catching up on family news from way up in Scotland and watching far too much television over glasses of wine and tasty nibbles.  But then on the Monday she had to go back to her real life and we had to get started on our plans.
The first job was emptying the conservatory, soon to be called the 'Garden Room' .... someone suggested 'Mud Room' as a name, but to be honest the last thing I want to have in there or think about after all the muck and mess of the last few weeks (and ongoing for at least another couple of months) is MUD, so Garden Room it is.  Everything was taken off the walls, and most of it will not be going back as we want to get more towards being a bit more minimalist.
So the main difference to the house this week has been this.  First the jars of dried food were removed from the top of the radiator cover, where they are in the top picture.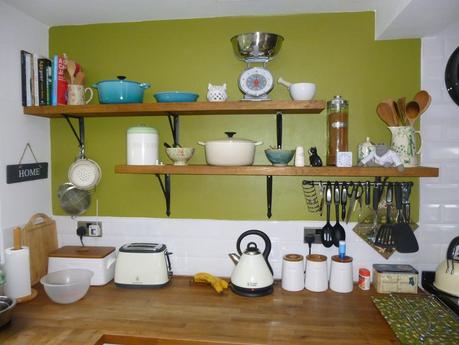 The things on the shelves over the worktop were streamlined, put away into cupboards to make room for .....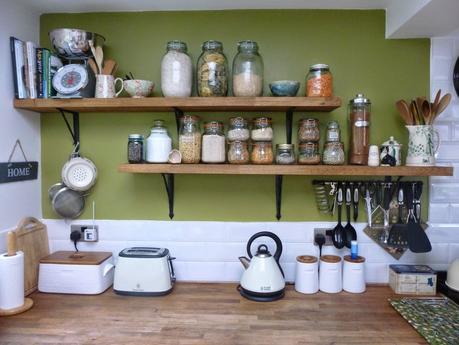 ... yep, you guessed it the dried food jars. 
I love the new look, I think it looks more foody and less things dotted on shelves.  Everything is more to hand and hopefully I will be even more inspired to use the things in the jars.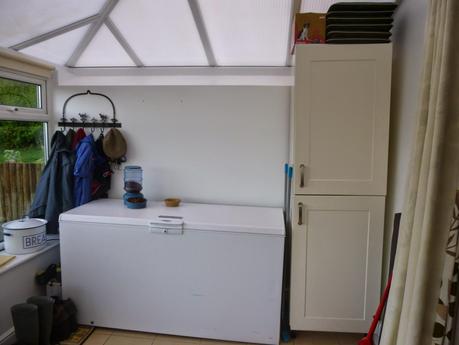 The larder cupboard from the conservatory was then emptied and moved into the kitchen ...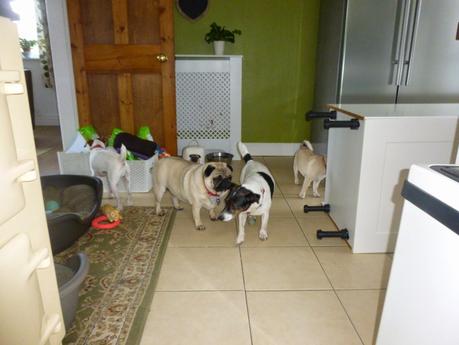 ... meaning that  LH had to take apart and reduce in size the radiator cover to make the gap next to the fridge freezer big enough to fit it in.   This was not an easy job at all as it was all glued and stapled together.   This meant half a day of woodwork and quite struggle for my lovely man.  But now it all fits together snugly .... as if it was meant to be.  
The dogs of course lended a helping paw by milling about and being constantly under our feet, something they are perfecting to a fine art.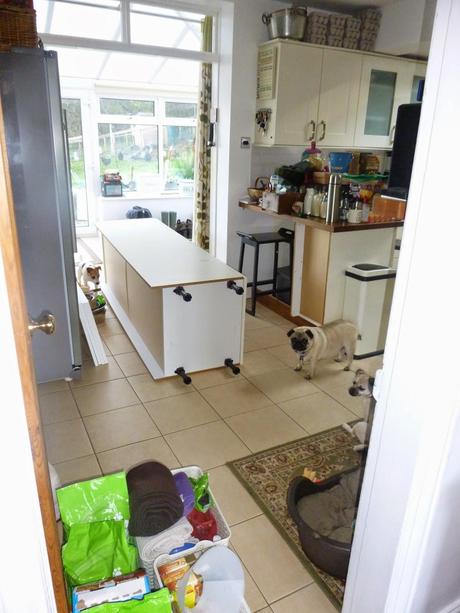 Then we brought the larder unit in, at first we tried it without it's legs, thinking it would be less overpowering in the kitchen if it were not as tall, but after putting all the things back and living with it for two days we decided it look 'wrong'.  So we emptied it again and put the feet back in place and put it back into it's new position.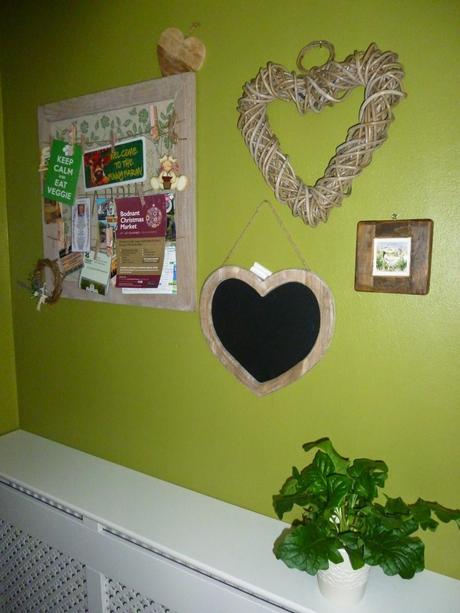 The small shelf unit that was on the wall in the top picture was not put back up and the rest of the wall things were rejigged slightly until we were happy with them.  Now I just need to take a final picture to show the finished look,  We are at last satisfied with it and this is how it will stay.  
The rest of the week saw LH chopping and stacking wood for the wood burner and having a general tidy up of the outside of the house, burning rubbish etc. and looking after dogs and chickens in my absence, as while he was busy at home I took to the road for a two day road trip on Thursday.  First heading up the motorway to Cumbria to spend some time with my eldest son who is just setting up a new home on his own, and then heading back down via Manchester to have a girly 'ladies who lunch' day with Mum.  
Suitably refreshed from time away from the mud-bath that is home and the mad milling hounds, I quickly got stuck in with LH finishing off the kitchen when I got back, and then we took some time to ourselves over the weekend.  We walked the dogs along the prom at Llandudno (and walked and walked)  until they were so tired we were ensured a calm and quiet few hours crashed in front of the television while the rain poured down outside on both Saturday and Sunday afternoons and evenings.  Using the time to catch up on some of our recorded programmes and snoozing away, taking it in turns to make coffee and fetch biscuits.
A good way to calm down after what had been a hectic and full week.
Now we are back to normal and while the dogs snooze at my feet I can Blog for myself and have a catch up with all the Blogs I have missed reading.
Sometimes normal is just so nice :-)
Sue xx