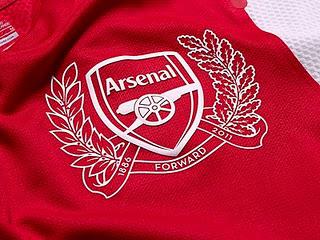 Arsenal till I die,
I'm Arsenal till I die
I know I am,
I'm sure I am,
I'm Arsenal till i die...
In light of the most recent Arsenal turmoil over this past month, many were probably wondering where my angry fan tirade or rant would be. In reality, I am over the whole thing. Not over it in a sense of not caring or not being a fan of the club anymore. I am over it because there is nothing that can be done as of right now. The transfer window is closed and the players we have are the players we have. I honestly cannot write an entire article about how the Gunners possibly could lose to anyone 8-2 or the fact that Arsenal could boss Blackburn all over the field in the first half and then put on a pathetic defensive performance in the second. It's not like I have any sort of solution from four thousand miles away.
I have come to the distinct realization that this will be a very difficult and long season for me. I went from secretly hoping to challenge for the title, to just hoping for fourth to just hoping to stop reading about Arsenal for the wrong reasons. My anguish with my team's misfortune made me think about not so many years ago and not caring at all about Arsenal. As an American fan of the English Premier League, becoming a fan of a club has more traits that we attribute to "bandwagon jumping" than most would like admit. My other two favorite sports teams, the Georgia Bulldogs and the Carolina Panthers, I have a distinct connection to them. One is my Alma mater and the other is a team that I have followed since their inception and is located in a state that I lived in for most of my childhood. With soccer we usually somehow cling on to a small connection to a club or player and let that manifest into supporting the club. When I was just getting into soccer, I could have easily become a fan or Chelsea, Liverpool or Manchester United (Although I never liked their Yankee-like domination of England). It is easy to see why there are way more American Chelsea and Manchester United fans than there are American Stoke City and West Brom fans. It doesn't take a rocket scientist to know why that is. With that said, this is now a time for me and every other Gooner to rally around this team. I may not have the historic connection that North Londoners have with this team but I sure do have the emotional connection. I have never witnessed Arsenal lifting a trophy live even on TV. While I am sometimes jealous of my other friends who watch their teams who win things for fun, I take solace in the fact that when the Gunners do break through and end this drought, I will be filled with more joy than any of them would ever feel watching their team.