It's always fun to get a special new dress for the holidays, something you can wear to parties, plays, and church services. You'll feel so festive in a new dress, like
Christmas
came early! That's why I suggest you head over to
eShakti.com
. They have a huge assortment of fashionable styles. And the best part is that you get to customize the dress! Once you see a dress you like on the site, check out the customization options. Often, you get to pick the sleeve type, dress length, and neck line! For example, here's the gorgeous dress I selected at eShakti:
Leaf Print High-Low Midi Dress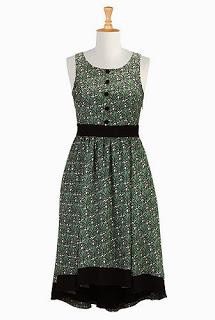 Front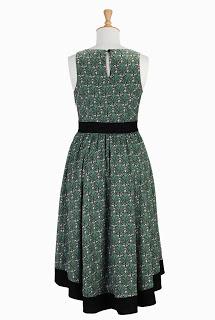 Back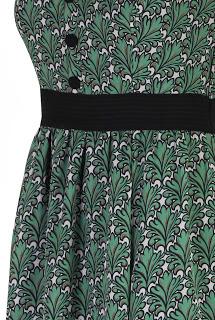 Fabric Close-up
Don't you love the beautiful color and leaf pattern? But my absolute favorite thing about this dress is the high-low hemline. The below-knee-length front actually dips to below mid-calf-length in the back. I just read a fashion column in a magazine saying that this is a really hot style right now. What I didn't like for me, however, was the no-sleeves feature. First, it's winter, which means it's too chilly for sleeveless dresses. Second, I'm getting older, and my arms aren't as toned as they used to be, so I prefer some coverage. Fortunately, with eShakti's customization option, I easily changed the sleeve type to elbow length. Perfect! I was also given the option to remove the pockets, which I did because pockets sometimes make me look wider in the hips, where I'm wide enough already. And did I mention that the skirt is fully lined? If you like a shorter hemline, you have the option to change that too, although I elected to keep the longer length. Now, this dress is perfect for my figure ~ and the holidays!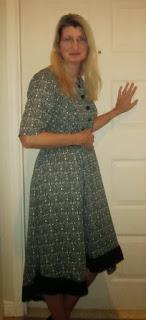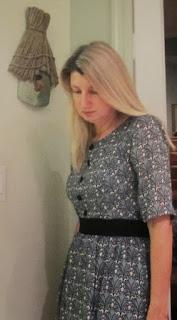 To ensure a good fit, you can measure yourself (bust, waist, hips) to customize the size. They also provide the proportions for the standard sizes so you can choose the best one. I debated between size 8 and 10 because I wear both sizes depending on the cut of the clothing. I finally opted for the 10, and I'm glad I did because it fits just right since the dress has no stretch (helpful information that is also provided in the dress description). I think the smaller size would have been too tight. I also checked the washing instructions because I hate to spend money on dry-cleaning and found that my dress is machine washable. Hurray!
So, now it's time for you to get a gift for yourself … a new holiday dress from eShakti! Head over to
www.eShakti.com
now and find the perfect outfit to make you feel special this season. You're sure to find the best style, color and customization options for you!