Whenever I played, I made it a habit to watch the other teams' pre-game infield/outfield routines.  You can learn quite a bit about what the other team can and can't do just by watching those 10-15 minute warm-ups.  For selfish reasons, I also paid close attention to the other teams' shortstops.  Because that's what I played, I wanted to see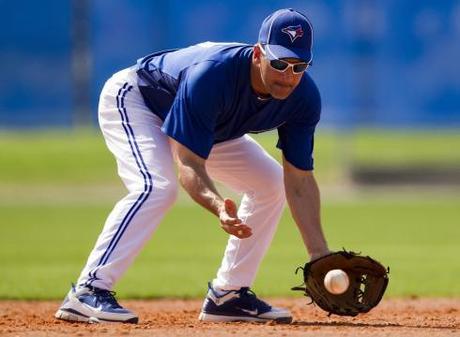 There is good and then there was Omar Vizquel.
how I compared to their guy.  I can honestly say that there wasn't a shortstop I didn't compare well to.  In short, all things considered, nobody seemed to have a defensive ability that noticeably surpassed mine.
That's until I saw Omar Vizquel.  I was in Single-A at the time and Vizquel was sent to San Bernadino on a rehab assignment for a few games before rejoining Seattle.  He was 23 at the time and already had three seasons in the big leagues.  
Major leaguers who come down to play at the lower levels create quite a stir around the stadium.  That first game, I made it a point to dress quickly and get on the field to watch him take ground balls (he was not known for his hitting at the time).  
I never took my eyes off him and honestly, what I saw worried me.  He was so far above and beyond anything I had ever seen from a shortstop.  He wasn't a shortstop.  He was an artist.  Years later, I saw a quote from him in an article.  With regards to his defense, he said "I don't field with my glove.  I field with my feet."  
I'm hoping young players take his quote to heart.  Most errors can be traced back to poor footwork.  Balance, approach to the ball, footwork around the bag, etc. all determine how good of a fielder you really are.  Improve your footwork and you will make major strides on defense no matter where you play on the field.
Tomorrow's post: One hop or line drive