Every Juan is dreaming ….
To experience the Juanderful Hidden Gems…
 To capture those picturesque and Juantastic Scenes
    And shout it out to world,"Let's Visit Philippines!"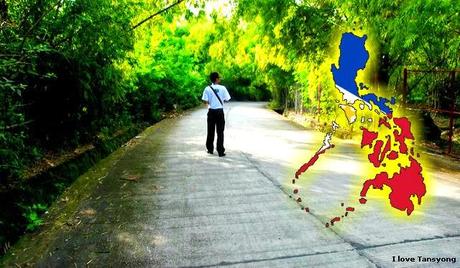 Jonathan Orbuda
"Life is Book… You are the Author… and you have the freedom what to write on it."
I was born and nurtured in a remote place in Bohol where I started to build my dreams. I  always looked up to the sky every time I hear an airplane pass by and  I wonder how it feels to fly. Sigh……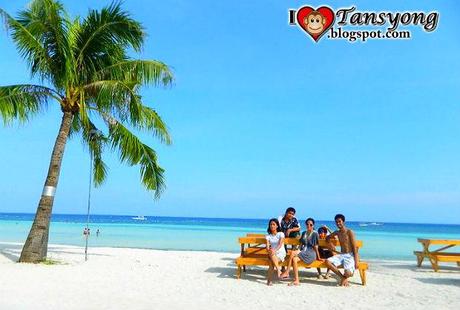 FYI : Its not just a country , its Philippines ! ( Bohol Beach Club)
After High School, I decided to move to Manila to study in a State University. It was my first time to travel - unfortunately via ship. Sigh…..
It was never an easy road for me; it was a great fracas towards the rapid changes of my lifestyle and adapting to an environment I'm not used to. I had to survive in bare minimum and continue studying despite of scarcity. Luckily, I became a student leader and University Publication Section Editor which had its benefits (e.g. free meals). Regardless of these sacrifices, I never failed to recall my dream … To experience being in an Airplane to soar high and see the view from above…. Sigh…
But those hardships ended when I finished my degree. Aside from my Diploma, the greatest gift that I received was a round trip air-ticket to Bohol for free from the Publication team. I had the opportunity to fly home with the University Publication staff.  It was a very glorifying and indescribable feeling. It made my dream come to reality. I no longer needed  to look up because I was seeing the world in a different angle - from above... Thanks to
Cebu Pacific Air.
Sigh...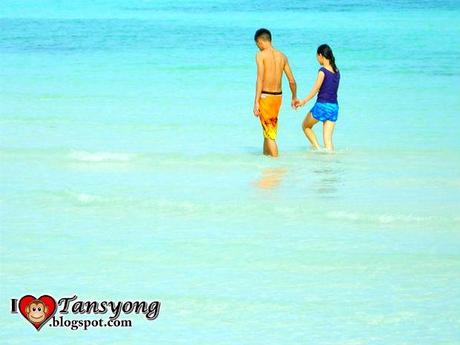 HHWW : A romantic scene in Panglao Island , perfect for lovers
When the airplane landed, I was nostalgic and there was a sudden flashback from childhood. Tears fell down from my eyes. I was no longer dreaming of being on a plane Ive experienced it.  We visited the Baclayon Church, Loboc River, Tarsier Sagbayan Peak, Chocolate Hills, Wildlife Sanctuary and the wide white beaches of Panglao Island (prior to the devastating 7.2 magnitude earthquake). I never realized how rich Bohol is, though I grew up here yet I never experienced these hidden beauties before.
After that experience, I started to dream all over again and that is to TRAVEL perpetually.  

"Doing extraordinary things...Defying the Gravity and pushing the limit"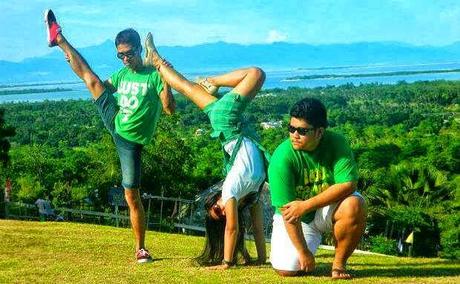 Green Minded  :  Athan,Irene and Bonj as they pose. (Mitras' Ranch) This pose is their trademark and they plan to do it in every travel
I always stressed, "I will not allow my life to pass without doing an extraordinary thing". Living in my comfort zone is a big no no for me. Trying something new to spice up my life is my goal.
I was able to rove, survive and enjoy the so called "City in the Forest" for only PHP4500. Together with my friends, we booked a round trip air ticket to Puerto Princesa City and this trip took six days from April 4 -10,2013.
We arrived at the airport with no plans, no
accommodations
 and no fixed itinerary at hand. But that didn't stop us from laughing and taking pictures. Literally, all we cared about was having fun and being in the moment.  We then  proceeded to this  restaurant the offers Birds nest soup. You haven't been to Palawan if you haven't tasted it.
Moreover, with the PHP4500 fund which we spread out for six days. It covered the round trip tickets,
accommodations
, foods (
Chaolong
, Nido Soup, Sea foods), Swimming at pristine beach, experience Underground River, City tour, Bar Hopping, Hair Tattoo and of course "pasalubong" .
Since I was trying to push my limit in terms of traveling I got to thinking how far would PHP500 take me? This idea pushed me to dare my friends to go on a 3 day trip to Rizal from August 9-11, 2013.  It was crazy yet exciting.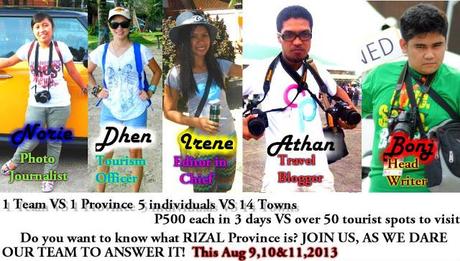 First day we met in Cainta Rizal (Goodies Capital), and then we went to Taytay Rizal known for its  Garments and Woodcraft products to visit the "Bantayog ng mga Bayani" and in Jardin Miramar situated in  Antipolo City. The second day, we hired a tricycle for PHP300 for the entire trip. From Morong Rizal, we went to Baras Rizal to visit the longstanding church, then lunch at Daranak Falls in Tanay, Rizal, then off to the Floating Restaurant in Pililia, Rizal and ended up in Jala Jala, Rizal. On  our last day, we visited Angono Rizal (Art Capital) before we went straight to Thunderbird Casino and Resort where I was invited to conduct a motivational speech for a journalism seminar. It was indeed relaxing and an unforgettable experience. The best part of it? It was FREE.
"Travelling doesn't need to be expensive" that's what I learned. You just have to know how to be resourceful, wise and make TIME for it.    

'We meet People maybe because we are either meant to change their lives or ours.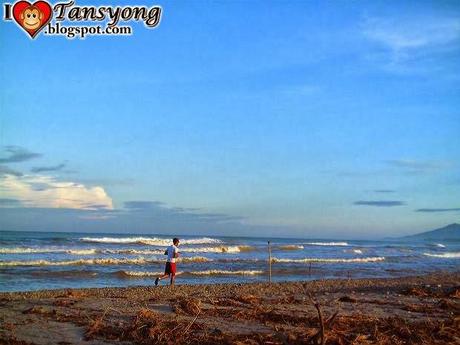 Zambales Jogging : Athan is trying to escape from urban zone
The best part of traveling is you get to meet and talk with random people in the middle of the road – seatmate in a bus, tourist police/guide, surfing instructor.  People that when you meet as acquaintances would end as a friend.  And sometimes would be so inspiring that it would change your perspective of life.
Who would expect that I got the chance to interview (impromptu) a businesswoman and the owner of the World's Popular "Casa Santa in Antipolo City". How about the creative man who revives "Stone Age" through his craftsmanship in Binangonan, Rizal and a fisherman who lived at the heart of Laguna Lake in a Nipa Hut that narrates his tales of resiliency and triumph against typhoons.
As I continued to travel and experience the different culture one place has to offer, Boracay would be one of the best.
Boracay everybody's dream destination. Known for its powdery white sand, clear aqua blue seawater, and relaxing sound of the waves. Definitely a tourist target, but for me, it was more. This place changed my life!
Seven in the evening wherein the real life of Boracay jolts, the rave culture starts, the people begin to paint the town red, the sea is totally silent but the shoreline of Station Two is alive of various entertaining events – ei. Boracay Fire Dancing. I planned to drink and party all night without spending money (Yes, I have to be insightful and it's a challenge.) .So I sauntered the stretch of Station Two and Three alone. Since it was summer, every twenty meters you will find a free taste of liquors as part of Brand Promotions .Until I realized that I had way too much to drink.  And found myself  lying in the middle of the wide shore of Station One – far from the crowd and the placid environment exist. Until I noticed a silhouette coming …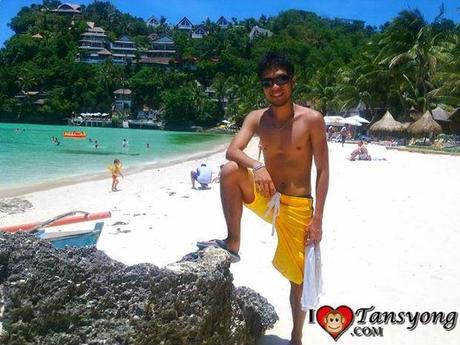 Behind the paradise are Innumerable Tales ... 
"It seems that you're drunk, are you with someone? Are you alright?" a modulated voice uttered. "Yes, I am ok, I'm just indulging the beauty of the place because I don't know when I'll be able to come back here" I answered. He introduced himself and so did I. We began to talk and as the night went on we got to share a lot of things even though we barely knew each other. he then bought a case of beer and when that cap popped it was then the start of my life changing.. "I grew up in a luxurious life, I can do what I want, and I almost have everything" he said. "But wealth is worthless if you are not happy , if you are limited .I travel to enjoy life because life is too short." He stressed in a sad manner. "I'm immune-suppressed and diagnosed for three years now" as he blurted out these words I was shocked; I didn't know how to respond, he didn't even look sick.
He then said that he continued to travel even on medication. I felt a sudden gush of emotions and tears fell.  And in that very moment, I was changed. It improved how I looked at things, how I should spend my every waking moments and how to enjoy being in the moment. For all we know, it could be the last. We must take risks  in order to know where we truly belong.  And as with traveling you'll never know what to expect.
When I had youth I had no money;
now I have the money I have no time;
and when I get the time, if I ever do,
I shall have no health to enjoy life
.-
Louisa May Alcott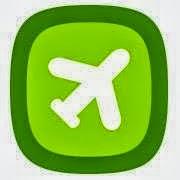 This Article is an "I Love Tansyong" Official entry in a Writing/Blogging Contest organized by Wego in partnership with Cebu Pacific Air, the Tourism Promotions Board, and ABS-CBN Choose Philippines with a theme "Your Life-Changing Travel Story"
Thank you Eliza J. Diaz (Market Development Manager for Wego Philippines) for the invitation.
Also thank you to the four judges, Anita Duffin, Doming Ramon C. Enerio III, Phillip Kimpo Jr.

xml search