These themes, although set six months in advance, seem to have had an uncanny knack recently of falling in step with topical news, this week's  - 
oxygen
 - being merely the latest to do so in the wake of the shocking killing of George Floyd, an unarmed African-American, by a Minneapolis police officer who knelt on his victim's neck until they poor guy could breathe no longer.
However, I had this one planned out in my head some time ago, so forgive my not stepping overtly into the 'Black Lives Matter' campaign at this point, beyond stating my conviction that yes they do and systemic racism needs to be opposed and rooted out wherever it is found.
I want to write instead about my mother, something that I've rarely done; more specifically about her lungs.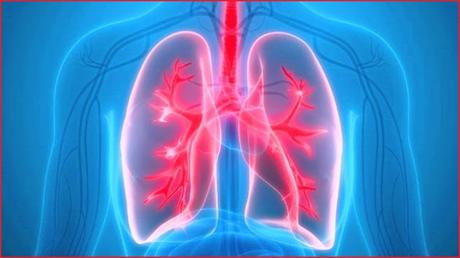 Everybody knows about lungs, respiratory organs whose main function is gas exchange - oxygen into the blood, carbon dioxide out - but did you know this is achieved through a membrane approximately 100-145metres squared and folded into some 300 million alveoli? That's an enormous surface area - as big as a football pitch -  compacted into a small space. It's also the case that the left lung is always slightly smaller than the right, to help make room for the heart in the thoracic cavity.
Most people have two healthy lungs and breathe in/out 12 to 20 times per minute. In a relaxed state the volume of each breath is approximately 0.5 litres in men and women. However, the total capacity of our lungs is 6.0 litres for men and 4.0 litres for women. The lungs work harder processing more litres of air in heightened states (allowing more oxygen to be passed into the blood and more carbon dioxide out) but they never empty. It is impossible to breathe more than two-thirds of the air out of our lungs. The problem for my mother is that one of her lungs didn't work properly. This is my mom.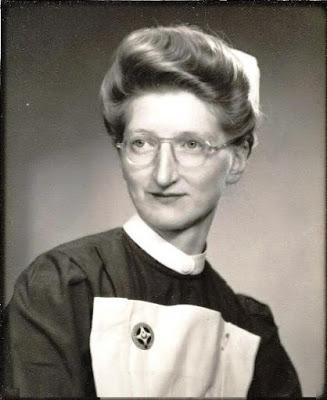 She was born into a working-class family in Portsmouth during the first world war, the middle one of five children. She was accident-prone and suffered a number of set-backs as a youngster, including being knocked down on three occasions - first by a horse-and-cart, then by a motorbike and finally by a car - which events in themselves are an oblique commentary on the march of progress in the 20th century and form the substance of my poem later on. That last accident landed her in hospital in a coma for some considerable time and may well have been instrumental in making her prone to pneumonia, from which she suffered badly and repeatedly. It certainly impacted her education, which was patchy at best (she left school at 14 apparently). Her accidents and bouts of pneumonia also left her with scarring in her lungs and below par respiratory capacity for life.
However, she bounced back. She became a nurse at the Queen Alexandra hospital in Portsmouth, working there throughout the second world war looking after injured sailors and then qualified as a midwife, moving to the smoke and the tenements of Holloway and Islington (
Call The Midwife
style)  just after the war. One of the effects of those war years was to make the woman who would become my mother quite devoutly religious and aged thirty she volunteered to go as a missionary nurse to Peru only to be told she'd failed the medical on account of her lungs, which simply would not cope with either the humidity or the altitudes found in South America.
Shortly after that she met my father at an evangelical event. He was training to be a minister and a missionary with an eye on going to Africa. They fell in love, got married and set sail for West Africa together, he to run a mission, she to run its hospital in Nigeria. There was no altitude issue and the climate was dry and hot. I think the seven years they spent there were the happiest of her life (aided by the arrival of her three children).
When we returned to England at the end of the '50s I know she found it hard to readjust to the cold and the pollution. Peterborough, where we lived, was surrounded by brick factories and the sulfur used to hang in the air. There were real smogs in the winter months caused by that brickwork effluent and all the coal fires in people's homes. Although neither of my parents smoked, my poor mom frequently had a wheezy chest and bad colds from November through to March and was in hospital again with pneumonia again before I was in my teens.
Even at the best of times, excessive physical exertion or laughing a lot used to leave her short of breath. When we went out for the day into the country for a brisk walk she would elect to stay in the car and read. I can also vividly remember her on many occasions laughing so much that she ended up gasping for air and saying "I can't breathe, I can't breathe." We just accepted this as the way she was, but as she got older and put on weight I think it became more of a taxing problem for her. With the benefit of hindsight, I'm sure those decades of impaired lung capacity put extra strain on her and contributed to the massive heart attack which killed her at a relatively tender age.
This week, a poetic tribute of sorts to my dear old mum, dead this thirty years, without whom et cetera...
My Mother The Car Crash
In the flickering cinema of my imagination
she runs in newsreel across salty cobbles,
gas-lamp-lit by dim filaments battling
with the elements, hastening home as fast
as can with the family's fish and chip tea
wrapped in greasy pages of the Hampshire
gripped tight in those childish hands.
Meet my mother, a first world war baby,
and flame-haired middle sister of five,
simple working-class Portsmouth lass
about to face the rushing century head on
if legend is to be believed. She bounces,
fendered by one of the first cars yet abroad,
is rendered comatose in that crushing instant.
Her fault, it is said. Lucky not to be dead.
Didn't look right and left through the gloom
to see those headlights cresting the bridge,
didn't break her headlong run into the road.
She may have possessed an impetuous streak,
a bit of the berserker in her Viking lineage,
still, look at her, poor pale and twisted thing.
She's rehearsed this before, beneath a cartwheel;
more recently was flattened by a motorbike -
the century is speeding up, getting more lethal.
Her parents, her siblings, take turns to visit,
to sit by her bed. They think they've lost her
this time, their feisty, funny red-headed tyke.
But my mother doesn't know when she's beaten.
Immobile in the hospital that saves her life,
a debt she's destined to repay one day
on this very ward, caring for war-torn sailors,
the unconscious imperative is just to survive.
Her flickering newsreel will not finish here,
there are many more sequels in pre-production
if only she takes better care. She opens her eyes.
Thanks for reading. Be kind to your lungs and each other, Steve ;-)
Email This
BlogThis!
Share to Twitter
Share to Facebook
Reactions: